Reham Khan is a British Pakistani journalist and famous television anchor. Reham has recently married cricketer turned politician Imran Khan.
As per Express Tribune, Reham Khan might be turning into a film producer. Reham is planning to produce a Pashto film nowadays and later an Urdu film.
The story by Hasan Ansari says
Reham will reportedly make her production debut with a Pashto film about Pashtun poet Khushal Khan Khattak.
Although there is no official verification of the news from Reham, recent posts on the Reham Khan Twitter account (@RehamKhan1) suggest it holds true.
"Reviving Pashto culture and history. For example, one of the films is about Khushal Khan Khattak," read Reham's tweet. She also shared on the micro-blogging website that three writers are currently working on the film.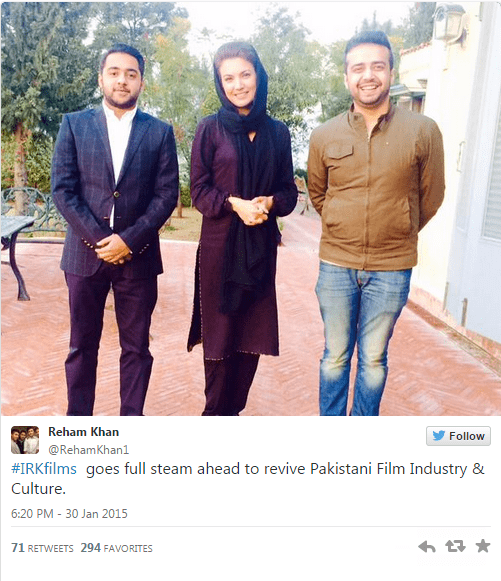 Apart from producing a Pashto film, Reham will also helm an Urdu comedy film. Babar Sheikh, managing partner of Tiger Entertainment and spokesperson of the film projects, quoted Reham as saying, "Film is the only medium through which we can portray the real image of our society to the world."
"Our aim is to remove all the misconceptions about Pashtuns in society through a light, comedy Pashto film," Reham said, according to Babar.
According to him, Reham also stated, "The Urdu film is an all-out comedy based on a serious problem that our society is faced with."
Although the production team didn't divulge any important details of the film, Babar mentioned that while the Pashto film's director is yet to be finalised, the Urdu film will be directed by Azfar Jafri, who has the thriller film Siyaah (2013) to his credit.
Verifying the news, Azfar said that he is yet to sign the film but has committed to taking up the project. The films are currently in pre-production stage and are expected to begin filming soon.
On the question of whether Reham's experience in broadcast journalism will help her in the filmmaking process, Babar put forth her comments: "As a journalist, I have witnessed firsthand the miseries people face but also their wonderful spirit. I am inspired by Pakistanis and want to show the world who we really are – a loving, generous nation."
She was reported to have added, "I have travelled to some of the most exquisite yet undiscovered locations [in Pakistan], which I want to showcase in my films. Pakistan needs to be shown in its true light. We have been misrepresented for too long. It's time to bring our smiles back."
Reham reportedly proclaimed that with her personal experience paired with a team of young and talented people, who produced the award-winning film Siyaah, she looks towards a "refreshing start for our film industry."
Acknowledgement: Whole content is borrowed from Express Tribune.
Source: http://tribune.com.pk/story/831609/reham-khan-set-to-turn-producer/
Rashid Nazir Ali