A renowned guitarist, finest song writer and remarkable composer, Amir Zaki departed from the world on 2nd June 2017.  It was indeed a sad day in the history of Pakistani music. He had been a part of Pakistani pop music during 1990s. My ears still echo with his beautiful musical pieces and songs, specially "mera pyaar tumhi ho". The song which has been part of my playlist for years. My heart wrecks and fails to accept the fact that one more precious gem of our Pakistani music industry has been lost.
In 1995, Amir Zaki earned prominent position in pop music when his famous song "Mera Pyaar" was released. The song became a sensation and received a definite position in all music charts of television and radio. This song was a part of his first album "Signature" which was a major hit.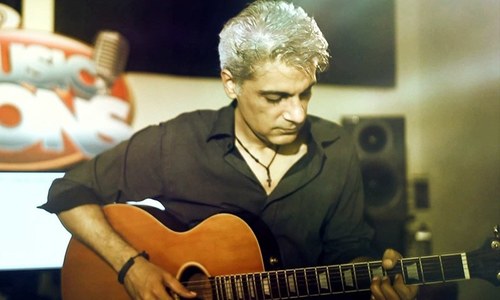 Amir Zaki, as a talent was first recognized by Alamgir, a living legend of our music industry. He also played guitar for Alamgir's famous songs "keh de na" and "Albera Rahi". Later he formed three rock bands named "Barbarians", "Axe Attack" and "Scratch". He recorded first English album in the history of Pakistan with his band Axe Attack. The name of the album was "The Bomb" but unfortunately most of the music companies of the county refused to release it. Later he made an album named "Signature" bearing majority of instrumentals. However, one Urdu and two English songs were also included in it.
His second musical album "Rough Cut" was released in collaboration with popular Pakistani pop singer Hadiqa Kiyani in 2007. The songs of the album were in English and perhaps failed to get mainstream attention for this reason.
Amir Zaki toured extensively with Alamgir. He contributed immensely in Pakistani music during 1990s when pop music industry was booming. If we shed light upon the history of pop music of Pakistan, we cannot stop ourselves from recalling Nazia Hassan and Zohaib Hassan, the heartthrob musicians who gained popularity across entire South Asia. Later, some more pop bands appeared on the screen and driven the popularity of pop music across the globe.  Vital Signs, Junoon, Awaaz are the few Pakistani pop bands which became popular during 1990s and Amir Zaki was a part of most of the famous songs of that time. He did a lot of international tours with Vital Signs and Junoon as well.
He was a talented musician who could play different genres of music ranging from blues, jazz, rock to classical. Despite having small number of music releases, he managed to create an ever-lasting impression on our music industry. When his famous song "Mera Pyaar" was released, the music charts were flooded with some top pop songs and bhangra numbers of Awaaz, Yasir Akhtar, Waqar Ali, Fakhr-e-Alam and many more. in contrast, "Mera Pyaar" was simple, soft and serene composition and therefore gained everyone's attention.
He was never into lime lights of television but he has played in numerous concerts and jamming sessions. He was seen jamming in Café Blue, Karachi very often, and has also played in Karajazz festival. Throughout his life he preferred to play exclusively for fans who enjoy and appreciate live music.
His long-awaited debut in Coke Studio was in Season 7, in which he played tremendous guitar pieces for singers Asraar and Zohaib Hassan. The melodic and instrumental fusion of Zaki's music stole the show. He was also seen in action during "I am Karachi music festival", that was thoroughly enjoyed by his die-heart fans.
He was a true inspiration for our music lovers and guitar players. He was a trend setter, many young people started playing guitar after watching his performances in live sessions. He wasn't a mainstream artist and his work is more acknowledged by a niche audience, who are more familiar to the type of music he played.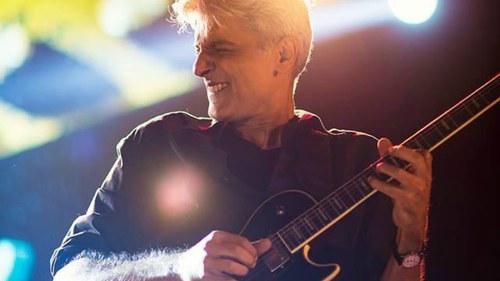 He was among the top-notch musicians of our country. His sudden death has deprived our music industry from a versatile artist who had command on an array of different music forms. He has adapted both eastern and western styles of melodies and has brought a perfect blend of both to us. No other name than Amir Zaki comes to mind when we talk about the fusion of different styles of music. He will always be remembered as the most influential music artist in the history of Pakistani music.
Information source: Wikipedia