I was eagerly looking forward to this first episode because the teasers were quite promising. My first impression of the drama is actually quite different from what I was expecting it to be. Firstly, I was looking forward to watching Sarah Khan in a different role and was more excited about that than Mawra's role in the drama. After watching this first episode however I am pleasantly surprised with Mawra's character and performance. The leading characters are somewhat clichéd – the modern girl who is shallow and the dupatta clad girl who has a completely different outlook towards life.
First Impressions
I definitely enjoyed watching Anaya's (Mawra Hocane) scenes with her parents more than anything else in this first episode. Syed Muhammad Ahmed is such a graceful and convincing actor, no one plays the loving and caring father better than him. The chemistry he shares with all his on-screen daughters is exceptional every single time. Apart from that, I was expecting Miraal (Sarah Khan) to be a more layered character. The first impression of Miraal is that of a spoiled brat, nothing less and nothing more. Everything from the conversation Miraal's parents had about her to her interactions with all the other characters suggested just that. She likes all the attention she gets, likes to have her own way and speaks her mind, not always in a good way! Apart from that, she is pretty sure that she can 'buy' anything and anyone with her money. Miraal's father is greatly responsible for shaping up her personality in such a way that she feels entitled to everything and does not feel the need to work for anything, whether it is something material or love and attention. Her fiancé Ali (Jahanzeb Khan) is another person who is more than willing to put up with her attitude.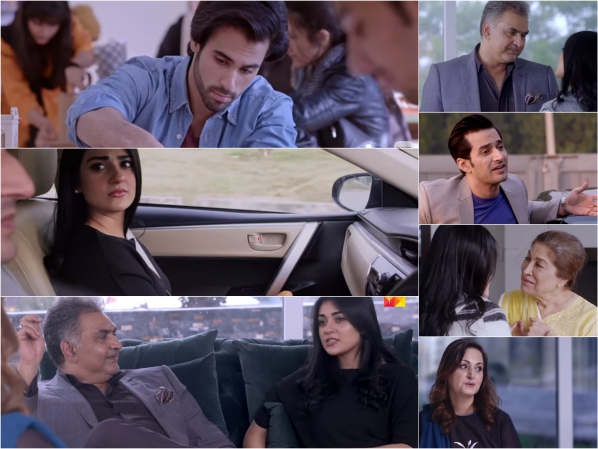 Many of the dialogues clearly suggested that Miraal has a shallow personality. She is materialistic and cannot see past the branded clothes and interior. Sarah Khan's performance was decent enough, she looked and acted the role. I am waiting to see if there is more to her character. Eventually, her character perhaps will go through a transformation therefore hopefully it will have more layers as the story progresses. Miraal's interaction with her nano reminded me of Falak's relationship with her nano in Shehr-e-Zaat. Miraal's relationship with her brother Hasan (Ameer Gilani) didn't have that spark either. The only person she genuinely seems to be close to is her father, perhaps because he does exactly what she wants. Considering the fact that this is Ameer Gilani's first play, his acting was up to the mark, his overall look, however, is a different story! He looked slightly older for the role as well.
Anaya's character has a lot to offer. She is driven, affectionate and confident. The confident part of her personality was the most refreshing element since otherwise, her character would have been too stereotypical. The way Anaya welcomed her father and the manner in which this family celebrates everything was the best part of tonight's episode. The fact that one confrontation with Anaya led Hasan to think about his life and choices was, in my opinion, an unconvincing development. The preview of the next episode suggested that I could be wrong!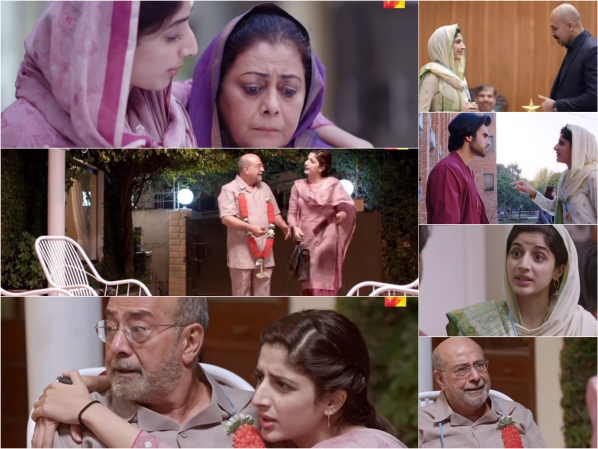 Final Remarks
No one can beat Shehzad Kashmiri when it comes to cinematography but the excessive use of background score especially in the opening scenes was disappointing. The opening scenes were not the best since we were rushed from one scene to the other. The rest of the episode, however, was well directed and put together. Shehzad Kashmiri concentrates on visuals a lot therefore it was not surprising that this episode was visually appealing. The characters and their settings are definitely not new. For now, Anaya's track has my undivided attention although I am not too excited about the on-screen pair just yet. The producers probably know that most of the people might be watching this drama because of Usman Mukhtar therefore they are going to make the fans wait for his character. Many of the leading blogs/websites promoted this drama as Mawra Hocane's next play which was rather odd! I am however glad that Mawra Hocane acted well and I hope that she continues to be this good as Anaya.
The preview of the next episode suggested that Hasan will change his ways and Miraal will not be supporting him.
Did you watch the first episode of Sabaat? Please share your thoughts about it.