Sabaat has been on air for 18 weeks and we have barely seen a couple of good episodes. The drama continues to be unimpressive and the story is moving forward at a snail's pace. Even the dialogue delivery of some of the actors has been 'slow'! It was good to see Anaya's parents in the opening scene tonight since they are the best part of the drama, clearly, all the other characters are not interesting enough. They are positive individuals who always have the right approach towards everything. Overall, however, this was another uninteresting episode in which the story progressed without leaving much impact. It is definitely not the kind of drama that keeps you on the edge or looking forward to more. Sabaat can easily be termed as the most meaningless play which has been presented in such a way as if it has something bigger to offer! You keep on waiting for some depth and meaning but most often there is none! Miraal got married in this episode and her sole purpose in life still is to separate Hasan and Anaya. The whole 'naani track' has been relegated to the background therefore that served no purpose either except that because of it Miraal met her 'soulmate'.
Miraal and Harris
Miraal and Harris got married in this episode but there was nothing exciting about this marriage or how it was covered. Like every other important development in Sabaat, this marriage was also just another event! Harris is yet another person in Miraal's life who does whatever he can to please her majesty! Harris' house seems to be in the same place as Miraal's father, a different location would have been a good change. Perhaps that is why Miraal feels that nothing has changed since she got married! The 'misunderstanding' at the wedding when Harris was joking with his friends might have reflected Harris' actual intentions but then he seems to be quite well-off himself. I hope there is more to this character and it isn't as plain as it appears to be.
There has been absolutely no change in Miraal's personality. Those sessions with Harris were obviously pointless. Apart from the fact that naani is not haunting Miraal anymore, everything else is pretty much the same. Miraal chose not to invite Hasan to her wedding herself and his friend is putting in a lot of effort to brainwash him. The marriage was covered nicely, the big hall and the guests made it look like it was a real wedding but Miraal and Harris' relationship was more typical and shallow than anything else. Miraal wants Harris to be her 'psychiatrist' as well as her husband now and he is more than willing to comply *yawn*!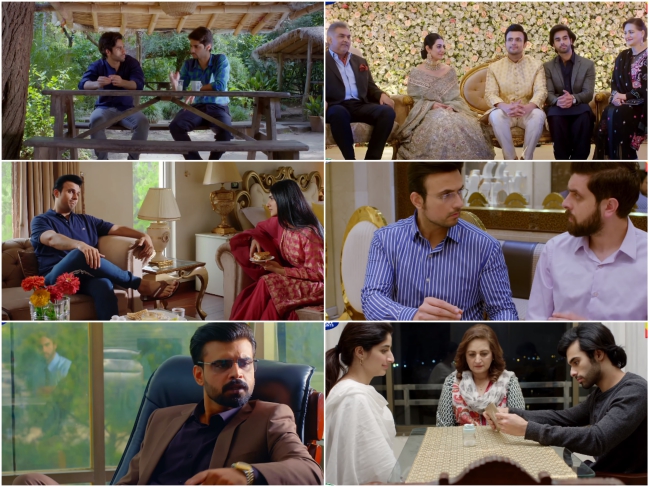 Anaya and Hasan
When Anaya and Hasan moved out of the house, I was actually looking forward to how their life would be without interference from Miraal but guess what, Miraal is still pretty much influencing their lives. Hasan's situation is understandable and his frustrations make sense. It is however frustrating watching this extremely cute on-screen couple in situations that are a little too realistic. Some light romantic scenes between these two would have made this track more entertaining. Right now Anaya comes across more like a motherly figure than Hasan's wife! The writer should have focused a little more on the romantic aspect of their relationship.
Some of the scenes tonight suggested that Hasan was not happy with the way things turned out. It was Anaya who motivated him to give everything up and start a new life and that was when he did not even know Anaya. Now that he is in love with her and she is his wife, it is almost as if being with her is not rewarding enough. While the struggles and the disappointments these two have faced have been shown logically, watching this track take such a sad turn is upsetting. Miraal did not feel for Hasan even when she found out what he was going through. She is so convinced that she is doing her brother a favor by making him suffer since this would ultimately lead to creating a rift between him and Anaya.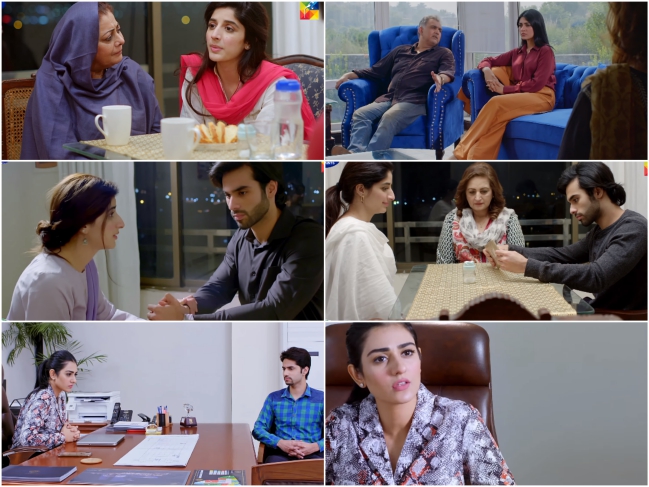 Hasan has joined Yasir Qureshi's company and in the next episode his father will find that out too. I am wondering how this track will be taken forward although just like many other previous developments which had potential, this one may not be exploited in an interesting manner.
Final Remarks
Miraal and Harris' track has been penned down in such a manner that it is just plain unappealing. I still feel like I don't know Harris at all and whatever I have watched so far suggests that he is a really boring character, to stay the least. I am still wondering why Fareed is shown putting his wife down in every single episode, is it even necessary? Hasan and Anaya's character is going downhill as well, Hasan has turned into an angry young man and Anaya is constantly giving him advice which was slightly annoying. Having said that, I think Mawra Hocane has performed really well. I wish the characters and their tracks were more meaningful.
Did you watch tonight's episode of Sabaat? Do share your thoughts about it.