"Mein adhi ibadat chor kar bhaag aye, na is ka sawab, na us ka sawab" …. I was expecting the story to take a totally different turn therefore I was pleasantly surprised to see that neither Shano nor Khalil was going to let anyone stand in their way even now. The best scene of tonight's episode had to be the one in which Shano made her father swear on her mother that he will not get her married -déjà vu anyone? Shano has proved over and over again that she is a nicer and more positive version of her mother. She is loving and caring but at the same time she can manipulate situations to her advantage when she wants to although most of the times she chooses not do that. In my opinion Shano had made a very good deal with her father but when she reached the court she came out with the truth probably because she knew that her mother will find some way to ensure that Amin does not keep his promise or it could be that one look at Khalil changed her mind. Shano bought herself some more time by asking the Judge to let her stay with her naani but that wouldn't mean that her parents will leave her alone. The court's verdict of waiting for a few years before getting the two married also gives Khalil and Shano a lot of time to think things through.
Khalil's mother's support for him once again showed the difference in thinking of the two mothers. Shano's mother cannot see beyond her own selfish interests but Khalil's mother wants her son to fight till the end. Inayat's dialogue relating to shahadat was a little too OTT even from Sadqay Tumhare standards;) Khalil knew that he deserved to be punished and the best way to punish himself was to present himself to Mushtaq's father. Even when Amin told Mushtaq's father to stop hitting Khalil he kept on telling him to continue probably because he needed that pain in order to forget the hurt he felt inside because of the promise he made. Abdul Rehman asked the lawyer to go with whatever Shano had to say about the incident because he knew only too well ke vo us ke bayaan ke khilaf kuch nahi sunay ga chahe usay phansi ho jaye. Samiya Mumtaz's expressions when Shano said jhoot moot phansi le li were priceless; they showed her helplessness and frustration perfectly. Samiya Mumtaz deserves the award of Drama Queen of the millennium for her character and acting! Mushtaq's dialogues in the beginning provided comic relief and his support for Khalil in the later half showed that he too was convinced that Khalil and Shano belonged to each other.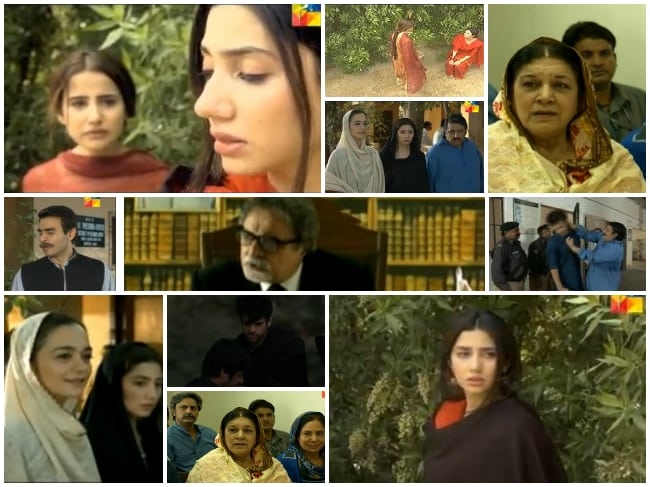 Bay Ji's character in the play is also one of my favorites; I like her bluntness and most of all her support for our hero and heroine. She has a strong character just like all the other ladies in the play. Shano definitely saved the day today by taking control of the situation. She knows how to deal with her mother! The preview of the next episode showed that Rashida will continue playing her games. The developments especially in the past few episodes have been very interesting mainly because it is very difficult to guess what is going to happen next. After watching the last episode I am sure many viewers like me were convinced that this was the end of Shano and Khalil's love story but every time their love story takes a new turn which gives the viewers hope that we might get to see a happy ending after all but let's not expect too much because our writer does not believe in happy endings.
The poor video quality on my television today made it impossible for me to enjoy the episode, there were times when it was impossible to make out what was being said because of the loss of audio, there were continuous pauses throughout the second and third half of the play and the screen went blank at least thrice in the third half! Later on when I watched the episode online I realized that the problem was only on my end, did anyone else have these problems too while watching this episode? Watching it online was definitely better than watching it on Live TV. I have already watched this episode twice!
How many of you think that Shano handled the whole situation very wisely? And how many people are happy with the latest developments? Do share your thoughts about tonight's episode.
Fatima Awan