"Truth is like the sun, you can shut it out for a time but it ain't going away!!" This episode was intense and even though I want Sadqay Tumhare to end now but I couldn't help relishing the power packed performances along with some outstanding dialogues. The highlight of this episode had to be the scene between Khalil and Abdur Rehman and the one between Inayat and Rasheeda. The way both these scenes were handled was pure genius. The writer wrote these scenes beautifully and the director and actors did complete justice to them. The way Khalil opened up to his father was sheer brilliance; a normal conversation led to something which both of them were not expecting. It seemed like Khalil tried very hard to keep his feelings to himself but the bond that he has with Abdur Rehman is so strong that he just had to ask him if he really wasn't his son. The way Khalil looked at his "father" before asking that question showed how amazed Khalil was that Abdur Rehman managed to "fool" him with all the love he gave him in all these years. It was as if he was hoping and praying that he really was his real father! The way both of them cried after that suggested how they wished that things were different. This pain was not just Khalil's but his father was going to do whatever he could to make it go away.
"Kismat ne faisla kur liya hai ke athara saal pehle jis ne bhi zulm kiya tha us ko saza mile gi"…Shano's last words have been haunting Khalil, he is convinced that he deserves to be punished and he is also very sure that being Sadiq's son isn't something to be proud of. Adnan Malik was simply flawless as the broken, shattered and bitter Khalil. Khalil thought that he could change everything in his life but now his life has come to a point where nothing is in his control. Khalil went to see Humaira not because he wanted to see if she really loved him but to tell her how wrong she was. Khalil's intentions were "pure" when he hugged Humaira but he does realize that what he did was very wrong. I must say that Khalil and Humaira's scenes did not work for me at all although Khalil went to tell Humaira off and some of the dialogues were very well written too but the constant reminder of the thaska and the jhappis was definitely not what I wanted to hear. Can we please close this chapter now? Maqsood's reaction to whatever Khalil said made it look like he knew nothing. I must give full marks to Shamil Khan for bringing out the best in his character.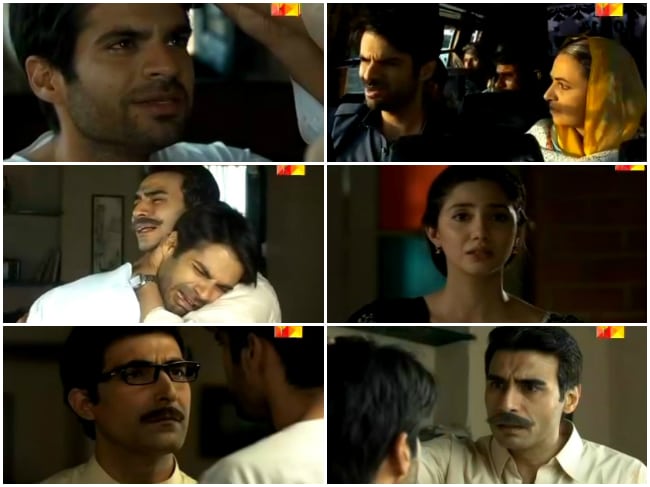 Whatever Rasheeda said to Inayat went to show how "differently" Rasheeda looked at Inayat's life story. It is actually very interesting and relatable too how everyone sees themselves as the victim and all these people have a very solid explanation for thinking like that. Rasheeda does not want to understand the circumstances in which Inayat had to leave her children and Inayat never looked at whatever happened in the past from Rasheeda's perspective. The difference between Inayat and Rasheeda is that Inayat moved on with her life but Rasheeda did not. It is an absolute pleasure watching Samiya Mumtaz prove what a versatile actor she is over and over again with every passing episode. We might hate Rasheeda but we can't help but love the way this character has been translated to screen by an actress who has always played the bechari! I have always seen the actress playing the role of Inayat play negative and very typical roles but she shines in a completely different role in this drama.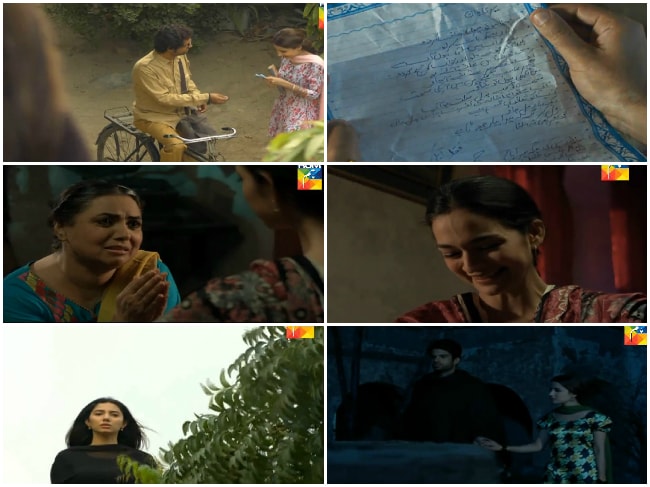 "Mrne bicharnay ka koi tu bahana hota hai na!"… Shano wants Khalil to be away from her because she wants that he should shine the way he is meant to and he shouldn't waste his life running after her. When Shano saw Humaira receiving the letter she knew that Khalil will never come to meet her for the reasons she was thinking he was coming to see her. There wasn't much of Shano in tonight's episode but Mahira Khan did her part really well even in the scenes in which she had no dialogues. The winning smile she gave Humaira when she received the letter showed that she still loved and trusted Khalil. The way she knew instantly that he was going to come showed that the connection she had with Khalil was still there.
Sadqay Tumhare is getting intense with every passing episode and it is impossible to figure out where the story will go from here. Even though the drama is being stretched beyond limit but I must confess that I really enjoyed watching tonight's episode, it was very heavy duty but it was very enticing as well.
Do share your thoughts about tonight's episode and feel free to disagree with me because I am sure many viewers out there just want this drama to end!!
Fatima Awan