Syed Noor has undoubtedly been the most promising director of Pakistan film industry from mid 90's. He strengthened his position with films like Jeeva, Sangam, Ghoongat, Chor Machaye Shor, Dupatta Jal Raha hai, Deewane Tere Pyar Ke and Chooriyan. However, it all changed gradually once filmstar Saima appear in his films. Syed Noor married Saima and thereafter Saima played lead in almost all films of Syed Noor.
Recently after a long long time, Syed Noor announced one film without Saima in the cast named 'Bhayee Wanted' which is on the situation of Karachi. The film has new faces Yasir, Khurram Patras (Both have worked in Zindaa Bhaag) and Maryam Ali Hussain in lead roles and its shooting is under way in Azad Kashmir.
Not in the initial cast, Syed Noor has created a space for Saima in this film too, to do an item song. In her career spawning over two decades, Saima has performed in very few item songs. Her last item song was 'Tez Chuna Lagayee Ke' in film Ishq Khuda in August 2013 which was composed by Wajahat Attray in the voice of Sanam Maarvi. Before that Saima performed in item song  'Lagi Lagi' in film Moosa Khan (2002) which was composed by Jawwad Ahmed in the voice of Naghmana Jaaffri.
Source news excerpt from Urdu Daily Express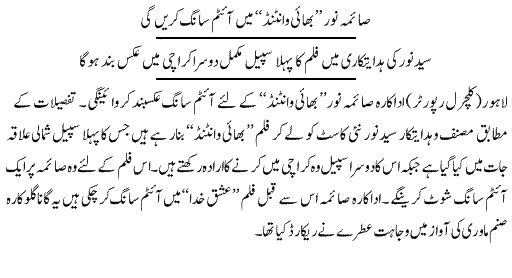 Here is the clip of item song from film Ishq Khuda released last year
Rashid Nazir Ali