Pakistan is a country of music having a rich history in this field and is still producing the best singers who are making the country proud by working all over the world. There was a time few years back when the patriotism was easy to see among the singers who used to come up with music, especially dedicating their piece of work to the nation. However, things seemed a but different in the recent years and nothing like 'Hai Jazba Junoon..' was seen. You might have heard about the Naya Pakistan- Inshallah song that has emerged on screen few days  back, which can be considered as an attempt to rejoin the broken pieces of two bands, namely, Vital Signs and Junoon.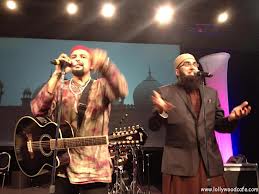 Naya Pakistan is a song been done by Salman Ahmed and Junaid Jamshed who are the lead vocalists of  the song. Salman recently talked to BBC news about their new work and revealed that writing the lyrics of the song was as spontaneous as anything as he was sleeping when he heard the phrase 'Insha'Allah.. Insha'Aallah', he immediately got up and wrote the lyrics.  He was quick enough to respond over it  and shared it with Shahzad and Junaid.
What makes it interesting is the  fact that Junaid Jamshed left music long time back for his religion and was not up for this new idea but it was Salman who made it clear that the idea wouldn't go against the teachings of  Islam and no instrument would be used for music.
The Song is quite energetic and by now it is leading the charts.
We wish more power to the nation and the singers affiliated to it,
Best Wishes
Nida Zaidi