Sammi promises to be another drama which will not only focus on some of the customs followed by people in remote villages through which they exploit women but it is also going to be the story of a survivor. Many of the viewers like myself who live in a world completely different from that of Sammis of this country very often find it hard to believe that even in this day and age there are traditions such as that of Vani in which young girls are used to settle family feuds so that the men of their families won't have to bear the repercussions of their actions. Dramas like these serve as a reality check and help greatly in bringing these stories to light. They cause awareness and give rise to empathy in general public and even those people who do not tune into news channels often or read newspapers in detail get to know about the kind of life some people are forced to lead in these villages. Women are exploited in different ways all around the globe but what we watched in tonight's episode went to show that women like Sammi do not have an identity. Their men are their "maalik" and they make all the decisions for them. The message in tonight's episode was loud and clear. The clarity in the script and the manner in which it was executed was the highlight of this episode. The writer and the director made sure that even those viewers like myself who were not very sure what to expect from this drama knew exactly what the Sammi team had in store for them.
The issue of Vani was highlighted once before too in drama serial Numm but the hodge-podge script turned it into a weird love triangle and there was very little focus on the actual topic. This first episode of Sammi however gave a decent introduction to how a girl like Sammi (Mawra Hocane) who had a seemingly perfect relationship with her brother Waqas (Haris Waheed) was give away as Vani because that was the only way for her brother to escape punishment. Chaudhry Rab Nawaz's (Rehan Sheikh) decision to settle this dispute in a jirga was also an interesting insight into why these cases never make it to the court. He did not let Fazal (Noor-ul-Hassan) go to the police because he considered it an insult! This was a perfect example of the fact that how a handful of ignorant and greedy people can ruin the entire system. Waqas and Riaz Jutt (Irfan Khoosat) were the only two people responsible for Pervaiz's murder but in the end Sammi was the only one who had to pay for it. I liked the way Waqas tried to talk his father out of asking Pervaiz for the haq mehr but later on went ahead and did something terrible only because he had a big ego. It went to show that even those people who do not necessarily accept such a system end up becoming a part of it. Fazal also did not want to accept Sammi as Vani but he was left with no choice because that was the only way he could continue being part of the baradari.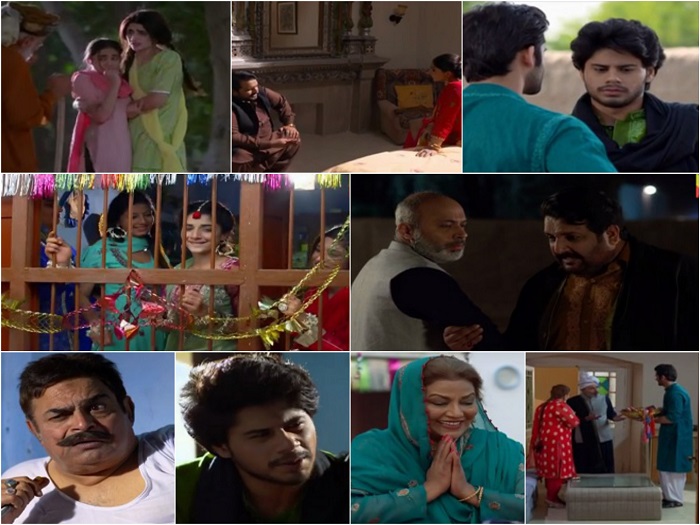 Sammi it seems is going to focus on Vani and baradari system and what kind of a role this system plays in such villages. Sammi wasn't the only victim in this episode Pervaiz and his parents too suffered due to the mentality of all those people who cannot see beyond power and monetary gains. Sammi has a brilliant cast, all of these wonderful actors know exactly what is expected of them. It also has a brilliant writer and an extremely creative director therefore the expectations attached to this play are huge. We need more dramas which don't just entertain but serve a bigger purpose and I hope that Sammi will succeed in doing so. This first episode was well-executed and gave the drama a decent beginning.
While everyone else changed their outlooks to fit the role and the entire set up was perfect but Mawra Hocane's short shirts and patiala shalwars as well her fairly decent make-up and her accent made her look like an outsider. It would have been good if she took some inspiration from Urwa Hocane who did her best to look like someone who was raised in a village in drama serial Udaari. We have seen Mawra Hocane sporting this look in so many other dramas even though her roles in those dramas were completely different from this one. Sammi's character would have been easier to connect to if she looked like someone who was raised in a remote village.
Overall, this was a happening episode of Sammi which would have been even more enticing if the promos of the play wouldn't have been so detailed. The surprise factor was completely taken away because of the promos. Even then, the manner in which Sammi went from being a happy bride-to-be to a Vanni was shown convincingly. It was definitely the kind of episode which gives you a reason to look forward to more.
How many of you watched this first episode? Do share your thoughts about it.