This had to be one of my most favorite episodes of Sammi simply because of the way some very relevant and powerful messages were delivered to the viewers through this installment. I am all for dramas which are solely entertaining but I truly appreciate the fact that different channels are taking an initiative to talk about things which are rarely discussed in dramas nowadays. Sammi is a nice break from the regular love stories and dramas dealing with shadi shuda zindagi ke masail. There are a lot of people out there who need to listen to all those things which Aaliyan said to his brother tonight, which maulvi sahab said to Naheed and even those which Chandni said to Sammi about her feelings for her brother. Although Sammi and Salar's track is my least favorite one yet he is turning out to be someone who will eventually 'educate' Sammi about her rights. Having said that, I must add that I would have liked it a lot more if Chandni was shown as Sammi's mentor. I must say though that I liked the way Chandni's reaction to Sammi and Salaar's growing interest in each other was shown; it was realistic and easy to connect to. Whatever we have seen so far suggests that Chandni is practical and not negative therefore I am waiting to find out how she will handle the situation when she overhears her son proposing to Sammi. Chandni's character has been etched-out brilliantly, there are different shades to her personality and Sania Saeed brings out the best in her character like always! Ahad Raza Mir is also nailing his character; he has proven that he is a natural, love his confidence and body language.
I am certain that there are viewers out there who are educated and live in modern cities yet they face the oppression faced by women like Naheed, Sammi and even Salima. I am glad that this drama serial does not deal with one issue alone but is shedding light on many ways through which those people who are in charge oppress those who cannot defend themselves for various reasons. This drama also gives voice to all those women who do not have a voice of their own. My favorite parts of this episode were Chandni's reaction to Sammi and Salar's growing likeness for each other and the way Naheed's track in particular was handled was beyond brilliant. Aaliyan's character brings hope into Naheed's world. The fact that she listened to him and went to talk to someone who could have given her a fatwa and mustered up the courage to show her brother what the maulvi sahab had to say went to prove that all she needed was more awareness and some support to get what was rightly hers. Her brother is being shown as one of those men who exploit religion and also use societal norms to deprive women. Aaliyan's dialogues in this scene were penned down beautifully, another powerful message which needed to be spelled out! Naheed's brother just like the Chaudhry is constantly judging others but never reflects upon his own actions. Bilal Khan fits the role he is playing and I am certain that Aaliyan will have a much bigger role to play in the future. Nadia Afghan is another actress who never fails to impress, it is a treat watching her perform every time.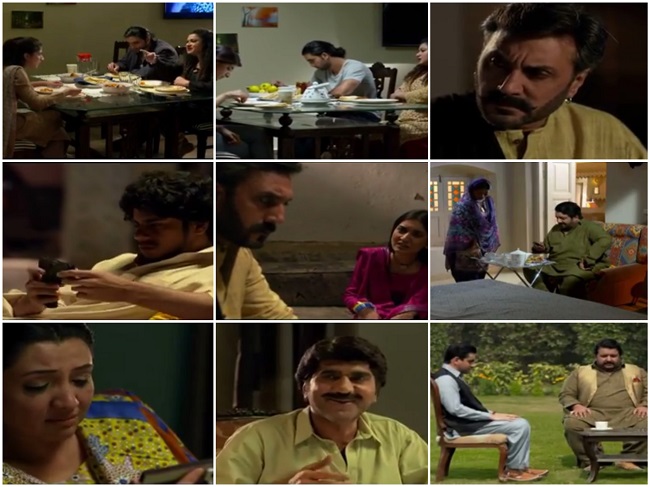 Chaudhry's meeting with Aaliyan was also an interesting addition to this episode. Yet again it showed the mentality of people like Chaudhry Nawaz and why learning English could not change his son's mindset or his future! It was interesting watching someone like Chaudhry interviewing somebody like Aaliyan because the only reason why he was in this position was because he had more power, other than that Aaliyan was far more educated and enlightened. I can't praise Rehan Sheikh enough for proving his versatility in every single role every time. Madiha Rizvi is also doing complete justice to her role, her expressions when Chaudhry was about to check the phone and later on the way she changed her body language to show the relief she felt after finding out it wasn't Rashid's phone were perfect! One of my favorite scenes in this episode was the one in which Sammi refused to take a big tip, it went to show how her confidence and feelings of self-worth changed with Chandni's behaviour towards her. The scene in which Salar tells Sammi to repeat after him was a lot like Udaari therefore not too happy about that!
This is not the first time that Saife Hassan has worked with actors who are being seen for the first time in dramas therefore I am not surprised that he brought out the best in all these actors. The rest of the cast including Seemi Raheel is doing a terrific job. These performances are one of the reasons why it is so easy to connect to all the characters.
The preview of the next episode was exciting. I am waiting to see how Rashid handles the situation, whether Chandni's attitude towards Sammi changes or not and how Aaliyan's presence changes things in Chaudhry's house. There is a lot to look forward to!
How many of you watched this episode? Do share your thoughts about it.