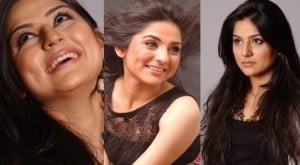 We have seen a lot of overrated actresses in our drama industry. The hype and popularity they receive are more than what they deserve. They are mostly not popular because of their acting skills but due to their glamorous roles and the publicity that they receive. However, there are some actresses that are underrated. They have proved on various occasions their brilliant performance as actors but they still have not received the recognition and popularity that they truly deserve. When I hear the word 'underrated actress' the first name that comes to my mind is Sanam Baloch.
Sanam Baloch started her career as an anchor on the Sindhi channel KTN. She made her debut in dramas through the play Kalaq, opposite Fahad Mustafa, which was aired on PTV in 2008. The drama turned out to be a huge hit. In the same year, she was also seen in the play Doraha, alongside Humayun Saeed, which again turned out to be a hit show.
However, she gained the fame from her stupendous performance in Dastaan which was aired in 2010. The show was based on the novel written by Razia Butt and was one of the best dramas of 2010. Her role as 'Bano' was critically acclaimed. She received the Annual Lux Style Award for the Best Tv Actress (Satellite) for her role in Dastaan.
I still have her scenes imprinted on my mind; her splendid performance had no doubt left everyone speechless. Her sizzling chemistry with Fawad Khan set the screen on fire and her struggle and desire to reach her country after independence was portrayed beautifully by her. I had never thought she had so much potential in her as an actor. I always considered her acting skills to be average but my opinion about her changed drastically after this show. In the same year, we got to see Daam, a play written by Umera Ahmed and directed by Mehreen Jabbar. Daam was the story of the friendship between two friends, Maliha and Zara, one from a rich background played by Amna Sheikh and other was shown belonging to a lower middle class family played by Sanam Baloch. Sanam again proved that she is a magnificent actress. She played the role of Zara to perfection. In the same year, she also did a show called Chemistry opposite Danish Taimoor.
In 2011, she was seen in Akhbari Asghari and Kuch Pyar Ka Pagalpan Bhi Tha. She played a negative character in the play Akbari Asghari which comes in the genre of romantic comedy. She was also seen playing a grey shaded character in Kuch Pyar Ka Pagalpan Bhi Tha. However, both the shows failed to impress the audience. Akbari Asghari was rated as an average show while the latter turned out to be a huge flop. In 2012, she did Dur e Shahwar which is considered one of the best dramas of 2012. She was last seen in Roshan Sitara which went off air recently. She was also seen in Amanat Ali's music video of the song Thumri. Sanam was seen as a morning show host on Hum Tv a few years back and is currently seen as a morning host on Samaa Tv.
What I find disturbing is that even after proving her versatility time and time again and giving so many hit shows, she had not gained the level of popularity that she deserves. She is not being offered quality scripts by popular production houses. She is seen in the same monotonous roles as she has been type casted by production houses. In my opinion, she is a superb actress and deserves to be admired by the audience and appreciated for her roles. She is not glamorous and does not seek publicity in any way. She is just a simple actor and tries to prove herself through her acting skills and that is what impresses me the most.
Mariam Shafiq.