Mera Yaqeen Episode 17 – Intentions Revealed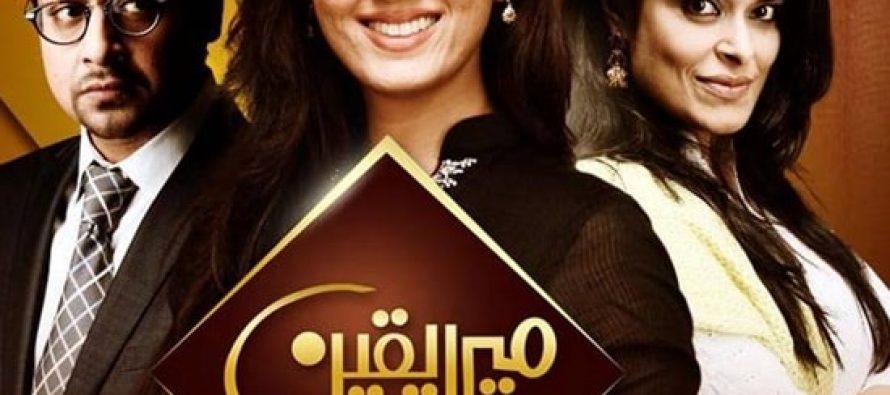 We got to see a lot of development in the story as well as true insight into the characters in this episode. First of all, I would like to mention the strong bond that has been developed between Asfan and Nazish. Asfan has fallen head over heels for Nazish and trusts her completely. The extent of his trust was seen when he saw Nazish talking to Ahmer. He never questioned her about him. It was Nazish who told him that he was her first husband, who had left her for another woman. He did not get offended but spoke a beautiful line which said it all…"Uski Badnasibi aur meri Khushnasibi ke usne apko chora". This simple sentence shows how lucky he feels to have a partner like Nazish. Another example of their growing bond was seen when Asfan was sharing his feelings with her that he was losing hope that Maha would ever recover and that he feels helpless that he cannot do anything for her. She again gave him courage and assured him that everything will be fine; he just needs to keep his faith in God. She has become his support system and boosts him up whenever he feels low or sad because of Maha's taunts and offensive comments. She makes him realize that Maha's illness is the reason for her rude behaviour. Nazish is the perfect example of a woman. She is patient, kind, compassionate and understanding. (Maybe a little too perfect at times)
Maha has finally made the decision about taking the steroids. She had given a confirmation from her side to the doctor. I still don't understand what kind of a doctor would recommend such treatment. Maha is well aware of the consequences. Her life span will be shortened but Maha is adamant on her decision. We also got to see the positive results of the treatment. Maha's condition is showing improvement. However, Asfan is suspicious that Maha is hiding something from him. He fears that she would want to end her life.
 His fear becomes true when Maha attempts to end her life. She was saved by Nazish who walked into the room at the right moment. However, Maha's malign motives were revealed when she changed her tactic and accused Nazish of attempting to kill her. I did not expect Maha to fall so low. Her attempt to prove Nazish as a murderer was just pathetic! But I am happy and proud of the fact that Asfan did not doubt Nazish's intention even for a second. He has full faith or 'Yaqeen' on Nazish and had no doubts on her pure intentions. Previously, I had some doubt that Asfan would leave Nazish due to circumstances created by Maha but now I am absolutely sure that Asfan would never leave Nazish. The relationship based on trust always has the potential to prosper and remain strong.
The most annoying part of the episode was Ahmer's scenes. Ahmer is becoming more intolerable by the day. He actually had the guts to ask Nazish the answer to the marriage proposal he had sent. How can you send a marriage proposal to a married woman? This man is just disgusting. He needs to understand that Nazish is not a toy whom he can discard and then try to gain it back. She is a human being with feelings, just like everyone else. Another intolerable character is of the maid Sabira. Once again she was seen instigating Maha against not only Nazish this time, but also Asfan which resulted in a heated argument between Maha and Asfan.
Well, all I can say is that I am completely on team Nazish now. I felt sympathy for Maha previously but after her wrong accusation on Nazish, I have lost the little respect I had for her. Let's see if Maha would actually get better after taking the injections.
So guys, whose side are you on? Team Nazish or Team Maha? Do share your views.
Mariam Shafiq.
Fatima Awan
Fatima Awan has been a part of reviewit right from its inception. She feels very passionately about Pakistani dramas and loves discussing them to detail. If it wasn't for the play Durr-e-Shahwar she wouldn't have started writing!
---