Just like any other business in the world, the revenue been generated by the dramas depend on some significant features that contributes in deciding whether the drama was a hit or a disappointment. In our industry, where we see directors and producers often talking about the poor resources been allotted to the entertainment industry, it is also evident that the dramas that are emerging at this time of stage are truly great.
It is interesting to notice that although much of the dramas differ from one another, they still share same factors behind the screen. Here are 5 suggested factors that play a vital role in generating revenue from the TRPs of the Show.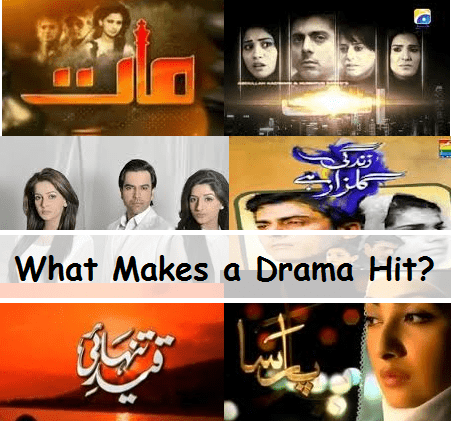 1)    The Script
The essence of any drama is its script. How far do you agree with it? Drama is basically the fiction mode which represents the events take place in common life. Powerful scripts (reflecting the happenings), affecting story with limited episodes are really what people now feel like to see. No matter how great everything else is, the story still revolves around the script, therefore if a script is well written, there are all wide possibilities that the project would grab a considerable audience.
2)    The cast
Casting actors that are most wanted do matters, isn't it? When it comes to acting, It's not merely about delivering dialogues; it counts emotions, realism and certainty of delivering dialogues. While Humsafar was been telecast, the audience was often found commenting that the cast was well-chosen. This means that people now are wise enough to distinguish between an actor and a sleeping dummy.  Let's take an example, think about how it would have been if the role of 'Asher' would have been played by Farhan Ali Agha or Ali Afzal, it wouldn't have been that effective, or would it have been? In short it is the cast of the drama that attracts 50% of the viewership, which is high enough, not to be neglected.
3)    Direction
A director is the person who overlooks the drama and ensures the quality of the script casts the actor appropriate to the character of the story and also motivate his/her team. In short, director's job is firm and multitasking. A successful direction incorporates artistic vision to produce the magic in drama and always comes up with something new. Mehreen Jabar, Momina Duraid, Sarmad Khoosat are few of new spring directors who have an imaginative vision and ability to produce pioneering ideas and these innovative features finally results in superb direction as like in Humsafar, Shehre Zaat, Dure-Shehwaar, Doraha, Daam and many more.
4)    High Quality Graphics
By saying graphics, we actually mean the visual presentation on screen. Now that the glamour has surpassed simplicity in every way, a high quality graphic presentation does matters. Drama's with resolution and good picture quality have noticeably brought more profit. Research has shown that the viewers find  low quality dramas boring and seriously most of them end up with yawns and snoozes! Think of 'Humsafar' with same cast, direction and script but telecasted on PTV with its default graphics, it would be a big crash. What all mean to say is that picture quality attracts viewers to stay tune with the one and subsequently leads to high ratings of any drama.
5)   OSTs
Sound Track is the strength of drama. It reflects the insight of drama before releasing. Good sound tracks let slip the whole story of a drama. As happened with Humsafar, and happening with 'Zindagi Gulzar Hai' , There OST dressed up the entire drama giving them a complete look. It is somehow rightly said that fashion fades but music lasts forever, With OSTs it seems true!
As viewers (and an intelligent viewer indeed) which additional factors do you think, matters for you, or you want them not to be missed? Do Share your  views.
Regards,
Nida Zaidi