Ohkay so, Sang e Mah is definitely the kind of drama that actually makes you look forward to it. Only 2 episodes have aired so far & I can not even begin to think what they have in store for us. The characters are intriguing & their stories seem to be quite interesting too. At this stage, they have succeeded in raising the questions in my mind as a viewer that what actually is wrong between Hilmand & Marjan, why he doesn't shy away from showing his resentment to his father?
Jirga's Decision
Hilmand definitely knows how to change the tide, maybe this is one of the reasons why he feels disconnected from his father because he goes by the rules & regulations, whereas Hilmand, despite being in touch with his emotions is also a logical thinker. The way Hilmand changed the course of Jirga was impressive & showed what is it in him that gives him the edge over everyone else around. Hilmand knew exactly what he was doing, but it also gave him a lot of pleasure knowing that he was outbidding his father in this competition. That entire sequence was done brilliantly because at the end, Marjan also showed that he was thinking two steps ahead of Hilmand & also how experienced he himself was.
I must say the actor playing the role of Sabz Ali as well as his mother played their parts just so well that I actually teared up at their predicament. The way his hands shivered as his mother tried to soothe him was probably my favorite scene of this episode. Sabz Ali definitely loves that girl, therefore he thought after committing Gagh, he will eventually go scot-free but that definitely turned against him, despite the fact that Hilmand tried his best to help!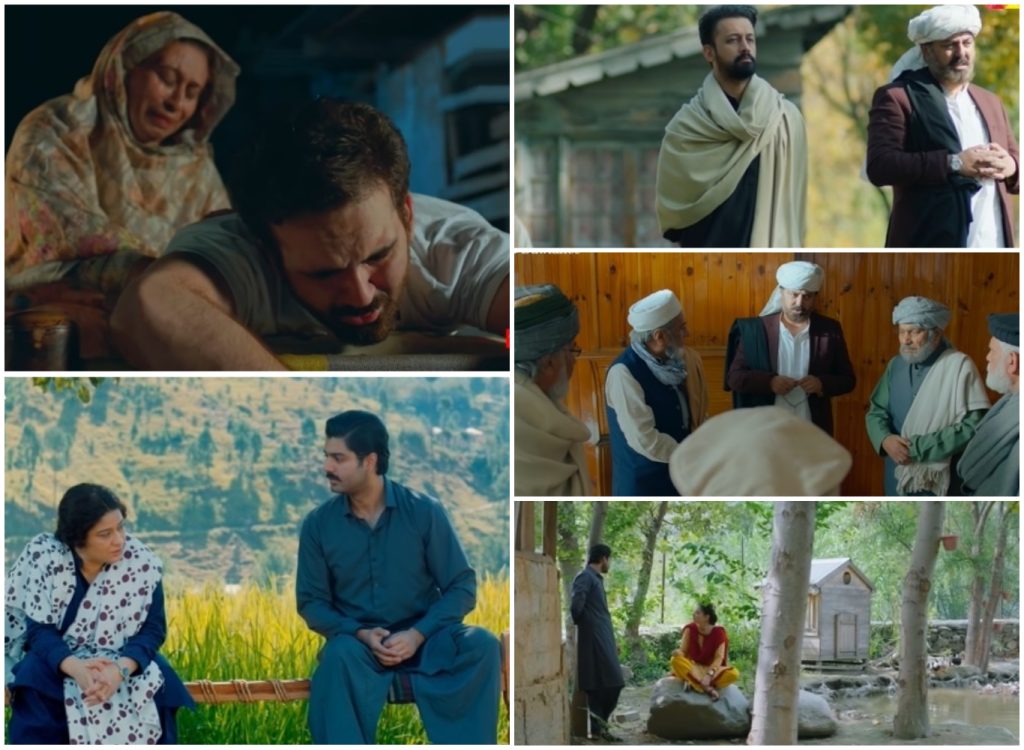 Gulmeena & Hikmat's scenes brought much-needed relief throughout the episode. Also, Hikmat's conversations with his mother are cute too. She obviously doesn't take him seriously, therefore no matter what Hikmat was going through, she didn't really think it was something worth paying heed to. Zarsanga did seem a bit out of a touch with reality because as soon as Hikmat mentioned Gulmeena, she should've understood what he was trying to imply. On the other hand, Zarghona has proven to be quite far-sighted & also pretty sorted. Her conversation with Hikmat showed exactly what she wants & if possible, how would she like things to proceed. Although at this point Zarghona seems a bit too rigid, it could also be because she knows Marjan & Zarsanga a bit too well, that is why she wants to protect Gulmeena from heartbreak. She knows Marjan & Zarsanga will never come to her place seeking Gulmeena's proposal for Hikmat, that is why she is trying to prepare Gulmeena for it. Hikmat is adamant that he actually wants to marry Gulmeena but sadly, he too is immature to approach it in a feasible manner.
Powerful Performances
Sang e Mah is definitely going to be one interesting journey to witness. I love how quick-witted all these characters are & how unique they are in their own way. I am also interested to find out why things are bitter between Zarsanga & Zarghona. Zarsanga & Marjan also have a past & the note at which the episode ended with Zarghona talking against Zarsanga's character goes to show that this might be a bone of contention between the sisters. Some of the scenes always bring in a lot of relief such as Zarghona's conversation with Badam Gul & also Hilmand's monologues to which his friends are always there to react. At this point, I can not wait to explore all these characters & kind of have this faith in this team that they are going to bring something absolutely exciting in the upcoming episodes. The preview of the next episode was quite dramatic too, can't wait for it. All the actors have performed brilliantly but in this episode, the actors playing the characters of Sabz Ali & his mother stole the show for me with their powerful portrayal of such strong emotions. Well-directed & well-written for sure & I love how crisp the camera work is. Please share your thoughts about this episode of Sang e Mah.
Keep Supporting,
Cheers,
Zahra Mirza.