Ohkay so, just like the previous two episodes, this episode of Sang e Mah was thoroughly enjoyable & captivating. There is so much to each & every frame that while absorbing it all, it actually feels like you are a part of some other world where everything is unfolding in front of your eyes. The screen presence of all these actors is so strong & their performances are so so powerful that it really keeps you engaged as a viewer. Sang e Mah definitely has become one such drama that has not only had a great start but continues to be promising & with each passing episode, the curiosity keeps on building.
The Past Unveiled
This episode unveiled the most important event from the past, which was Zarsanga & Marjan's affair & how they both got to be together. This is exactly the reason why Zarghona thinks so low of her elder sister because what she did was definitely unforgivable in such a conservative society. Zarsanga was already married & had Hilmand when Marjan decided that he wanted to marry her. For Marjan, it was just an emotion that got the better of him but for Zarsanga, it was nothing short of an extramarital affair. This episode beautifully explained all the emotions that Hilmand has felt towards Marjan; why he calls Marjan his wife's husband, not his father & why he continues to cling to this grave of Nasrullah Khan; his biological father. I must commend Samiya Mumtaz for showcasing Zarsanga's awkwardness to perfection when Zarghona decided to turn some of the pages from the past, it was obvious that she knew everything that Zarghona said was true & why she had all the reasons to be so bitter about it.
Marjan definitely has his struggles but he continues to hide them from everyone. One very important conversation between Zarsanga & Marjan showed the contrast between what he truly feels & the facade that he carries in front of the whole world. Marjan easily came up with a dream that he shared with his wife to put her heart to ease but after she left, he admitted to having been 'sinful' all his life. I am interested to find out how he actually got married to Zarsanga – did it happen easily or did Marjan have to kill Nasrullah to get his lady love. This also brought me to one very important question regarding why Zarsanga felt so passionately about Sabz Ali & Ghagh. It makes me want to know her more when deep inside she herself is well aware of what she has done & why Hilmand is so detached & aloof to his entire family!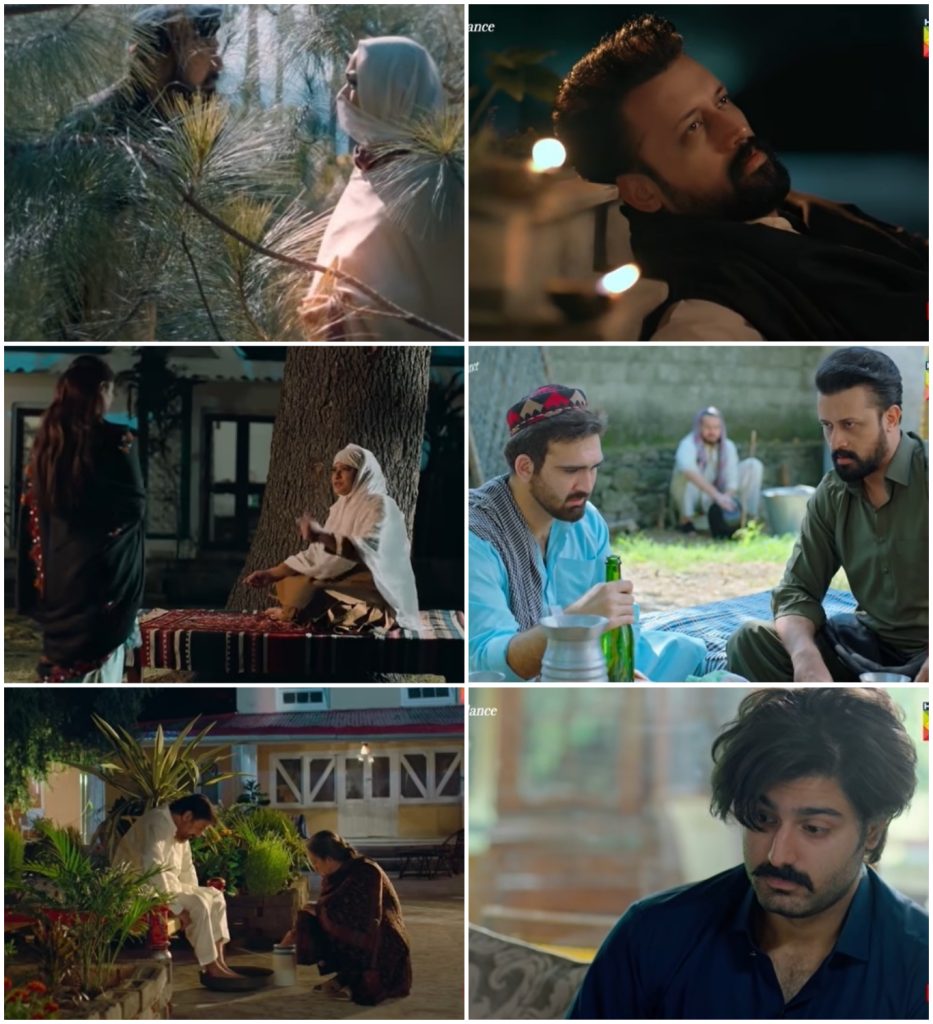 I loved the scene between Hilmand & Sabz Ali. It showed that for Hilmand, sincerity & trust are what matter the most. He stood up against the tide only to protect his friend but later when he figured out that he has been lied to, he actually wanted to convey that to his 'friend' too. It is true, Sabz Ali actually wanted to marry that girl, that is why he committed Ghagh but because he was afraid of the consequences he lied to Hilmand about being intoxicated & not in his right frame of mind. The more I watch Hilmand's character, the more I want to learn about him & his battles. One thing is for sure, he wants to come to terms with how his life has panned out after his mother made the decision of marrying Marjan Khan but he is finding it hard to do so & which makes it very perplexing for him.
Hikmat is trying his best to get married to Gulmeena but he is unable to figure a way out. The things he said to his mother also showed that at some point, even he will try to dig deep into the past only to be left disappointed. The way both Zarsanga & Marjan reacted to everything showcased how they both are sad & unsettled deep inside – they both are putting up a facade but probably the weight of their decision & the consequences of it all is too overbearing for them, which is bringing them down.
Badam Gul continued to bring some comic relief to the overall grim situation. It is actually sweet how both Badam & Mastaan treat Gulmeena as their own daughter. Mastaan is definitely going to protect Gulmeena whereas Badam will always stay loyal to Zarghona. It is commendable how they have established the characters & their personalities that you actually feel like you understand them a bit too well, even though the drama is still in the initial stages. Gulmeena also wants to get married to Hikmat but she is also well aware of how difficult it would be to convince her mother. Zarghona is another character that I want to explore; the things she said to her sister & later to Gulmeena when she saw her mingling with Mastaan goes to show that she too is very staunch in some matters & has a very conservative mindset. It kind of makes her a very interesting character because she openly defies the norms of the society that she is a part of only for her survival. I am keen to learn her story too.
Brilliantly Directed
This episode of Sang e Mah was totally gripping. Director Saife Hassan should take a bow for capturing every scene so beautifully. I loved the shot from the past where both Marjan & Zarsanga meet. All the frames have been carefully crafted & beautifully captured. The actors continue to be impressive. I really liked Zaviyar Noman's performance in this episode too. While watching Samiya Mumtaz & Saniya Saeed share the screen, all I could think of was how strong their screen presence was & the kind of performance I was getting to witness from both of them. Atif Aslam is a star for a reason but to outdo himself & prove his mettle as an actor is a feat in itself. Sang e Mah has been nothing short of impressive & I can not wait to see how things unfold. Please share your thoughts about this episode of Sang e Mah.
Keep Supporting,
Cheers,
Zahra Mirza.