Ohkay so, with Sang e Mah, it is a good idea to expect the unexpected. It is commendable how the writer Mustafa Afridi has written these characters who are not only unpredictable but know how to change the tide. The most important character obviously being of Hilmand took us off-guard with what he did, but it is amazing how just a dialogue or two from him are enough to insinuate what's going on in his mind. Sang e Mah has definitely has been a drama to have a strong start, but the way it keeps on getting better makes me look forward to it even more.
Hilmand Waged A War
Hikmat definitely is in touch with his emotional side & more so because he reveres Gulmeena. Therefore he has always thought on the lines of Ghagh but always found himself chained knowing that this is not only going to malign Gulmeena's image but will put her in a deep pit that she might never be able to come out of. It is endearing to know that Hikmat is capable of loving Gulmeena this way where doesn't let his emotions get the better of him & allows him to be logical. Gulmeena gets a lot of credit for keeping him sane too because she also doesn't want him to do something irreparable. Gulmeena understands where her mother comes from therefore she just doesn't want to do anything to hurt her further. I have said this before & I will say it again, the love story of Gulmeena & Hikmat may not be new but the way it is being told makes it very special. It is like you find yourself rooting for them because they genuinely are two harmless souls who love each other with all their hearts. It is however unfortunate that their elders share such a bitter past that it continues to haunt them to this day!
Hilmand was definitely not going to sit quietly after how Marjan Khan beat him in Sabz Ali's case. Hilmand was definitely looking for a reason to stand against Marjan that too in a Jirga. Hilmand doesn't want to bring Marjan Khan down in seclusion, he wants to make it public, he wants everyone to know what his stance is. It is kind of twisted but makes Hilmand's perspective quite clear that he won't shy away from taking the most difficult paths to get where he wants to. Right now, all Hilmand wants is to bring Marjan down, therefore he decided to do what none of them would've ever imagined. The brief interaction between Hilmand & Shehrezaad was a sight to witness. Their chemistry, their screen presence while sharing a single frame were spot on. Hilmand was definitely taken aback, he noticed her but didn't make it obvious to her. There was something about Hilmand that Shehrezaad noticed too & just a brief encounter made me want to see them together a lot more.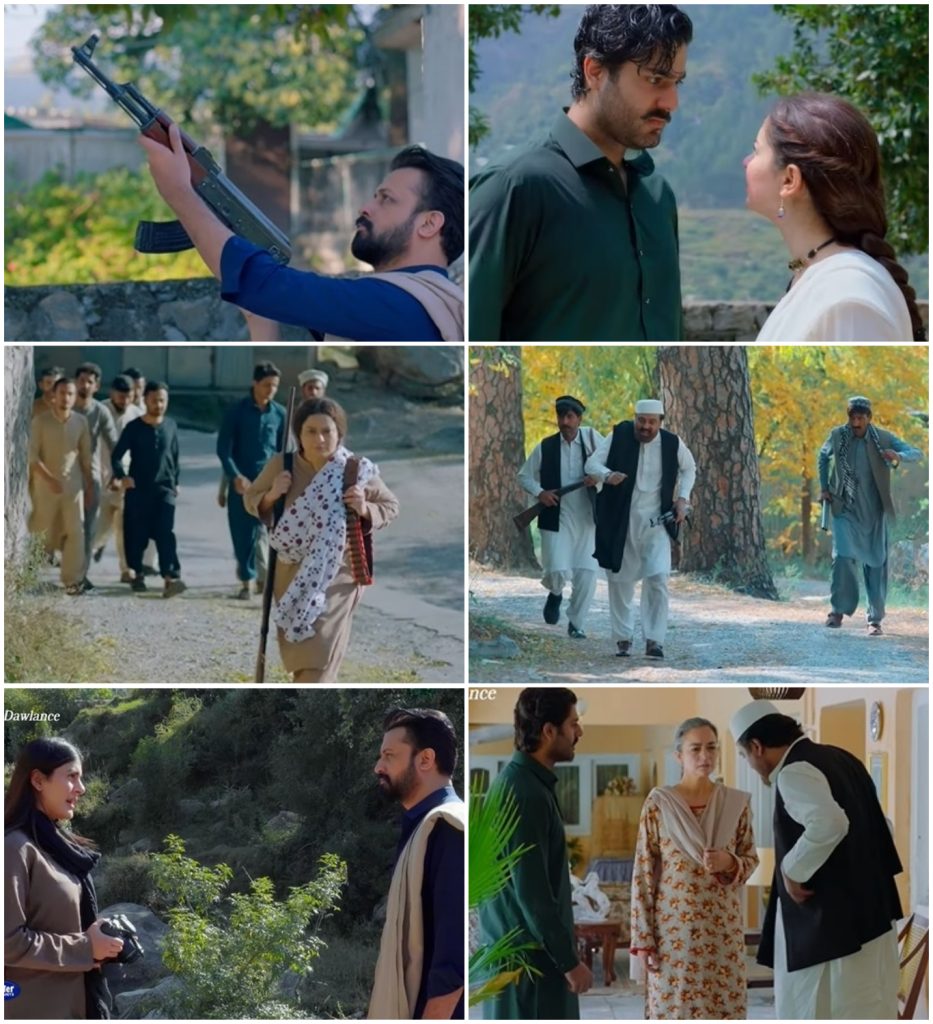 Marjan & Zarghona's conversation was so intense. However, it made one thing clear that Marjan may not have much to do with the death of Zarghona's husband because his body language & demeanor showed clearly that he wasn't uncomfortable or awkward in front of her. I really like how both Samiya Mumtaz & Nauman Ejaz have portrayed this aspect of Zarsanga & Marjan's character. They make it very obvious when they are uneasy like Zarsanga was in front of Zarghona & even how Marjan is in front of Hilmand. While this conversation lasted, it was pretty obvious that Marjan doesn't think there is any reason for Zarghona to be so stubborn about Hikmat & Gulmeena's marriage, almost as if he hasn't wronged her in any way. I love the way Zarghona words her feelings; be it of anguish or dismay.
Shehrezaad met Haji Marjan Khan. Little did she know that there was so much more than what he was sharing with her. Marjan was definitely putting up an act, making it look like everything was under his control & things ran smoothly in his tribe but little did he know that he was about to get busted. Even before getting involved in what Hilmand did, he decided to take care of Shehrezaad because he knew things were about to get grim & the last thing he wanted was the media coverage of it. Shehrezaad has absolutely no idea what she has gotten into but luckily, Hilmand will come to her rescue sooner or later. Kubra Khan gave such a convincing performance throughout the scene when Shehrezaad interacted with Marjan, her fear & discomfort was quite obvious.
Phenomenal Performances
This episode of Sang e Mah was a visual treat & it ended on such a powerful note too, a heartfelt message from one mother to another. Another underlying message was that Sabz Ali's mother hoped that Zarsanga's son will face the same verdict if Jirgah would be fair considering Hilmand comes from an affluent family with Marjan having the final say in the Jirga. Zaviyar Ejaz & Hania Amir have played their part beautifully. I love seeing Hikmat & Gulmeena together & I feel for them a lot. Sania Saeed & Nauman Ejaz are a class apart. Samiya Mumtaz has played her part phenomenally & then we have Atif Aslam who definitely is the star of this show. The confidence with which he has performed Hilmand's character with each & every move thought, expression portrayed with clarity is a testimony to how great of a performer he is. I can not wait to see the next episode. Props to the writer Mustafa Afridi & the director Saife Hassan for bringing something this grand, unique & exciting to the table. Please share your thoughts about this episode of Sang e Mah.
Keep Supporting,
Cheers,
Zahra Mirza.