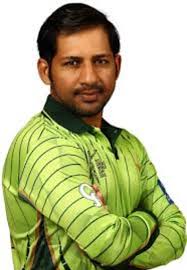 Sarfraz Ahmed, the winning team captain appeared as a guest in Wasim Akram and Shoaib Akhtar's Geo Khelo Pakistan. As he walked in, the crowd got to their feet and gave him a huge round of applause to which Sarfraz humbly replied.
In acknowledgement to his services along with his team, the captain was gifted luxurious gifts. A plot  of land in Behria Town and a SUV BMW  X1.
"I'm really thankful to Allah for providing us with so much honor and giving us the opportunity to enhance our reputation. In addition, it is our parents' and fans' prayers that got us to this place," These were the captain's words as he expressed his gratitude to the audience.
He was particularly happy to see Wasim Akram and Shoaib Akhtar who he said he used to watch on TV and seeing the two legends live gave him immense pleasure.
Presenting the audience with his victory in the ICC final against India as an Eid gift, Sarfraz wished everyone Eid mubarak in advance as the audience cheered him.