Ohkay so, as expected, this episode of Mohabbat.pk was hilarious too, I love how the situations are unfolding & getting interlinked where everyone is facing the brunt of one thing or the other. I love the fact that every single character has to offer something & is contributing in such a way that it makes them an important part of the story. This episode was nothing short of perfection & I had a great time watching it, almost such a great time that at one point I had to pause the episode so that I could get over with the laughter fit.
I love the fact that Sabir Dada Jee is so bezati proof, like Kazim kept on insulting Dada for running Kazim Killer account but he didn't budge, as if he wasn't doing anything wrong, in fact Dada made sure to remind Kazim of the video that he had in order to keep him from spilling the beans about who the owner of Kazim Killer account is. I find it extremely amusing that everyone keeps on giving Dada Jee a reference of his age while expecting him to act on it but they have no idea that Dada has such a colorful personality that he doesn't feel like acting his age. When Kazim spoke about Dada's adolescence & he started reminiscing about it, even I was wondering what he must've done back in those days, since he is still so khatarnaak & rangeen-mizaaj.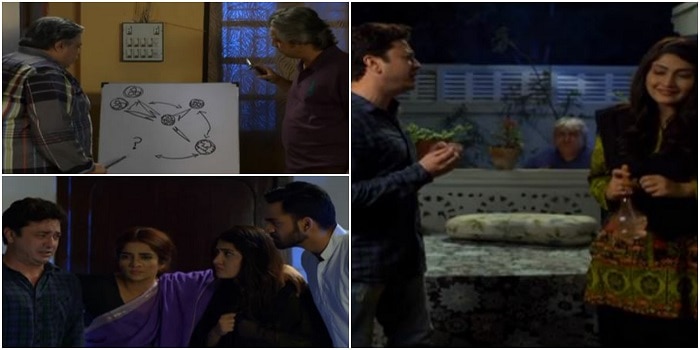 So, as usual another plan was devised by the Qabza Group to make the most of Nazim's innocence & naivety. Dada knows that Nazim is the only one who can be played upon, so he made sure to let Zoha & Jabir know what their next plan of action would be, which will be all about pressurizing Nazim to such an extent that despite wanting to he won't be able to back off from his word. I think it is commendable that even though Dada knows that Mrs. Nazim, Kazim, Munni & Sikandar are not in the favor of this proposal, he is still doing everything to assure that Zoha gets married to Kazim, like I love the fact how dheet this Qabza Group is.
So, finally came the moment when Nazim was blackmailed by his family & was told to back out from his word & even though Nazim tried, he had no idea what he was going to get into. I loved how ham the entire Qabza Group went in front of Nazim to make him familiar with the direness of the situation. I loved how Nazim was feeling each & every single emotion that the Qabza Group was overdoing it in front of him, like he is so simpleminded that he couldn't even realize that they were just trying to guilt-trip him. I love how every single time they bring in Zoha's fan following into the picture, I must say she is quite famous & that obviously means something to Nazim too because he wouldn't want his family to face the brunt of Zoha's fans.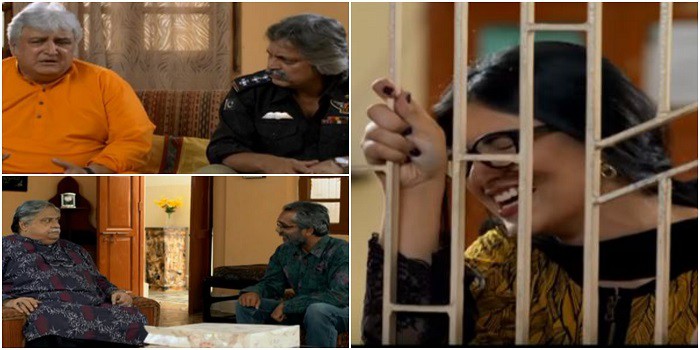 It was quite interesting to see how Kazim Killer account once again changed the entire story, like even though Nazim didn't say a word & walked out of Jabir's home, when he met Ehtasham & got to know about Kazim & his Killer account, he went back straight up to finalize Zoha & Kazim's marriage because he immediately realized that his son was also guilty & didn't have a clear conscience. Also, despite wanting to, Kazim couldn't say a word that it is Dada Jee who runs that account because even he is scared that he might release Kazim's videos, lol. The level of blackmailing shown in this drama is epic & what's even more epic is the fact that Nazim & Co. is falling prey to it every single step of the way.
Even though Munni & Sikandar are not involved in this entire chaos, I love how they both have a life of their own where while still being in the middle of all this, they only think about being with each other uninterrupted. Their agenda is to get Jabir's place so that at least Sikandar can feel at home, lol. Sikandar's dhitai is another thing worth appreciating, it is amazing how he is so thick-skinned to not even be bothered by the way he gets mistreated by everyone. The fact that everyone has their sights on Nazim's upper-portion is amusing because that is the reason why everyone is going to such an extreme length to get it, Jabir wants it, Sikandar & Munni want it & even Mrs. Nazim wants it back too but it ain't going anywhere because Qabza Group is far more intelligent & cunning.
Overall, this episode was quite interesting & I had a great time watching it. I must say I love the comic timing of each & every single actor, especially the actors belonging to the Qabza Group, like they have such complex dialogues that they have to deliver so effortlessly to add that humor & they have achieved that in every single scene. Obviously, the writer here gets full marks for bringing out such a perfect & relatable comedy but the director is the one who is responsible for bringing everything to life & Ehtashamuddin has done a commendable job. I am definitely looking forward to the next episode & it feels good to know that I wouldn't have to wait much longer as it airs tonight again! Please share your thoughts about this episode of Mohabbat.pk.
Gems of this episode:
– 'Waisay Amman to sari zindagi mujhse kehti rahin ke mere barabar mai kutta gaarh dena lekin is admi ko daffan nahi karna', LOL!
– '80 pe khelte hue nervous to ho rahay honge', hahahah!!!
Keep Supporting,
Cheers,
Zahra Mirza.