Picking such topics and writing over them is always something I avoid the most; probably because the readers often find the content either bold enough to be discussed or find the critics been overdone. However, it seems more like a duty to share all the must-know facts and  happenings that are related to our celebrities and showbiz industry to keep our readers updated. What I have today to share with you all is a news that will surely leave you with a thought to consider.
I recently shared a news announcement about Salma Agha's daughter Sasha Agha and the fact that she will soon be seen on screen in a bollywood movie "Aurangzeb".
Note: Read more about the project here : https://reviewit.pk/salma-aghas-daughter-sasha-agha-makes-her-debut-in-yash-raj-film-aurangzeb/
While I was searching more about the movie, I came across some sites where Sasha is been discussed for the intimate scenes that she has done with Arjun Kapoor, who is the male lead in the movie. The clips were quite shameful as I take them and knowing that our site has some rules and regulations to follow, censoring of the clips was the first thing that was done.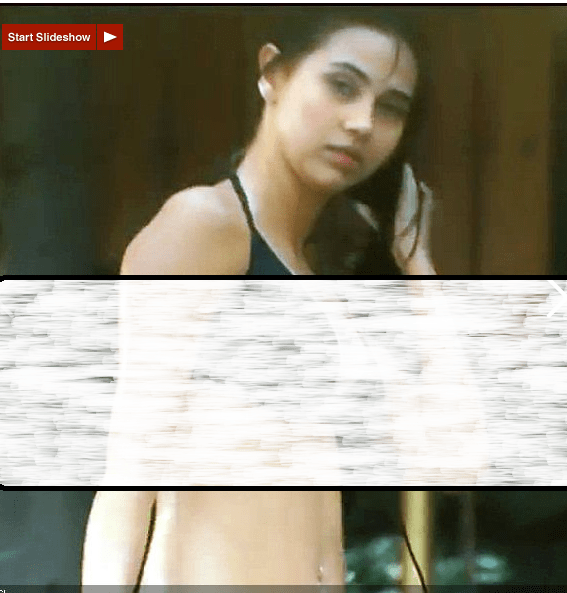 It is a pity that although belonging from a family that has earned a lot of respect for its talent in the field of acting and singing, Sasha Agha seems quite comfortable in doing such bold scenes in the movie. If you take a look on the song that has also been sung by her, you will notice that the line that distinguishes glamor from vulgarity has crossed all the boundaries that should be strictly followed.
Salma Agha is one of those celebrities who are still cherished for not their work only but for the morality and ethics that they ensured on screen, however, watching her daughter in an avatar that completely opposes to the customs and traditions that the home country follow was an unpleasant experience.
There is nothing new about the story as it is becoming more like a trend that Pakistani actresses go to India and take the name down of the country by selling themselves on screens, whether it is Meera, Veena Malik, Sara Loren or Sasha Agha now.  
Pakistan is a country having 60% of the liberal people who are at ease with some romantic scenes been shown on screen but the fact still remains that being a Muslim country, the audience want to see their celebrities following at least some lines called "limits" on-screen and on a serious note even the law of the country disapproves the anything that becomes a source of promoting vulgarity.  
It has been seen that Pakistani actresses who try earning respect with indecent ways in India lose their career in Pakistan as Veena Malik is a good example of this. About 70% of the audience hates Veena Malik for her boldness and this means the end of her career in her home country. The news about having Salma Agha's daughter as an emerging talent was welcomed by most of the readers few hours back but her fan following within Pakistan is in danger if we take the previous trends into account. Fair enough, Sasha has got her first break with Yash Raj Films which itself speaks quite much about the intimate scenes she agreed to do.
What makes this article worth reading is the fact that it is now important to question our celebrities about the ethics that they must follow. Will all of our celebrities going to sell their dignity on screen just for the sake of some money and popularity? Are we going to take them back open arms when they would return to Pakistan after giving some bold, low-budget  flop movies?
It is a point where all of us should start thinking that how we actually want our culture to look like.
Save your culture, raise your voice,
Blessings
Nida Zaidi