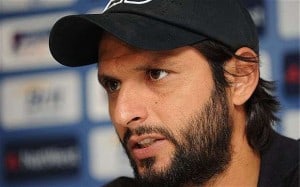 An energetic and enthusiastic man of parts and of course Boom Boom, Shahid Afridi is charged up to hit a biggest six this time by showing his acting skills in film. Amazed!! Yes, now you will see Boom Boom in a leading role of movie where he shows up his
startling performing arts in Pakistan's first sports film.
The film is based on life and career of Shahid Afridi, giving an idea about the hurdles he might have faced during the course of his long successful trail. In so far as the concept is concerned then it spins around a boy whose inspiration and love for our Boom Boom Afridi is to a great deal that with the passage of time he discovers a Shahid Afridi within himself. Hold on fans! Let's not unleash everything but wait for the moment when everything unveils its potential and achievement hopefully by April 2013.
The movie is directed and produced by Humayun Saeed. According to Jang Newspaper, Humayun hoped to launch the film concurrently in various countries. Promotion of the film will be started from 2013. Director excitedly said, "We want to take the movie to the global audience and would also try to organize a special screening for our audiences in India."
The film will be starring some megastars of Pakistan including Javed Sheikh, Aisha Khan, Noman Habib, Humayon Saeed and on top Afridi himself. This is not it! Legendary Pakistani singers Rahat Fateh Ali Khan and Shafqat Amanat Ali have been
rope in for two songs in the movie.
Seeing that the movie entails the efforts of really big names of Pakistan as well as the charm of Boom Boom is pretty enough to make the viewers crazy about the film, I also have very high expectations, the same as most of the people are already comparing it with 'Lagaan', 'Chak De India', but I am positive it will be different and fairly as worth watching as them.
Humayun Saeed said, "if we can clap on the fact that their teams won, then why not ours." I must say it's a very smart yet reasonable concept to go with as a first move for a movie not only of his career but Pakistan as-well.
We wish you finest luck for such move. Hit the rock!
Nida Zaidi