Pakistan seems to be engulfed in a number of sensitive matters pertaining to abuse and especially child abuse these days. While the number of child kidnappings, abuse, rapes and deaths grow, we see absolutely no progress into tackling the matters whatsoever.
The general public in Pakistan has been voicing their opinions and the celebrities with their reach and influence playing their part, demanding the government to take action against the rapists.
In lieu of the ever growing incidents, actor Shamoon Abbasi, recently took to his Twitter, to get the government to pay attention towards another similar matter which by far has been neglected.
Sharing a Facebook video of the Superintendent of Darul Aman Lahore, Shamoon Abbasi requested Pakistan's prime minister, Imran Khan to look into the matter, as an emergency.
The video shows the SI of Darul Aman Lahore stating how she was being taken into custody because she had dared raised her voice against supplying young orphan girls to high officials of the Punjab provincial government. The lady stated that she has been pressurized to take her complaint back after her organization stopped receiving its allotted budget. On her persistence she was now being taken to prison so that all proofs could be removed regarding the issue.
Taking to his Twitter, Shamoon Abbasi asked Imran Khan to look into the matter personally because this was a grave situation that required immediate attention.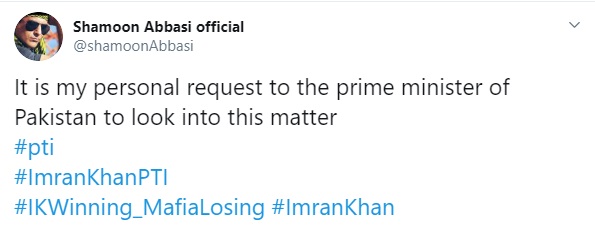 The actor also tweeted about the incessant of rape of minors increasing in Pakistan and how he felt ashamed to be called a "Man". Shamoon also went on to question the government and the law departments about public hanging of those culprits who were caught.