Ohkay so, this episode of Shehnai showed that happiness & trying times both go hand in hand in one's life. Just when everyone was rejoicing over the fact that Bakht & Meerab were now getting married & their wedding festivities have begun, they were faced with Absar's sudden health issues. This episode was also dedicated to all the signs both Bakht & Meerab were getting one after another to understand that they both were meant to be but obviously, it is too early for them to come to that realization. However, the fact that they both are on the path of that particular discovery makes it worthwhile.
The Signs
I really enjoyed watching how Munni was taking sides, first she joined hands with Maliha to tease Qifayat & then later, she sided with Tooba against Maliha. This makes the family dynamics look very real because not everyone all the time has to be on the same page, they all can have their differences & choose to stand with what they agree with. It is nice that all the supporting characters get their fair share of coverage & are shown to be just an important & integral part of the family as well as the story of Shehnai.
Beenish & Rafay's budding relationship was exposed & Tooba wasn't really happy. Qifayat obviously had no idea how he was going to deal with it but I found it interesting that at least Beenish decided to stand by her feelings & let her parents know that she actually was interested in Rafay. Qifayat definitely isn't the kind of person to take this as an eye-opener in order to leave Bakht alone but this is exactly what he should've done, realizing that he had a daughter too who was interested in someone, just like Bakht was, about which he made such an issue.
In this episode, Samreen's character got a bit more clarity & as a viewer, I got an insight into what she was like. Samreen not only has personality issues but she is actually two-timing Meerab. She is a control freak & because she saw that Meerab was getting engaged, she couldn't really cope with the idea of some other girl winning over what she thought 'belonged' to him. For Samreen, this is nothing less than an adventure & she doesn't really have genuine feelings for Meerab. The fact that Meerab is so obedient, she enjoys the feeling of entitlement where he gives her the satisfaction that she owns & rules him. I liked noticing the fact that just because Meerab himself is so nice, he sees the non-existent niceness in Samreen & is ready to accept her the way she is, thinking everyone is flawed so he might as well accept her with her flaws as well. I must commend the writer Radain Shah for coming up with such an amazing character like Meerab who actually is the hero in this equation & is just so kind-hearted. Samreen is very much involved with her fiance & doesn't really plan on leaving him. At this point, she is keeping her options open & doesn't mind playing around with the feelings of both Meerab as well as Saleh.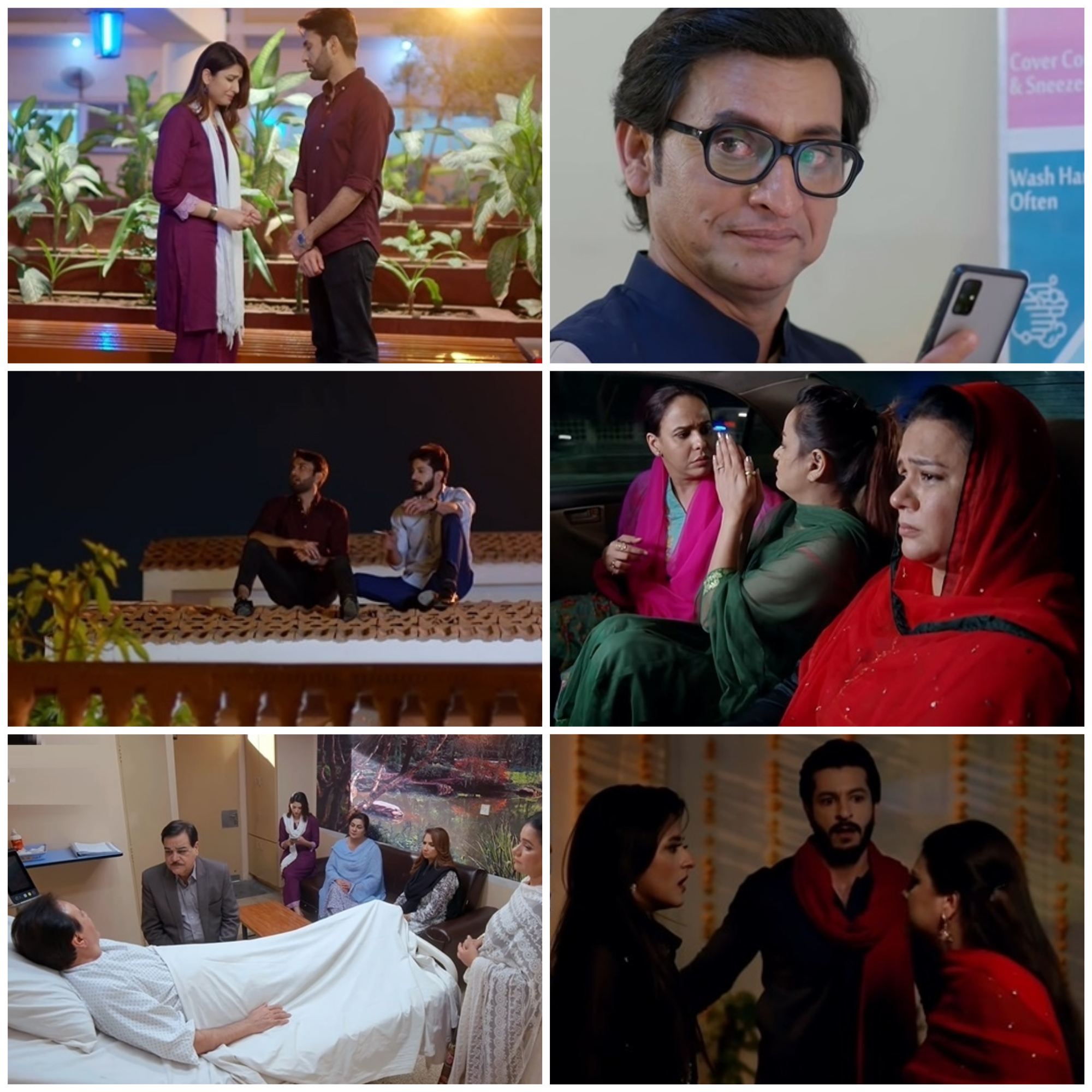 Bakht felt burdened with the idea that she was being a nuisance to both Meerab & Samreen, she finally decided to tell everything & yet again, her mother's reaction was disappointing. It is said that she chooses not to believe anything that Bakht says & even now she felt Bakht was lying about Meerab & Samreen because she didn't want to get married. It would definitely be nice if for once Ambreen pays attention to Bakht & hears her out instead of just treating her as a burden she wants to get rid of. On the other hand, Bakht's relationship with Absar is really refreshing. This was yet another sign that Absar didn't hear anything that Bakht said about not wanting to get married. The first sign was the sudden power cut & Samreen losing her golden chance of telling the truth to Bakht & Meerab's mothers.
Iffat has no idea what she has done, but it was amusing that right in the middle of such a tense & emotional situation, she decided to capture that moment shared between Bakht & Meerab. Bakht definitely has become a lot more comfortable with Meerab but he has yet to realize what is best for him.
Fun Episode
This episode of Shehnai was fun to watch for sure. This drama keeps on getting better & the characters are such that I actually enjoy watching what they are up to. This is a perfect result of intelligent writing & brilliant execution that has given these characters such a nice & strong portrayal. Props to all the actors for their brilliant performances. Maham Amir is really impressive as twisted Samreen, her expressions are fun to watch. Affan Waheed & Ramsha Khan are just perfect as Meerab & Bakht. This was yet another episode where Javeria Abbasi looked absolutely stunning. Please share your thoughts about this episode of Shehnai.
Keep Supporting,
Cheers,
Zahra Mirza.