This drama serial is turning out to be a huge disappointment mainly because of the fact that it is another one of those dramas in which the heroine is introduced as a headstrong, confident, focused and ambitious young girl but after a few episodes she turns into one of those typical heroines who have done-to-death written all over them. Usually in dramas these women change after they get married and lose their identity completely but in this particular case Shehrnaz's priorities changed after her dreams started coming true. Shehrnaz was introduced as an extremely determined woman who wouldn't let anything or anyone stand in her way but things started to go haywire when Sherry got engaged and since then the story is no longer about Shehrnaz making her dreams come true. It is almost as if Shehrnaz feels that she has done everything she wanted to and now the story has moved on to a phase where she is madly in love with a married man and that is what her track is all about. I have to say that this story does not have any impact also because what we are watching right now looks a lot like an affair yet the viewers are supposed to believe that this relationship is strictly "platonic"! It is impossible to relate to the relationship between these two individuals because of this vagueness and probably an attempt by the writer to keep Shehrnaz's character dignified.
KK too is head over heels in love with Shehrnaz which is something brand new for him. This was the 3rd episode in a row in which the viewers saw KK admitting that Shehrnaz wasn't just any other girl in his life. I don't know what to make of this track but I definitely felt like the script lacked substance and depth at this point. Watching Shehrnaz cry for Sherry few episodes back and now for KK in these recent episodes has completely ruined this character for me. Ayeza Khan and Aly Khan's performance is right on point but the actors don't have much scope when their characters do not have a lot to offer.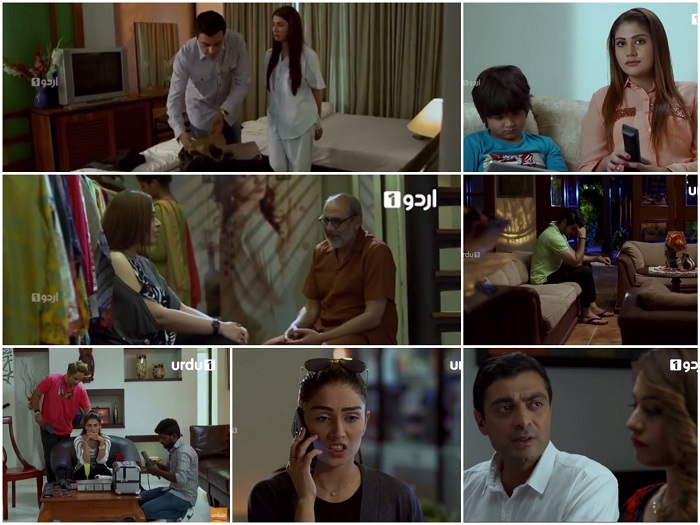 Naina Pardesi's visit to Naseeb Gul's outlet and her proposal should have been the highlight of this episode but it was also one of those developments which make you wonder why it happened. There was no background story to this track therefore this proposal came and went without any impact. One can only assume that Naseeb Gul is doing really well but even then why would a top designer want a collaboration with him? It would have been more convincing if the viewers saw Naina Paredesi discussing this plan with someone beforehand so that the viewers knew what was on her mind. This wasn't the only side track which was executed poorly. Why couldn't KK switch off his phone or switch it to silence mode when Shehrnaz was calling?
Shehrnaz's unprofessional attitude in this episode and the previous one is not helping her character in any way. She refuses to work every time she has a fight with KK! This character is fast becoming a really annoying character and the script is extremely immature at this point. Also, KK and his wife's track is putting me to sleep. This play had tons of potential but sadly it is going downhill fast! I am sorely disappointment with the recent developments.
How many of you watched this latest episode? Do share your thoughts about it.