When I watched the first half of this episode, I thought to myself, finally an episode which does not have that one scene which has been a constant part of every single episode for weeks now; zindagi ooooo zindagi playing in the background while Shehrnaz cries thinking about either Sherry or KK depending on the circumstances. My wishful thinking however turned into a major disappointment yet again at the end of this episode. I thought the writer could get through one episode without showing Shehrnaz crying like a thankless brat but later on when she was willing to accept someone like Sherry only because she was lonely was just plain pathetic!
Sherry's track was hilarious! He was beghairat enough to let his father in law pay his bills but his ghairat did not allow him to let his wife tell his family the truth. Sherry's track continues to be the most useless and annoying part of this entire drama because Shehrnaz learned nothing from her experience with him. Also, the way Sara asked for a divorce when she was talking to her father was absurd!
All the main characters in this play just like the lead characters in Mann Mayal are losing their deen emaan pretty quickly. One minute KK was hitting on a girl who is always waiting for someone and the next minute he was standing in front of that billboard thinking about his first meeting with Shehrnaz. Aly Khan has been part of many dramas which were not top-notch but this is the first time that he is a part of a play in which even his character does not have a lot to offer.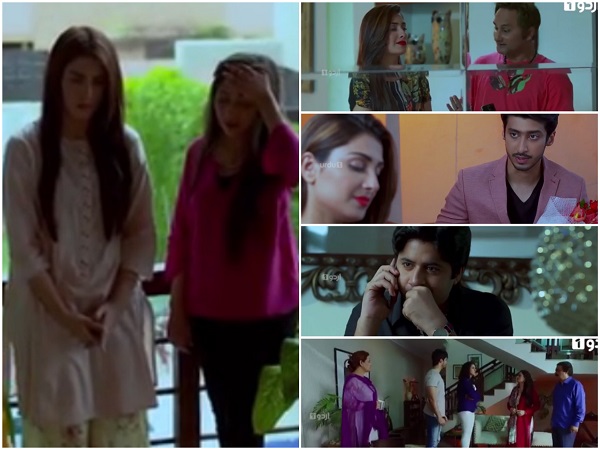 Noful is yet another man who will be introduced in Shehrnaz's life very soon and it looks like KK might be "available" very soon too – then Shehrnaz will have lots of men to choose from, how exciting! Shehrnaz is turning out to be mindless entertainment, a serial which has gone completely downhill and it makes you laugh even when the heroine is crying! Ayeza Khan played the diva who couldn't care less with perfection in few of the scenes which reminded me why I tuned into and got hooked on to this play in the first place. The viewers have been watching Ayeza Khan cry on screen time and again, watching her play a star with tantrums who couldn't care less about people would have been a better change than watching her play a star who is lonely!!
With every passing episode Shehrnaz reminds me of Mann Mayal, the only difference is that there was no hype surrounding this play so there weren't a lot of expectations from it. The first few episodes which were great definitely led me to expect more but now all of us who are watching this show know well enough that this drama will continue to be below average.
How many of you watched this latest installment? Do share your thoughts about it.