This episode of Shehrnaz had tons of developments to its credit just like the previous one and at the end of this episode Shehrnaz once again learned the same lesson which she learned in the previous episode! Shehrnaz achieved a great deal in all these months?? I am somewhat confused about the timeline therefore I am not sure how long it has been since Shehrnaz signed the contract but her achievements (the house, the film and her father's outlet) and her closeness with KK implied that this episode covered a span of at least 6 months. Even though Shehrnaz's status has changed and with it her lifestyle but the developments in tonight's episode clearly indicated that she has not changed as a person. Shehrnaz still thinks that telling someone that you love that person means you are committing yourself to that person. Even after the bitter experience she had with Sherry she made another mistake by trusting KK blindly. It is difficult to believe that Shehrnaz was living in a bubble all this time and had no clue that someone as famous as KK was married since the lives of the producers and director especially nowadays are like an open book thanks to social and electronic media. The news that KK was married was definitely a shock for the viewers but it wasn't the most convincing twist in the story. KK's feeling for Shehrnaz however were covered in a convincing manner. The viewers were shown how he gradually felt more attracted to Shehrnaz as time passed. The fact that Ayeza Khan looked stunning in a lot of these scenes definitely helped!
There was a time when Shehrnaz was not looking for a man to save her but now she is clearly relying on men for emotional support and this is so far the most vulnerable aspect of her personality. Like every other woman/person Shehrnaz wants commitment and love therefore it seems like she is going to put her foot down this time and demand KK's attention and time irrespective of his marital status. Who would have thought that Ayeza Khan and Aly Khan would look good together on screen! Their scenes together were well directed and both of them acted brilliantly in tonight's episode.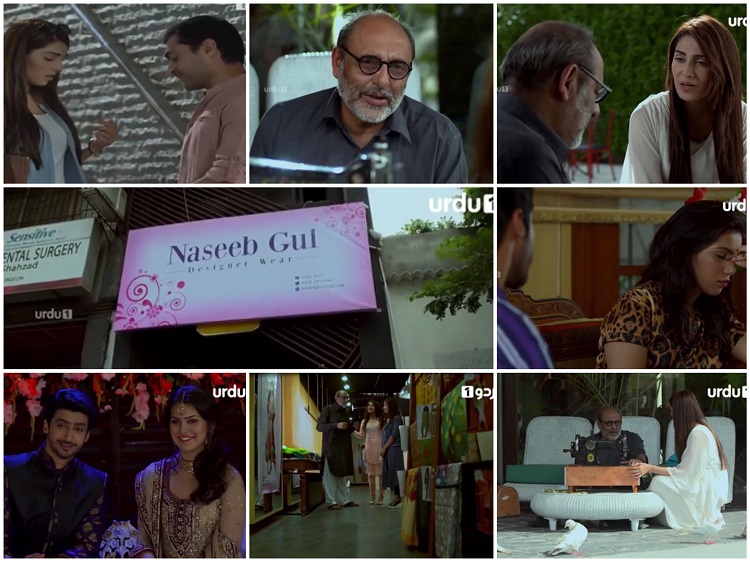 Sherry and Sara got married and hopefully Sherry is out of the picture now. Just like every other episode Sajid Hassan's poignant performance and the father-daughter scenes were the highlight of this episode too. Every single scene covering different aspect of Naseeb Gul's character held my interest and made me connect to everything he was going through. There were times when he was shown busy, carefree and enjoying life and there were also times when he felt like a misfit and alone in this new environment. His reaction when he spotted Naina Pardesi was one of the best scenes of tonight's episode.
The person responsible for Ayeza Khan's styling and makeup and the people behind her wardrobe have done a commendable job of making her look stylish and pretty. Also, this is the first time that the viewers are watching Ayeza Khan experiment with her looks. There is a lot of focus on Shehrnaz's character in the play and everyone involved made sure that Shehrnaz remains the star of the show. Ayeza Khan's natural acting, her beautiful looks only when Shehrnaz is supposed to look glamorous and her relationship with everyone around her was translated on screen impeccably in tonight's episode. Although the last twist in this episode wasn't convincing enough but it definitely gave me a reason to look forward to more.
Shehrnaz isn't deep or meaningful but so far it is quite enjoyable. Ayeza Khan is definitely the main attraction in this play, she makes Shehrnaz's journey come alive on screen in such a manner that the viewers can't help but look forward to more.
How many of you watched this latest episode? Don't forget to share your thoughts about it.