Once again, all the avid followers of the show; MasterChef Pakistan are well aware of all the top 16 contestants & this time around, it's Sidrah Kazi, who's sharing her journey & experience with us. Even though she got eliminated in the middle of the competition but she says that didn't stop her from experiencing what it is like to be a part of such a huge show. Sidrah feels blessed & honoured & I feel obliged that being a celeb-home-cook, she has come forth in order to share her journey with us, so let's see what she has to say about being one of the top 16 contestant of MasterChef Pakistan:
Q) What inspired you to come to MasterChef?
A) I am always ready for a new challenge. My passion & love for cooking and baking inspired me to be a part of MasterChef Pakistan. Not only does my food looks good, but it's really tasty too. I have been the biggest fan of MasterChef as I have followed some series of MasterChef Australia & India. I was waiting for such a great and big platform and I am so lucky that I was part of top 16 finalist of the first ever MasterChef Pakistan.
Q) What did you think about the format of the show?
A) The world's biggest platform and cooking competition MasterChef came to Pakistan for the very first time. The production team has put in a lot of hard work and have done a great job. They follow the format very closely. In Sha Allah the next series of MasterChef Pakistan will be more exciting and amazing.
Q) How would you define the three judges? Please tell us about them individually.
A) Chef Zakir is known as a Pakistani celebrity chef, a hotelier and food personality who has appeared on cooking programs and has over 36 years of experience in the food industry in all over the world. He is strict when it comes to cooking, but he is a nice hearted person, he taught and provided us with many useful tips and ideas. Chef Mehboob Khan's experience in the food industry accumulates to almost 26 years. The span of his television career is from 2003 to 2013 where he has done cooking shows at various channels. He is a brand ambassador of Dawlence & is working with Bake Parlour as well. He is my most favourite judge among all three judges of MasterChef Pakistan. He is very kind and always supported us in the Kitchen. Khurram Awan is an Executive Asst. Manager of Food & Beverages in Movenpick Hotel Karachi. Previously he was serving his duties with same position in Serena Hotel Islamabad. He is very sweet, always taught us about hygiene, taste and presentation of food.
Q) Do you think judges have stayed true to the seat & have not been biased?
A) Yes, the judges have stayed true to their seat at all times. They have a vast experience in the food industry and they always gave fair and true judgement for every contestant in MasterChef Pakistan.
Q) Do you think the current panel of judges is good enough? If you feel the judges should be changed, who would you prefer?
A) Affirmative! The current panel of judges are very good, they are well experienced and they know about the show format so I personally think judges of MasterChef Pakistan should be same in every season and if people want change they can add Chef Shai as a 4th judge because she is also a good chef in this field.
Q) Who were you friends with?
A) All contestants were my good friends. It's natural when you live with the people most of the time who have same passion as you and as the time passes, you get attached to them. But my very best and close friend in MasterChef Pakistan was Ammarah Noman.
Q) After your elimination; who do you think deserves to win the title?
A) After my elimination and whatever I have observed in the competition so far, Ammarah is the best candidate to win the title. She has been cooking food of perfect standards throughout the season.
Q) After watching the episodes, do you think the format & execution of the show & episodes needs to be improved?
A) As it is the very first season of MasterChef Pakistan, the level of execution and the production of the show has been great as compared to MasterChef India and I am sure it will get much better in the further seasons, In Sha Allah. It's like a dream come true that I was the part of very first season. I feel blessed.
Q) Do you feel the challenges that the contestants are put up with should be more diverse?
A) In my opinion, challenges were very diverse and difficult. We were challenged to make local and international cuisines with unique taste and were expected to present the dish with a wow factor. Any single mistake could lead us to elimination. The challenges were very difficult due to the time limitations. We couldn't imagine what the next challenge would be.
Q) What are your comments on the politics amongst the contestants that is being covered in the show?
A) MasterChef is a cooking competition. All 16 contestants were competitors, everyone had different natures and different backgrounds, and all were fighting for the same title of being the winner so definitely it lead to some sort of jealousy amongst each other. As it is a reality show, it's natural that sometimes certain emotions do come out. Every single contestant was very nice and talented and we cared and helped each other a lot as well.
– Please define your co-contestants;
– Amna: Sweet and frank.
– Muddasir: Nice and simple.
– Iqra: Helpful and loving.
– Gulnaz: Humble and caring.
– Madiha: Talkative and sweet.
– Khurram: Jolly and foodie.
– Azam: Helpful and gentle.
– Saad: Confident and strong.
– Zain: Sensitive and friendly.
– Rayyan: Helpful and co-operative.
– Ali Shah: Innocent and young.
– Aneela: Sharp and caring.
– Adnan: Loyal and honest.
– Mariam: Cute and loving.
– Ammarah: Hardworking and softhearted.
Q) What advice would you give to those who're interested to appear in the next season?
A) My advice for those who are interested to appear in the next season is to be fully confident, be yourself, be strong and you should know every cuisine with its history and details. You should also know about taste, presentation and flavours. Always try different and unique recipes at home and try to be creative. In MasterChef Kitchen there is lot of pressure with limited time, so be well prepared for these things. Where there is a will there is a way, never lose hope on any stage. Best of luck.
– In the end please share your experience & feelings about being a MasterChef contestant & what did it teach you?
– MasterChef changes lives! This is my statement after being part of it. I have learned a lot and experienced a wonderful journey of food. MasterChef Pakistan has taught me many things, like time management, how to be strong, confident and creative. The appreciation of the judges, viewers, friends and relatives encouraged me a lot. I remember my very first audition of MasterChef Pakistan. I made the MasterChef Kitchen Fondant Cake and every single person appreciated me for it which brought some tears of joy to me. I am so lucky to be a part of such a big platform, Allhamdulillah. I cannot forget each and every moment I spent with my fellow contestants and with my most favourite judges in the huge MasterChef Kitchen and of course how can I forget that huge and wonderful Knorr Pantry. That was the most amazing part of MasterChef Kitchen. Every foodie and chef would love to live there for the rest of his life.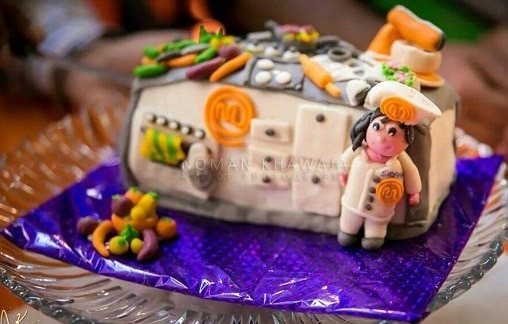 Above is the picture of Sidrah's 'MasterChef Kitchen Fondant Cake' that she made in the auditions. She wanted to share it with us all & I must say it looks like a fine piece of an art. So, this was it from Sidrah Kazi. Share what you feel about her journey. :)
Keep Supporting,
Cheers,
Zahra Mirza.