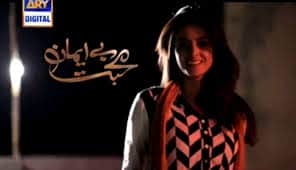 25 episodes and a few time slot changes later, Bay Emaan Mohabbat came to an end. ARY's tradition of stretching a story beyond it's expiration date continues and I fail to understand why they are committed to prolonging stories when the end result is nothing but a lack on interest from the audience. This drama was nothing exceptional by any means but the first few episodes had a somewhat engaging storyline. The pacing was fairly steady until somewhere midway, there seemed to be an absolute loss of focus.
There wasn't much of a story to begin with but seeing the likes of Nauman Ejaz, Samiya Mumtaz and Saba Qamar was a enough of a draw. However, with actors signing up for multiple projects it's unrealistic to expect every project will be worth the time. Acting wise, Samiya Mumtaz was an excellent choice as a blind woman, Saba Qamar added a spark to her role and Nauman Ejaz has perfected the character of an unfaithful husband. The story had potential- it was supposed to be the story of desires and how far people go to achieve them. There could, rather should have been a very strong moral at the end- but instead, the writer Amir Raza ended up sensationalizing everything that's wrong with our society.
Here's why: Dania, a middle-class girl who dreams big is engaged to a simpleton Naeem- a man she can't stand since she thinks she deserves much better. She's having an affair with her best friend's fiance, Babar- a man who's just using her as a time-pass since he's too much of a coward to stand up for himself. Dania dumps Naeem for Babar thinking Babar will marry her. But Babar ditches her and she's left devastated. She tries to pick up the pieces of her broken heart and finds comfort in the arms of her boss- Nabeel. Nabeel is a frustrated man married to a blind woman. But before you start feeling sorry for him since he's a whipped husband, he has a history. He married Maria to escape a lower middle class lifestyle and traded his soul for money. But seeing that his wife is not only blind, but also infertile and a complete control freak, Nabeel tries to compensate for his sorrow by leading a parallel life. Dania isn't the first woman he has been involved with but she ends up being his last. The two of them secretly marry and when Maria finds out, she vows to destroy him. She files a case against him and has him arrested but Dania pleads for his freedom and Maria agrees in exchange for her to disappear. Maria, who is cheated upon by her husband, is suffering not just from a disability but also the earth-shattering reality that she can never conceive is shown in a negative light- she's not the victim here! Instead, poor Nabeel and Dania are the ones we are expected to feel sorry for. Everyone from Maria's caretaker uncle, to her trusted lawyer, her nanny who raised her blame her for being irrational and depriving Nabeel from becoming a father- a right he is entitled to even if it means agreeing to his second marriage. The ending was almost comical- it was an extremely forced attempt to ensure everyone has a super happy ending. Maria ends up accepting Nabeel and Dania and naming their son as the heir to all her wealth; all of them live under the same roof and Dania now refers to Maria as Api and Maria is more than thrilled playing mommy to Dania and Nabeel's son and has very happily handed Nabeel over to Dania.
So basically, the moral of the story is that if a man cheats on his wife, his wife has no reason to get upset, instead she's expected to openly accept his decision. If a woman is barren, she should herself hand her husband over to another woman since men have a stronger urge to have children and a woman's needs are secondary. If a woman thinks too much of herself, she has every right to do whatever it takes to ensure she gets what she wants. Dania and Nabeel both wronged their partners but it didn't matter- they were the lead and they had to end up together. How do the writers come up with such twisted stories and have the nerve to justify them with happy endings? I've got to say, the writers don't disappoint on one front- they constantly do a one-up by coming up with even more outrageous stories!
Yours in watching,
Kanwal Murtaza