Ohkay so, this was yet another eventful episode of Sinf e Ahan. I am glad they took yet another episode in establishing the family dynamics of each one of them. It gave us an insight into how they were going to walk on this path after dealing with so many different issues. The way the story of all of these girls is being told makes you connect with them instantly & has enough pull to keep you interested in their tracks. I am definitely looking forward to how things will unravel for all of them once they will step inside PMA but for now, the drama definitely has gotten a perfect kickstart to get things going.
Their Journey
I will definitely start off by saying that my favorite moments throughout this episode belonged to Pariwesh & the bond that she shares with her father. It was absolutely refreshing to see a father like hers who not only had big dreams for his daughter but also believed in her so much. This goes to show that the bond that he shared with her was purely based on unconditional love & respect. He respects Pariwesh enough to also respect her passion & he loves her unconditionally where he wants her to just succeed no matter what price he has to pay for it. It was absolutely sweet that Pariwesh was very much aware of how hard her father worked to see her do well & chase her dreams.
Although Pariwesh's mother may not be on the same page, she may not have so much exposure to understand that Pariwesh can do something on her own but the way she kept everything a secret from one of the neighbors was enough to show that she knew she shouldn't come in between the plans both her husband & daughter have devised for themselves. The way he took her for shopping & felt like questioning the clothing choices was another cute moment from this episode. The way he smiled ear to ear showed how proud he was of his daughter & how sure he was that she was going to succeed. It is amazing that although we know all these girls are going to make it, but how different their fathers are in their approach. I found this contrast quite interesting that a father coming from a humble background had so much faith in his daughter but then there were such fathers too who didn't see the potential in their daughters.
Rabia's brother showed up at the right time, just when she needed that emotional & moral support from her brother. At least he tried to change the perspective of his parents & made his mother realize that there was still so much Rabia could do apart from getting married. The mother seems to put undue pressure on Rabia but it is still nice that despite being in such a sticky situation, Rabia still has some passion left in her& has not completely given up on her dreams. The entire scene of how Rabia's brother entered the house was very amusing, I really liked that they showed such mundane scenarios which made it all seem very realistic & set their chemistry as a family instantly.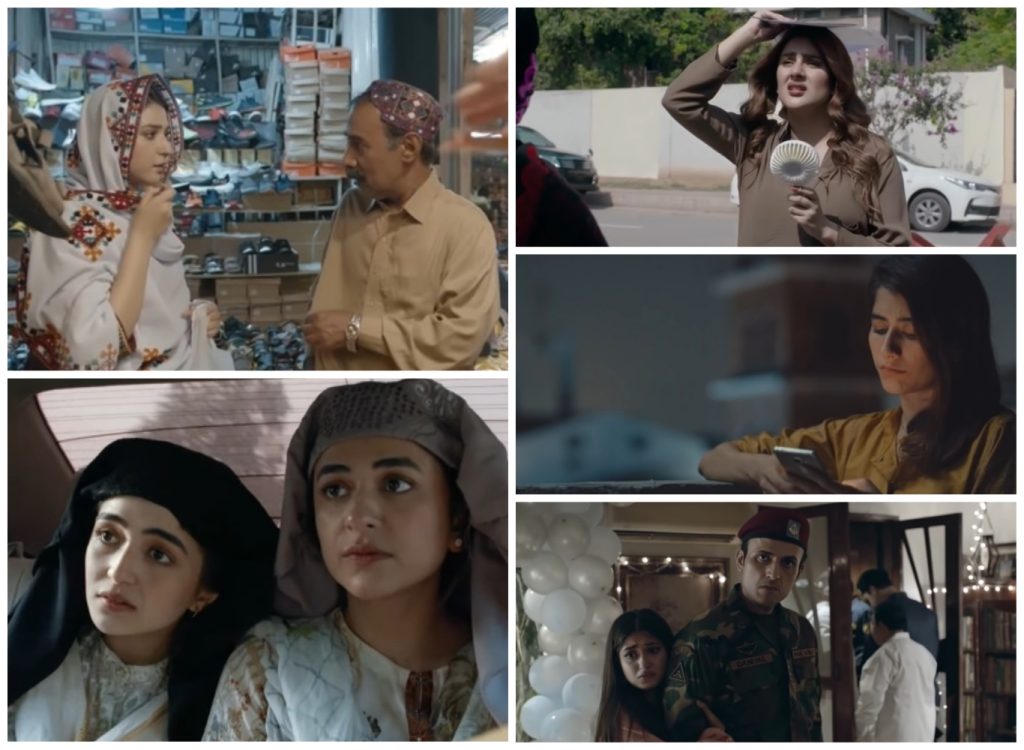 Shaista is not going to give up on her dreams either; even if it means she has to bicker with her grandmother or escape from her house in the middle of the night. Gul's continuous support to Shaista makes things easier for her but it is always very sweet to see Gul facing the brunt of almost everything despite not being the one responsible for what transpires. The way Gul kept Wali Mohammad guessing went to show that she surely is Shaista's sister who's always quick-witted & thinks things through in a jiffy. Shaista is unstoppable & what makes her character endearing is that although she comes from a deep-rooted family, she still believes in herself so much that she knows what she is capable of. The kind of confidence she has in herself really adds so much depth in her character, definitely making her one of my favorites for sure.
Arzoo got a lot more limelight in this episode & it truly made me feel for her. She already is dealing with so much but only for the sake of her family, she puts up with a guy like Noraiz who does not respect her at all. Noraiz might think that Arzoo can not see-through things but he is mistaken. She definitely can but chooses to stay quiet & tolerate all of it because she realizes that her family wants her to be settled with a guy like him who himself is financially stable. Arzoo does feel a sense of resentment towards Noraiz but still believes that he might get married to her. I definitely wanted to see some more interaction between Arzoo & her father but I guess it might happen in the upcoming episodes. It is sad that an already subdued girl like Arzoo is being belittled by Noraiz, however, it will be interesting to see her journey of understanding her self-worth & regaining the confidence that is missing from her life. I am keen to see the transformation in Arzoo where she will realize that she never truly needed a man like Noraiz who was never loyal to her.
Mahjabeen went to take the test with a hand-held fan, which was cute & also perfectly showed where she came from. Everyone around Mahjabeen thinks they know what she is made of but somehow their demeaning attitude & their lack of confidence in her is what is going to serve as a driving force for her.
Brilliant Performances
This episode of Sinf e Ahan was really nice. I thoroughly enjoyed the way they used regular situations to add the element of comedy in this episode. The light-hearted approach made it a good watch. The acting of all the actresses is simply perfect. It is amazing how they all have owned these characters & have portrayed them so effortlessly that it seems the writer wrote it with these certain actors in her mind. The supporting cast has done a great job too. I really liked Merub Ali's performance in this episode, whoever chose her to play the role of Gul, especially as Yumna Zaidi's younger sister has really made the right choice. She actually looks like Yumna's younger sister & that's all that I was noticing the entire time. Ramsha Khan, Kubra Khan, Syra Yousuf & Sajal Aly have performed beautifully too. Whoever is responsible for the styling of these girls has done a great job too – I just wish Ramsha Khan has given up on her smokey eyes & had opted for a more subtle makeup look because it seems a bit too elaborate for her character. Overall, the drama has definitely had a great start & I am looking forward to the next episode. Please share your thoughts about this episode of Sinf e Aahan.
Keep Supporting,
Cheers,
Zahra Mirza.