Ohkay so, this was yet another enjoyable episode of Sinf e Aahan. It has definitely turned out to be the kind of drama that you can tune to with a guarantee that you are going to have a great time watching. However, it is also the kind of drama that may not give you a lot to discuss because whatever you see can only be enjoyed while watching. Sinf e Aahan has definitely been written with a lot of detailing & perfection, but the way it has been executed is kind of one-dimensional where there is only one focal point in every single episode & then every situation revolves around it.
The Training Begins
In this episode, the girls got a lot more insight into what their life at the PMA was going to be like. It was going to be clockwork & a strict routine that they had to follow. None of them actually seemed happy because first & foremost, they were not being treated as some royalty but as cadets who were there to be trained. In the meanwhile, they all have been warming up to each other but Shaista & Pariwesh have their loyalties sorted, this is why they have not bothered forming a bond with their roommates; Mahjabeen & Rabia. It is also nice to see the sincerity they have towards their friends, it makes them loyal in their own special way.
Sidra is definitely a breath of fresh air & every single time she appears, she lights up the screen because she always has something new to say & a very different outlook on things. Nathmy's character has not been explored much yet & so far, she just looks like a filler in most of the scenes. However, I am excited to see what her character has to offer & how her story will unfold.
Maj. Osama got introduced to the girls & right from that moment, he knew he had to leave an impression on the girls so that they understood it a bit too well that he meant business. His wife particularly seems cold towards him & there was this strange hesitation between the two, which was slightly touched upon in the promo. Osama definitely seems a bit too invested in what his life is now as an Army officer & what it was like when he was a cadet himself. It seems he doesn't have a space for anything else in his life; probably not even his own family. Maj. Samia's backstory was really heart-touching. It was shown beautifully that even those with the toughest facades have to fight personal battles & they do not let any of it deter them from their duty. It wasn't like Samia's only job was to be tough on the girls, but it showed that it demanded her full attention, her undivided time & effort, because of which she couldn't be there for her family when they needed her the most. It was however beautiful to see that she had a supportive family who understood what her job requirements were, that is why the moment she showed up, they continued to put her heart to ease.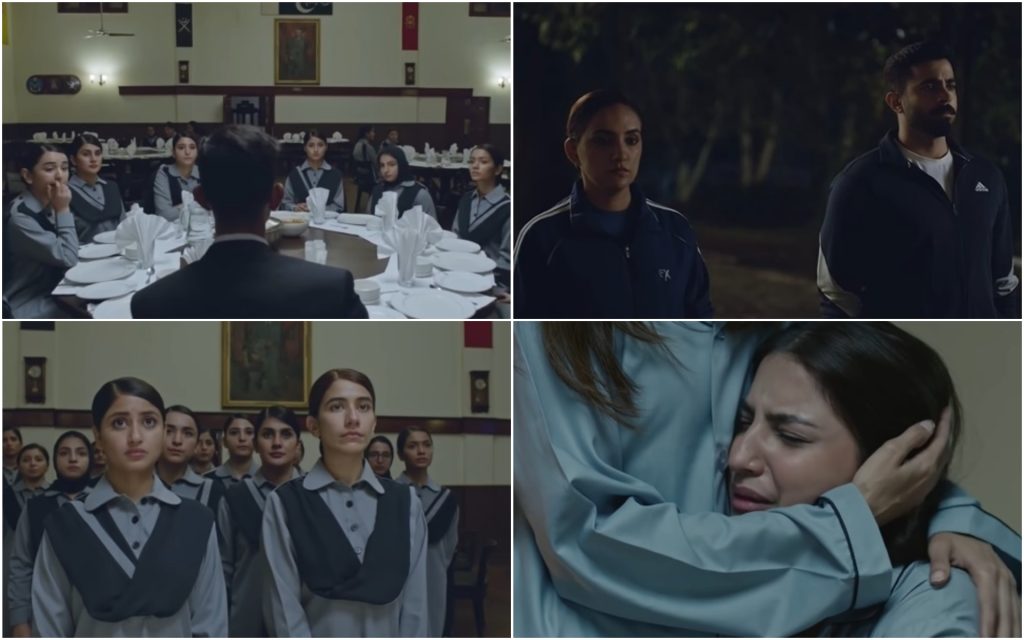 Mahjabeen wanted to go back & she wasn't taking any of this seriously but soon enough, she will be forced to realize the opportunity that has been presented to her & how important it was for her to be committed to it. The homesickness of some of the girls was shown nicely too. It all makes them very real & relatable. The training has just begun & this will pave a way for the girls to find themselves & realize their potential.
All in all, Sinf e Aahan makes a great watch. Something totally different & unique which is a rarity on Pakistani television. It provides quality entertainment & shows the kind of effort it takes to be in the Army. It won't be wrong to say that Sinf e Aahan has been well written & brilliantly directed drama. All those funny moments, along with the emotional ones establish a very real connection with all the main characters. Definitely looking forward to more episodes. Going by the promo, I do not know how I feel about Osama's wife's past. I don't think her character has been given that much importance, to begin with for me as a viewer to feel the need to find out more about her. I think it will be another way of showing the personal struggles Army officers go through too, just like Samia was faced within this episode. Please share your thoughts about this episode of Sinf e Aahan.
Keep Supporting,
Cheers,
Zahra Mirza.