Earlier this year when Patari's CEO Khalid Bajwa was accused of harassment the company was quick to make him step down from his position but as it turns out his involvement in the company was just the same. The audit concluded yesterday as a result of which six core members have left the company following allegations that former CEO Khalid Bajwa was still heading the company despite resignation confirmation.
The interim CEO, Ahmer Naqvi,who was appointed a few hours after Bajwa apparently stepped down took to social media to share that him, along with five other essential members have decided to resign from Patari.
Naqvi penned,
"It is with great sadness that we, the undersigned, resign from Patari. It is a company where we can no longer work freely under the values that brought us to it – and which are now under threat," 
He went on to address that amid the harassment allegations, Patari swiftly asked Bajwa to resign and an audit to assess the accusation started.
"Earlier this year, the emergence of harassment allegations against Khalid Mubasher Bajwa led to him stepping down as CEO. We acted swiftly to keep the company afloat, and to protect its moral standing,"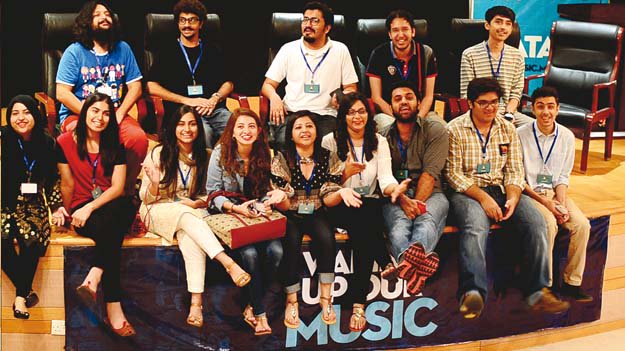 He added,
"While we waited for this audit to complete, all trust within the company was destroyed. Members of the company's leadership, namely Mr Bajwa along with co-founders Faisal Sherjan and Humayun Haroon, violated the company's governance, undermined ongoing projects, and threatened the roles of the company's management."
He then asserted that Bajwa continued his role as the CEO, even though he was asked to step down.
"An internal meeting made clear that some of the co-founders thought Mr Bajwa had been unfairly victimised, and that there was no room for some employees, including many of the undersigned, to remain in the company,"
Ending my Twitter hiatus to share a (personally) monumental decision regarding my position at @patarimusic.

Detailed statement: https://t.co/TZIhSMRvQN pic.twitter.com/RjL9QYeqRO

— Ahmer Naqvi (@karachikhatmal) July 1, 2018
Soon after Naqvi's annoucnement, Patari came forward with one of their own. Taking to Twitter, the organisation released a statement, saying Bajwa had not been reinstated as the CEO.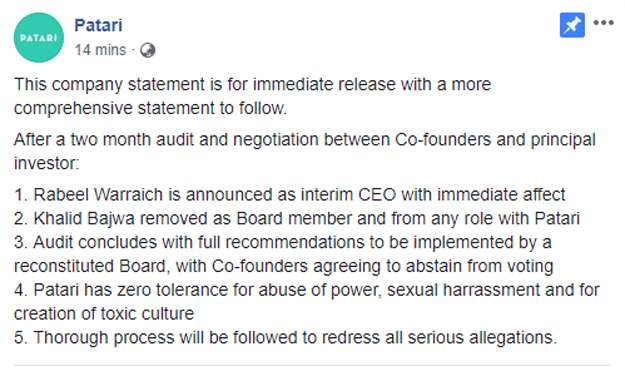 Have something to add?