At this point the drama is not at all about Ishq, only Tamasha is left. It is difficult to understand which direction are the writer and director going. The whole Murad scene went down the drain by itself when Rushna's family got robbed. Apparently, he was risking his life by marrying Rushna to get the dowry. And no dowry resulted in no marriage. But things became so stupid after it that I cannot even understand.
Mehrab wants revenge for his brother's death and he planned to marry Rushna in order to achieve his goal. But as the title suggests, everything is going to be a Tamasha. Rushna told her mother about the Mehrab proposal. Mehrab came and finalize the marriage and then came by himself on the day of Nikkah. Yes, I was thinking that since this family has no brain so they might be taking all this to be normal. But NO! the mother and khala found it to be fishy. And acknowledged it after the ceremony. Mujhe to ye chakkar hi samajh nahin aa raha are your thoughts and you still married off your daughter to that "chakkar". And the whole family knows Mirha went with Mehrab but they still married their daughter to him. Wahaj had no questions or complaints now? Why is he not bothering to ask ke bhai issi gharr ki larkiyon ke pechay kyun parr gaye ho? He was embracing him after Nikkah. Maybe the makers forgot among all the chaos that Rushna family thinks of Mehrab as the guy who has an affair with Mirha.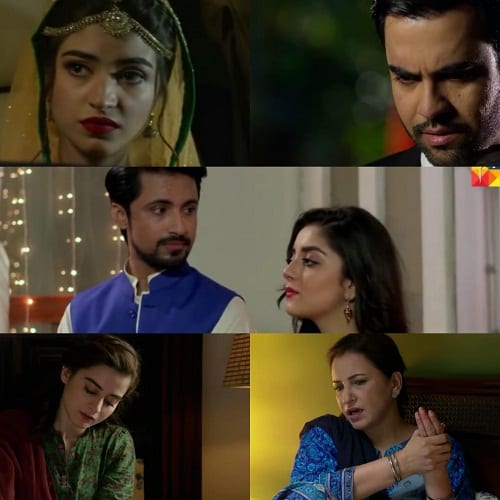 I think by the end of this drama I'll be on phupho's side. At least she looks somewhat logical. She hates the family who is responsible for Arham's death and has not forgotten it. Mirha after all the drama is still in the house and bossing everyone around. Maybe Aiman has a supporting role in this drama since her character has nothing to offer.
And if all this Tamasha was not enough, we will be having Palwasha's drama too now. Its high time though that chachi jaan accepts that her own children have the tendency towards affairs kyunki abb buss choti wali bachi hai which makes Mirha much too innocent.
What do you guys think of Mehrab and Rushna's marriage and the family's normal reaction towards it? Share in the comments!