Introductory Details:
Ohkay so, the writing of Asma Nabeel, direction of Shahid Shafaat & the production of Next Level & Six Sigma Plus Entertainment; Surkh Chandni is the new drama airing on ARY Digital which is going to focus on the journey of an acid attack victim. The first set of episodes of Surkh Chandni were well executed and established the plot of the story in detail. Even though dramas like these do tend to get slow in the middle but I am glad that they have started off with double episodes because it is going to help a lot with the pace. The first two episodes introduced the characters & their personalities in such a way that I didn't have a hard time connecting with them.
Cast & Characters:
Amaan (Osman Khalid Butt) & Aida (Sohai Ali Abro) are maternal cousins & they both are in love with each other. Amaan & his mother Safina (Huma Nawab) are not financially stable but that is also because Amaan is still studying & is looking for a job. Aida comes from a middle class family too but her brother has taken the financial responsibility of the entire family.
Aida's family includes her father Badar (Rashid Farooqi), her mother (Lubna Aslam), brother Mukhtar (Hassan Ahmad), his wife Shumaila (Mansha Pasha) & their daughter. Aida is the peace-maker of the family & she always makes sure to pacify the situation when it gets rough between her mother & Shumaila. Badar is a very conservative father who believes that a girl may or may not pursue education but she should actually know how to be a good homemaker & that is why Aida is the one who has taken the responsibility of household chores because she has been told to do so. Aida's mother doesn't share the same mindset as Badar but she can not do much for Aida as she knows that it's the men of her family who make the final decisions.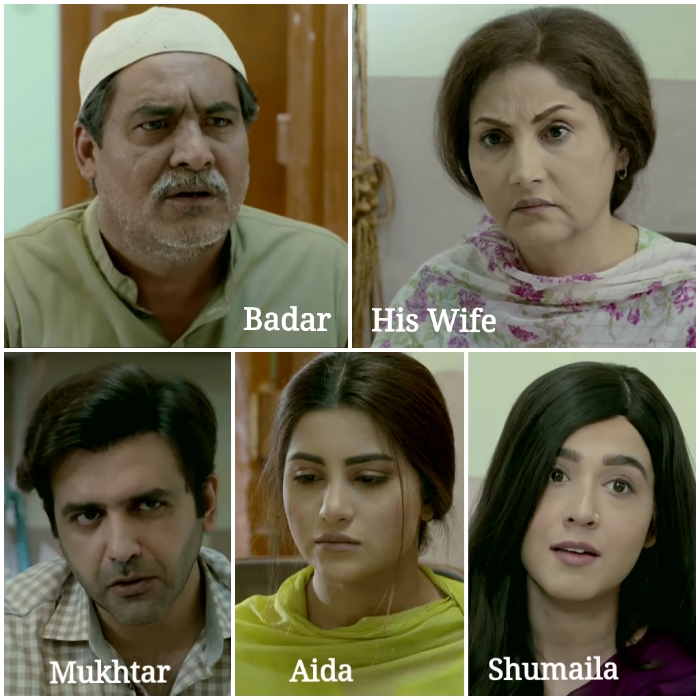 Aida has a subdued personality, she has kind of trained herself to be that way because she is well aware of the kind of environment she is in plus the kind of mentality her family has but it doesn't mean that she doesn't have dreams. Aida loves Amaan & she wants to get married to him, that is also because she kind of sees it as the only escape from this suffocating environment of her house.
Jawwad (Asad Siddique) happens to be the neighbour of Aida & he is not someone a girl will ever idealize to get married to but he has his sights on her & continues to pester Aida every chance he gets. Jawwad has been married before but it seems his first marriage ended on a bad note too but that hasn't changed Jawwad at all. He comes from an affluent family & his mother Humera (Gul e Rana) has instilled it in her son that he is entitled to everything that he wishes for.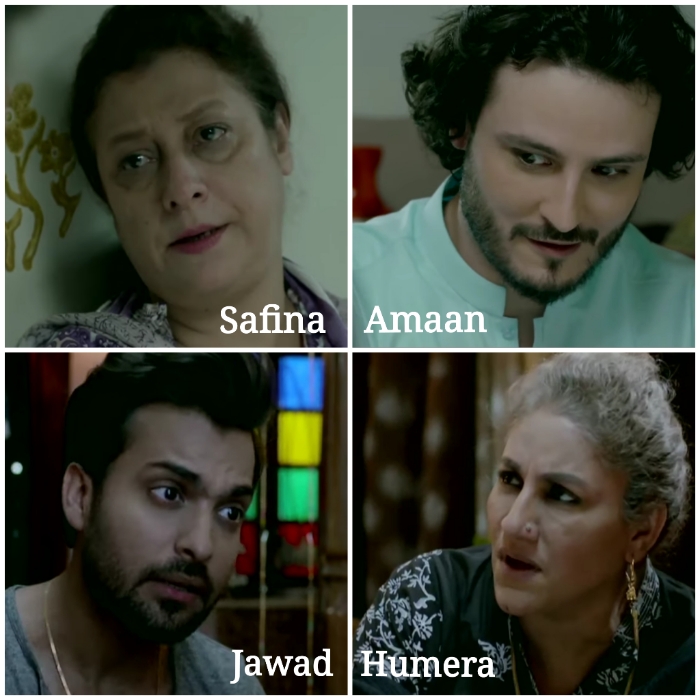 Shumaila is basically playing the character of Balaa in Surkh Chandni. She is bitter, manipulative & conniving & that is the reason she has formed a relationship with Jawwad because she sees it as an opportunity of getting financial support from him. Shumaila tries really hard to make sure that everyone in Aida's family accepts Jawad's proposal but that is when Amaan & Safina prevent it from happening & suggest that Aida & Amaan should get married as soon as possible. It was definitely a pleasant surprise to see how everything worked in Aida's favor where Badar rejected Jawad's proposal & chose Amaan over him, considering the fact that Aida loved Amaan & he loved her. It definitely came as a surprise considering the kind of introduction Badar got so it was nice to see him thinking about his daughter's happiness & telling his son to back off. I liked how everything fell into its place seamlessly & turned into Aida's favor. Jawad is upto no good & thanks to the over-elaborate promos that we all know what is going to happen next!
What I liked the most about the first two episodes of Surkh Chandni was that the director kind of set the tone of the story & gave it a gloomy feel because it sure is going to be such a drama which will show us the pain & agony of an acid attack victim. The director didn't really commercialize it & kept it very realistic, which was nice. I also liked how they showed the daily-life struggles of regular people in such a realistic manner, minute details like Badar saving up some money for Aida's marriage & Aida going to basic parlour in the vicinity of her locality made it all very realistic & relatable. I also liked that the director & the actors did not give an OTT treatment to the characters & kept the look & styling very natural.
Closing Thoughts – Engaging:
Overall, the first two episodes of Surkh Chandni definitely kept me engaged right till the end & as the episodes ended I found myself wanting to see more. The first two episodes kind of had all the flavors that one would want to see in a drama but yes, it is going to get more serious from now on. Sohai Ali Abro has definitely come a long long way & I say that because I have seen her drama after years so I really found an improvement in her acting. She made Aida's character quite admirable. Asad Siddique has really done a great job as well & the more I see his work, the more I feel he is getting comfortable in front of the camera. Osman Khalid Butt was natural too. The very first scene did seem a bit too filmy but I am glad everything after that mellowed down & became realistic. I am happy to see Mansha Pasha in a negative character but I am not sure what has made the stylists think that a wig can make a girl look villainous? In my opinion it makes a character look more cartoonish because of the total unnatural & unreal effect. A crooked look can be given to any character with the help of makeup so not sure why the heavy relying on wigs. I think Balaa has set quite a trend in ARY Digital dramas & everyone seems to be following it now. Mansha Pasha acted brilliantly but I still had a hard time accepting her in a negative role because she seems as in she is too nice for that, but it is good that she has opted for a different role this time. The direction, production value, camera work, editing, everything was perfect & it showed that the entire team worked in harmony to achieve these results. Definitely looking forward to the next episodes & definitely recommending it too. Please share your thoughts about these episode of Surkh Chandni.
Keep Supporting,
Cheers,
Zahra Mirza.