Sarah Khan and Falak Shabir wedding has proved to be a breath of fresh air in these trying times. Sarah Khan is at the peak of her career at the moment and Falak Shabir is a well-known singer. It won't be wrong to say that the fact that both of them decided to keep their relationship private till the time they got married made this news even more pleasing. This wedding, the pictures and everything about it was the most pleasant surprise for all their fans. Even though they were already engaged, somehow they made sure that no one knew about it. When the engagement pictures were posted by the couple, the fans thought that they had just gotten engaged. The mayun and mehndi pictures followed, the next day they were happily married.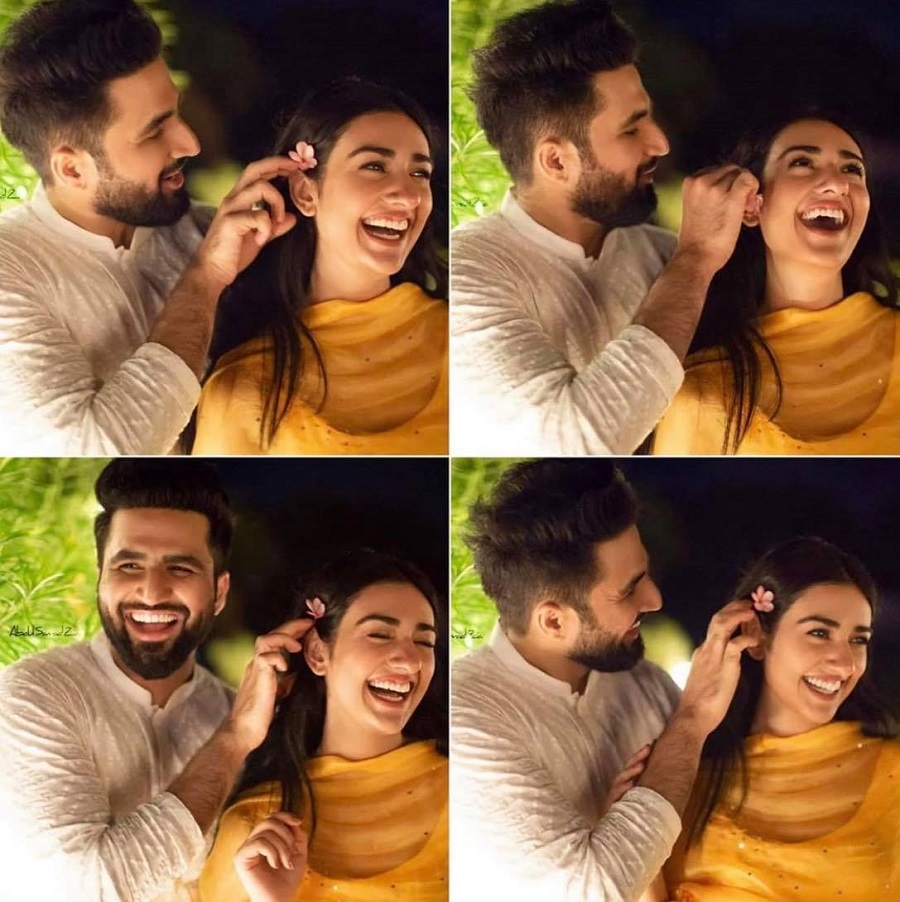 Due to the present situation, most of the celebrity weddings have been a little too low-key. Most of the celebrities did not post the kind of pictures and videos which Sarah and Falak did during this lockdown. There were so many amazing moments from this wedding. We are also truly thankful to the lovely couple for sharing these beautiful moments with their fans.
Here are the best and the sweetest moments from Sarah Khan and Falak Shabir's wedding.
The Proposal
The video of the proposal instantly went viral. Falak Shabir surprised Sarah Khan with the proposal on her birthday. He entered the venue singing a romantic number and gave Sarah a beautiful bouquet of roses. He kneeled down on his knee and asked for her hand in marriage. The sweetest thing about this proposal were the smiles on Falak and Sarah's faces throughout.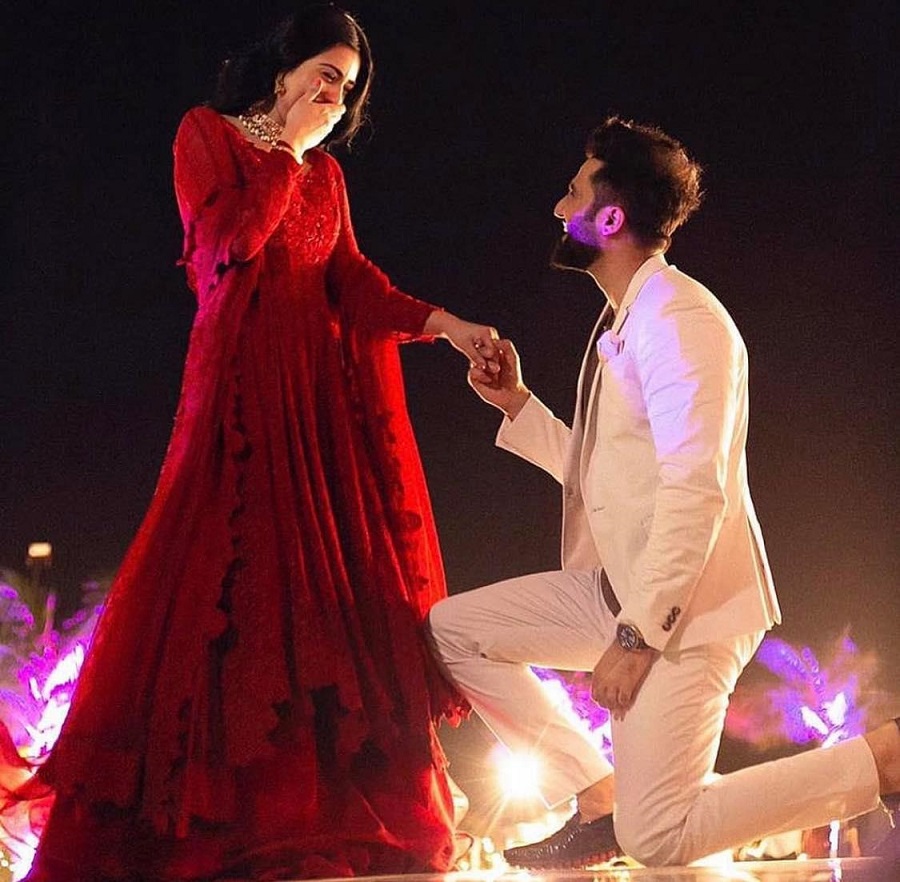 The fireworks after Sarah said yes and Falak put the ring on her finger were the cherry on top. Their friends and family were cheering around them, asking Sarah to say yes! This was such a heart-warming moment and we are so glad that it was captured on camera.
The Sweet Declarations of Love
There were so many sweet ways in which both these celebrities expressed their love for each other. Since they have never talked about their relationship this was such an adorable way of letting the world know how much they loved each other. Sarah Khan's mehndi was as simple as it gets and the addition of 'Falak ki dulhan' was something we only get to see in dramas and films! This was such a cute way of expressing her feelings, how proud she was to be Falak's wife!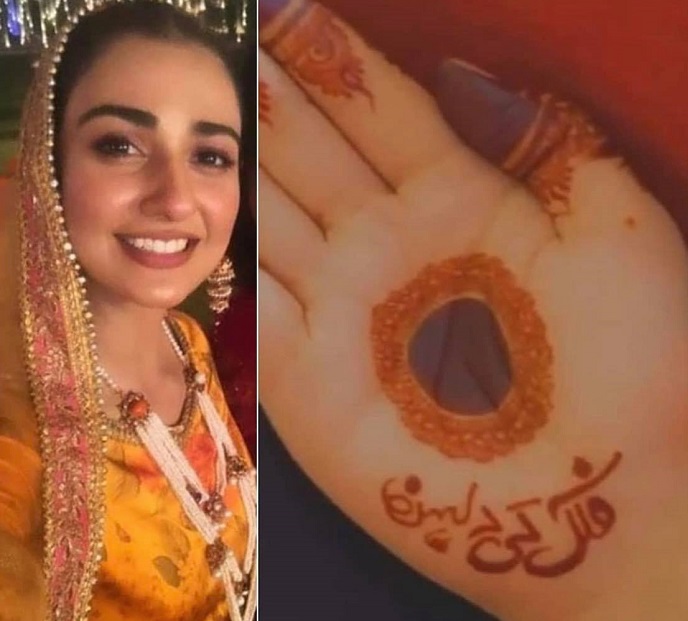 Sarah Khan also instantly changed her name to Mrs. Falak on her Instagram handle. Although these two have never shared details about how they met and fell in love, these little gestures suggest that they are completely in love.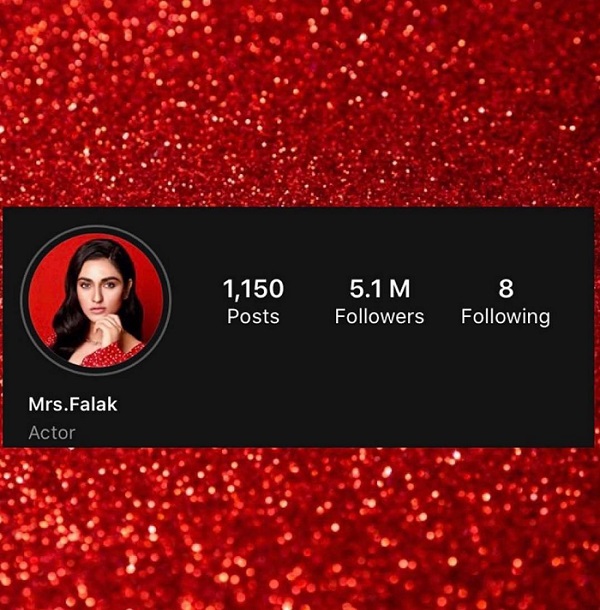 Falak Shabbir calling Sarah his queen was another sweet moment from this wedding. He also for "my Queen Sarah" tattooed on his arm. Watching the happy couple declare love for each other in these simple and most adorable ways was one of the best moments from this wedding.

The Laughter and Energy
Falak and Sarah's videos from all the wedding functions showed how they just could not stop laughing. They enjoyed every little moment in all the wedding functions and most of all they clearly love being around each other. Falak's energy and vibrant personality compliments Sarah's rather quiet nature it seems. He was singing to her throughout the mehndi event as well.
Even though there were so many people at the event and so much was going on but Falak Shabir was so focused on his dulhan which was simply adorable. Sarah Khan could not contain her laughter every time he showed his affection in some way or the other. It is evident they are head over heels in love with each other. This is definitely what a happy ending looks like!
The Most Adorable Romance
We usually only get to see the 'hero' singing to his heroine in films. This has to be the first time that a celebrity husband has been seen singing to his gorgeous wife in a wedding ceremony in reality! Such moments from Sarah and Falak's wedding looked like they were a beautiful scene out of a movie.
Qabool Hei Moment
Many of these 'qabool hei' moments have been captured on camera when celebrities get married. Sarah's moment was the most adorable because it wasn't one of those emotional moments, on the contrary, there was so much excitement and fun to this entire nikkah ceremony. Sarah laughed as she said qabool hei and her friends made this moment even more special by adding their candid remarks to it.
Sweetest Rukhsati Moment 
Most girls cry or get emotional when it is time for their rukhsati. Sarah Khan's rukhsati was definitely one-of-a-kind and another moment of this special occasion which made people completely fall in love with the lovely bride all over again. Sarah laughed her way through her wedding and even when she was saying farewell to her family members she could not contain her laughter! Isn't it so special to watch such a wonderful moment caught on camera! We love this laughing bride.
At the same time, Falak Shabbir hugged and kissed Sarah's father to reassure him that his daughter was in safe hands. This is one of the best rukhsati moments with the dulha playing a role we don't see Asian dulhas playing quite often!
Post Wedding Pictures and Video
Although Sarah and Falak kept their relationship and even their engagement a secret, they were more than generous when it came to sharing wedding pictures and videos. They uploaded their first picture together after their wedding early on and since then they have been sharing the most adorable pictures which show that they are made for each other. In one of these selfies, they were seen twinning together and in the other one, they looked just as candid as they did on all the wedding events.
Falak also posted this beautiful video on his Instagram page in which he is seen singing to Sarah and she is loving every moment of the love and attention she is getting.
We wish this adorable couple all the happiness in the world.