Singer Taher Shah needs no introduction. His claim to fame happened to be two songs 'Eye 2 Eye' and 'Angel' which earned him nationwide recognition in no time. Taher Shah became an overnight sensation in Pakistan after he released his first ever song 'Eye 2 Eye' and its video in 2013. Taher Shah then took a gap of 3 years and released his second song 'Angel' in 2016.
In 2020, Taher Shah promised to surprise his fans yet again with his new song. He hyped up the song and kept on teasing his fans by setting different release dates and then finally, on Saturday, April 11, 2020, Taher Shah came out with his third song 'Farishta'. It has just been a day after the release and the song has gotten 300K views on YouTube.
Here is the break down of Taher Shah's latest release Farishta:
The Concept
The concept of Farishta is not at all new. It was pretty evident that Farishta happens to be an Urdu translated version of Taher Shah's previous song Angel. As different or bizarre his songs are, Taher Shah deserves full credit for the fact that everytime he has come up with a song, he has broken the internet and now, despite Farishta being a translated version of Angel, it is still being discussed nationwide. At the very beginning of the song, Taher Shah has taken a full credit for creating this song. The lyricist, director, composer, singer, story writer of this song is one and only Taher Shah.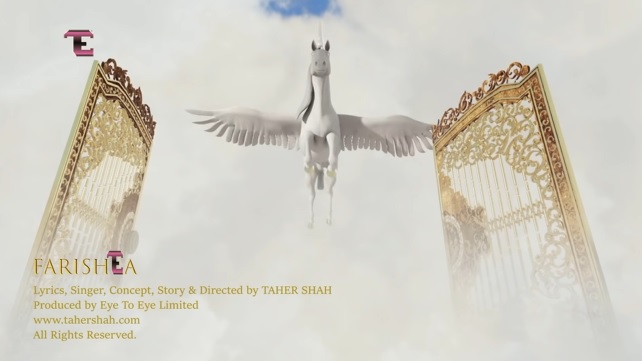 Tune and Melody
It didn't take the viewers a minute to figure out that the tune and melody of Farishta was exactly like his previous song Angel. It seems Taher Shah was still in awe of his 4 year old 'genius creation', that he decided he needed to refresh everyone's mind by releasing a song with the same tune again. People are still left wondering why it took him 4 years, when all he had to do was pick up the exact same tune for his supposedly new song?