Taimoor Ali Khan is the biggest star kid of all. He hails from the Nawab dynasty from his paternal side and his maternal side is the royal family of Bollywood so being a star comes to him naturally. Now, that stars are worshiped and their wax statuettes are in vogue, how could Taimoor stay behind. Apparently, the star baby has got his own customized doll.
Taimoor's father reacted to the news saying, "Maybe I should trademark his name… The least they could do is send me one. I am glad people are benefiting from him. I only ask God for his safety and happiness in return." On the other hand, Kareena said that Taimur can't run away from and neither can his parents. She said that she didn't know how to feel when she saw the doll. Kareena added that there is so much genuine warmth for her son that it is bad to stop people from clicking his pictures or making his dolls. She said that Saif and She are struggling to give Taimoor a normal life and will continue to do without telling media to back off.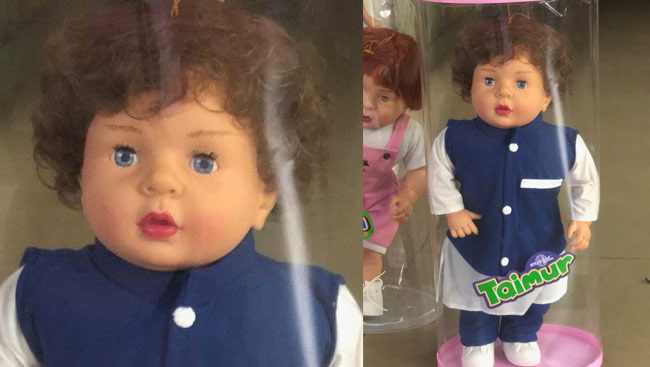 People have also reacted to the news as it didn't go down well with some.
Only news I hear about #Taimur is how famous he is! Like a vicious circle of making him famous by saying he is famous..

Really! Says a lot about how 'News is imposed' on folks and I honestly haven't met anyone looking for his pictures..Let a kid be kid.. pic.twitter.com/TgDsHLLOgi

— Isha SG (@IshaSG) November 21, 2018
Is it just me or does anyone else find this creepy af😖
I mean…can we just let the kid be…#TaimurDoll pic.twitter.com/m90LcXn90Y

— Chowkidar Archie (@archu243) November 20, 2018
This is not a best present, this is highly creepy. What disturbs me is; it seems everything has become an act of fun for this country. For every little things they come out with trolls, memes and now THIS which is so not right. #Taimurdoll https://t.co/S43ZYHCO0C

— Amruta Kar (@AmrutaKar1) November 20, 2018
While some liked the idea of Taimoor Ali Khan getting a customized doll.
I'm the kind of weirdo who wants a #Taimurdoll!

— Shaista Vaishnav (@masala_shai) November 23, 2018
😍😍💞💞
If someone spots it, please get one for me☺🙈 #TaimurDoll https://t.co/QWWgXlTP3M

— ʀᴏᴏᴘᴀʟ🐬 ᴅʜᴏɴɪ | ᴄsᴋ 💛 (@itzme_roopal) November 21, 2018