Writer: Khalil-ur-Rehman Qamar
Director: Shahid Shafat
Producers: Momina Duraid, Tariq Shah, Sana Shahnawaz & Samina Humayun
Schedule: Every Sunday at 8pm on HUM
The first episode of Tau Dil Ka Kya Hua was a lot like the first episode of Mohabbat Tumse Nafrat Hai since it started with highlighting a major issue between the leading characters instead of introducing them in a normal setting. While starting the drama in such a way can pique the curiosity of the viewers because even after watching the first episode you don't really find out much about the characters, but at the same time such a beginning makes things complicated right from the start. Even after watching this entire episode the viewers do not really know the background of any of the characters even vaguely and we also don't know how some of these characters are interrelated. While I am all for keeping the viewers at the edge of their seats but not introducing the characters properly in the first episode does not really serve the said purpose. Yes, I am curious to find out a lot about all these characters but I also feel that there is no need to keep the viewers guessing in this particular way! How is Faris (Sami Khan) related to Siraj Uncle (Rehan Sheikh)? Where are his parents? How are Seemi Pasha and Behroze Sabzwari's character related to Faris? Basically, these are not the kind of questions that should be in the viewers minds after watching an introductory episode.
This episode opened with Faris (Sami Khan) complaining about the fact that his wife Maya (Ayeza Khan) left the house earlier than he had asked her to. Maya wants a divorce from her husband because she wants to go back to Saif (Zahid Ahmed), who is someone she had a relationship with before getting married but she married Faris because she had broken up with Saif. Uncle Siraj has taught Faris the art of losing well and therefore he is taking this recent development very differently from how any other husband would. He is heart broken and feels used but is pretending to be okay with everything. Maya could not care less about her marriage coming to an end and she is already looking forward to being with Saif. She thinks it is her right to be with the person she loves therefore she does not think she is doing something wrong. Saif came across as someone who won't go the extra mile for someone. This episode did not reveal much about his character except that he is also romantically involved with Maya and isn't stopping her from leaving her husband. Maya's father Namdar Mirza (Usman Peerzada) is a lawyer who is naturally not too happy with his daughter's decision and decides to talk her out of it but Maya has her mind all made up. Dania (Mansha Pasha) is related to Uncle Siraj and also likes Faris. Maya's sister (Noor Khan) is very different from her but she knows that there is no point of arguing with Maya.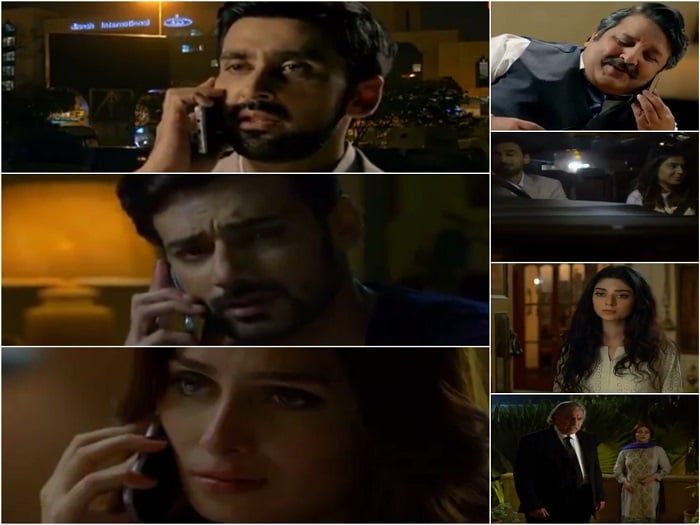 This entire episode covered the divorce, which is yet to happen. It showed how different characters feel about it and that is how the viewers found out about the central characters in the story. The best thing about this episode was the way it was directed and there was a lot of focus on everyone's looks. All the characters looked trim and proper, it was quite apparent that the director focused on making the whole experience more visually pleasing for the viewers. However because of the script, just like MTSNH, the scenarios and the characters appeared to be staged as opposed to living and breathing human beings who the viewers could easily relate to. Sami Khan looked good and acted well, Faris was the only character I warmed up to in this episode. Ayeza Khan is once again playing a role which isn't likeable but this time around she is not all over the place. Maya's character also appears to be slightly more well defined than Maheen's. Zahid Ahmed has a definite screen presence but his body language was too calculated in this episode, since we don't know much about his character therefore it is impossible to guess why he was acting like that.
The preview of the next episode suggested that the divorce will not take place in the upcoming episode and I have a feeling that this is going to be another slow-paced drama. I just hope that it has enough substance to keep the viewers coming back for more.
How many of you watched this episode? Do share your thoughts about it.