Tonight's episode was brilliantly executed just like all the previous episodes of Tau Dil Ka Kya Hva. This drama shows how a skillful director can make every scene work. The scene in which Faris asks Dariya to call him in that particular manner before making coffee wasn't an easy scene to direct but it was shot so beautifully. It showed Faris' madness and also another failed attempt by him to try and "relive" what he missed about a phase of his life which was now officially over. It also showed Dariya's feelings for Faris; she will do anything to make him feel better even if it means going along with a request which didn't make a lot of sense. The difference between Maya and Dariya's personality has been made quite obvious right from the beginning therefore it was easy connecting to this entire situation; there was a good reason why Faris thought Dariya could never shout like that! Mansha Pasha has been absolutely phenomenal as Dariya; she has managed to strike the perfect balance between softness and strength. Although Dariya is a polite girl but she has inner strengths which make her character likeable. Her character is not clichéd which is another reason why she is going to be a lot more than the girl who is madly in love with a man who will probably never fall in love with her. Sami Khan and Mansha Pasha's on-screen chemistry makes their scenes a treat to watch. No matter how unusual the situation is, these two definitely make it convincing and worthwhile.
"Bus aik chota sa gunnah kiya tum ne, mujhe mohabba sikhai, mohabbat mei jeena sikhaya aur tarbiyat khatam hote hi keh diya ke tumhei mujh se mohabbat nahi rahi."
Just like every other episode of TDKKH this one too had some phenomenal dialogues to its credit which were delivered faultlessly by some of the actors. Sami Khan has been absolutely perfect in this drama right from the get-go. His perfect portrayal of a character which isn't easy to translate on screen has made Faris' character one of the major reasons why I tune into this drama every week. I also love the way this character has been written. The way Faris is constantly trying to take control of a situation which is beyond his control makes you feel for his character and you actually understand why he keeps on making these bizarre decisions. Tonight, he finally decided to divorce Maya only after saying everything which had been disturbing him for all these days. He obviously thought that saying all of this was going to give him the closure he is desperately looking for subconsciously. It is however quite obvious that it will take Faris a lot of time to move on. I am looking forward to his journey because so far everything about his character has been very interesting. I am also waiting to find out more about Siraj uncle's character especially after what Faris said about him when he was giving Maya his "verdict". It also looks like there is a connection between Siraj Uncle and Saif.  I am pretty sure it was Siraj Uncle's picture Saif was looking at when he said "tarpa tarpa ke maar dalu ga tumhein."?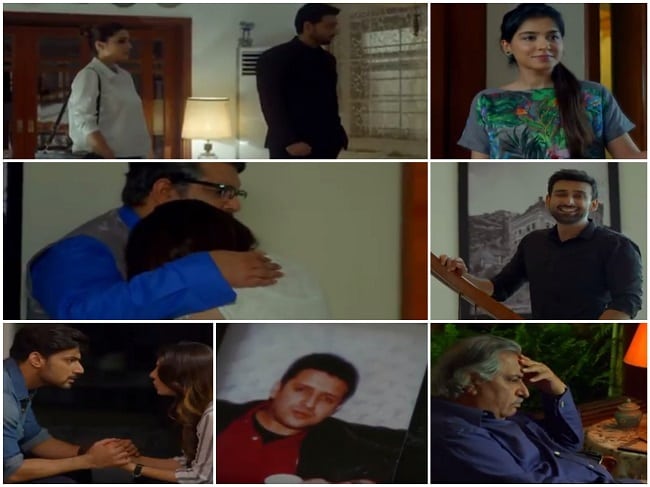 Maya walked out of her house certain that Saif will welcome her with open arms but even when he told her she could not stay with her, she was very understanding just like all the other times when Saif convinced her to do things his way. Saif knows how to handle Maya therefore every time he wants her to do something in a different way he assures her that he loves her therefore he wants things done differently. Saif's real intentions were shown clearly for the first time tonight. The scene covering Maya's argument with her mother clearly showed that Saif was lying. It also showed just how blinded Maya was at this point, she believed Saif more than her mother or anyone else. She has done the impossible for Saif which is another reason why she does not want to see that Saif might not be the person he says he is. Ayeza Khan acted superbly in tonight's episode especially when Maya goes to Faris' house; her expressions were right on point. Zahid Ahmed continues to give an average performance although he promised his fans that he will be playing the role "of the most charming villain" he has played so far in this play. So far Saif's character does not even have the screen presence which this character could have had if it wasn't translated in a different manner.
I am thoroughly enjoying watching this play, it is like reading an interesting novel, one page at a time, absorbing every little detail and looking forward to what the next page has in store!
How many of you watched this episode? Don't forget to share your thoughts about it.