"Cheat krne wale ko kuch nahi milta aur mil bhi jaye tu izzat nahi milti!"
This episode focused on Maya and Saif; it showed how Saif had no choice but to do exactly what Muzna and her father wanted him to do and this came as a rude shock to Maya who was expecting that her divorce would be the beginning of a new life. Maya anticipated something entirely different and gradually the reality of her situation is hitting her hard. Even now she will do anything to be with Saif because she took all these crazy decisions so that she could be with him and right now she is not willing to accept all those things she has heard about Saif even though he hasn't exactly been "welcoming". The viewers also found out Maya and Saif's background story. Maya did not go running back to Saif the second he apologized but he worked hard to prove his love to her. She couldn't have imagined that he had other ulterior motives.
Maya has been extremely selfish and she doesn't deserve better because like Siraj uncle said cheaters don't get very far! It looked like Maya had already started questioning her actions. When she was talking to Baila about Lubna, she said that it was because of her that she ended up telling Faris about Saif. When Baila said that she should be thankful to her for that, there was an awkward silence before she replied! This showed that she wasn't really thankful to her since she did not get what she wanted as a result of the divorce. Maya's state of mind was translated faultlessly on screen by Ayeza Khan. The character has been etched-out brilliantly too. Even with all her weaknesses and flaws, you can't help but understand her character.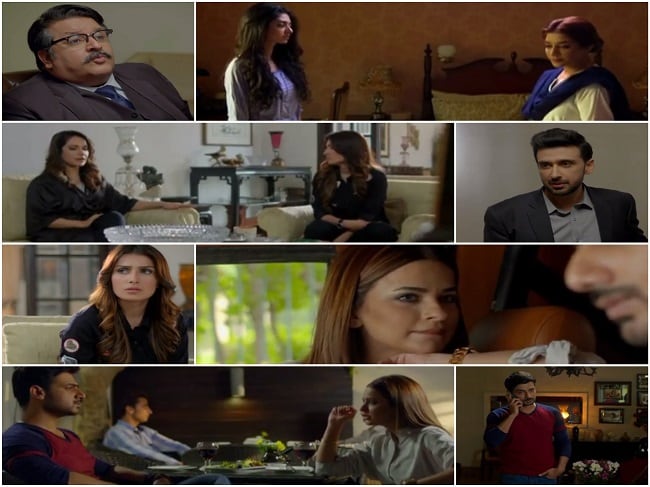 Saif and Muzna's scenes on the contrary were completely ruined by both the actors. I thought I would never say this about Zahid Ahmed because he always performs so well but in this particular drama his character does not only lack the charisma he promised it had but it also does not have an ounce of authenticity mainly due to the lackluster performance. The actress playing Muzna's character is just plain wooden! She delivers her dialogues with absolutely no emotions or expressions therefore although her character could have been interesting, it is an eye-sore because of the way it has been translated on screen. Saif and Muzna's situation is actually interesting but both the actors have failed to do justice to their respective roles.
Faris, Siraj Uncle and Dariya's scenes on the other hand are always refreshing and impactful. Sami Khan, Rehan Sheikh and Mansha Pasha have nailed their characters. They have translated their characters in such a beautiful manner that you can't help looking forward to their scenes. Although all these characters did not get a lot of screen time in tonight's episode but just like every other episode, their scene was meaningful and they made their presence felt. Dariya's character has been written brilliantly, I don't remember the last time we saw such a character in Pakistani drama. She is not hoping that Faris might ask her to stay and she is making the most of her time while she is in the office as opposed to investing her energies into winning over Faris in some way. She is there for him like a friend even though she loves him.
The change in Maya's mother's attitude in this episode was also easy to connect too although Farah Shah too seems to overact at times but overall so far Zahid Ahmed and the actress playing Muzna are the weakest links in the drama. Even with its slow pace I find this drama interesting and the director deserves tons of credit for making it aesthetically pleasing. He has paid attention to minor details and has extracted some really good performances from most of the actors.
How many of you watched this episode? Don't forget to share your thoughts about it.