The much anticipated Lollywood film of the summer starring Ali Zafar and Maya Ali, "Teefa in Trouble" is finally releasing tomorrow. This film marks the debut of Ali Zafar in Lollywood. The trailer looks promising, the songs sound amazing and many box office records are set to be broken.
What sets this movie aside from other Lollywood movies is that it is the first "Masala" movie of Lollywood. In case you are unfamiliar with this term, Masala refers to a genre which freely mixes different genres such as Action, Romance, Comedy and Drama into one. After mixing all of these genres into one, the end product we get is a highly entertaining film which can be enjoyed by audience of all ages. Masala has been the most popular genre of Bollywood since 2009 and looks like Lollywood is finally ready to try its luck with this genre too. Good Luck!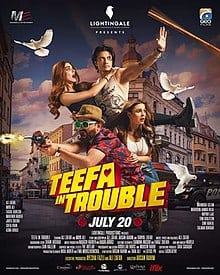 Teefa in Trouble is directed by Ahsan Rahim, produced by Ali Zafar and written by brothers Ali and Danyal Zafar along with Ahsan Rahim. It will be distributed in Pakistan by Geo Films and Mandviwalla Entertainment and internationally by Yash Raj Films.