Well, well, well. This is interesting. The latest developments in the story? Well, no not exactly. I am referring to the fact that this was the second last episode which came as a shock to me for only today I was wracking my brain to see if I could recall whether Samina Ejaz's dramas are dragged out and two names that popped up were Tum Meri Ho and Beqasoor – so I shook my head. A Big Bang production, writer Samina Ejaz, channel ARY Digital – and not touching the 20 episode mark? Yeah, when pigs fly – ah, maybe the time has come then!
Even though the chain of events in this episode seemed fairly predictable, there is still an element of unpredictability and uncertainty over how this drama will end. Upon learning that her mother is seriously ill, the rage that had consumed Zara and fed her desire for revenge seemed to fizzle out instantly and all she could think and wish for was her mother's health and well being. We also learn that she was marrying Faizan only to spite her mother and she meets him and wipes out any such notions from his mind too. I was glad that the whole typical scenario of hiding the illness from the patient was cut short when Mehwish overhears Zara's conversation with Tahir and his mother and steps in. It was also good to see Mehwish give in to Zara's insistence and agree upon treatment.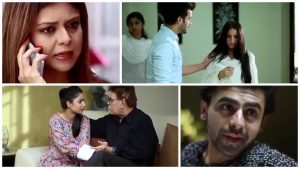 Chacha and Chachi have taken it upon themselves to see Mehwish back to health again but they state they are doing this only for Zara's sake. While Mehwish is seen to be reflecting upon the decisions she has made, she has not pined for or asked for Faisal and it would have been odd that Faisal is not shown to think of her for even a moment except that well, Faisal is Faisal. And that should explain it all. Mehwish seems content to have her daughter's attention and the sound of laughter around her. I liked seeing Mehwish and Zara grow close again.
I felt a bit uneasy over the pressure being exerted on Zara to accept the proposal put forth by Tahir's parents. I see how loving his parents are and how much they and Tahir care about Zara but that is something that should or could be highlighted to Zara in a positive way rather than make that the reason to accept the proposal so as to not hurt their feelings. Faizan accepted Zara's confession gracefully but he is still present on the scene so I wonder if Zara may just end up with him.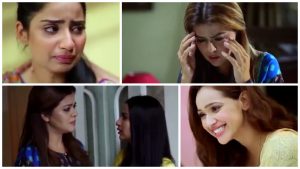 Amber and Faisal were their usual nauseating self in their happy little bubble. I don't want to be overly critical but Mehwish's illness has been diagnosed, second opinions sought, treatment begun and ended and Faisal's baby is nowhere in sight. How much time has passed? Anyway, I am curious to see how Faisal will react when he hears of Mehwish's illness. We are given the impression that she is almost cured though now. Is she or will she die and when does Faisal reappear in her life, if at all? I will seriously be sick if there is some super rushed ending where Mehwish forgives Faisal and they all happily celebrate the birth of his baby or something to that effect!
I never thought I would say this, except I think I may have said it in an earlier review but oh well – Saboor Ali was not only bearable but has acted well enough that I could actually relate to her character today where she seems to have thrown everything into the background and become a child who is besides herself with fear over very possibly losing her mother forever. I am unsure how this drama will end but I am definitely looking forward to the last episode and so glad that this has not been stretched unnecessarily. What did you all think of this episode? Would love to hear your thoughts.
Kunwal Javid