Armeena Rana Khan is one of the most gorgeous actresses of Pakistan. She has made a place for herself in the Pakistani industry in a very short period of time.
Armeena is a Canadian film actress and International commercial model. She shuffles between projects in Europe and South Asia. Her distinctive looks is a mixture of both East and West which gives her a chance to work in all sorts of places like Dubai, Europe, India, North America and Pakistan. She has featured in lists of the Top 10 Most Beautiful Female Models in the UK and Top 50 Most Sexiest South Asian Women in the world.
She is currently one of the rising stars of Europe and South Asia television and film industry and will soon be featured in a new artistic exhibition which will pay creative tribute to secular and inspiring Pakistani women.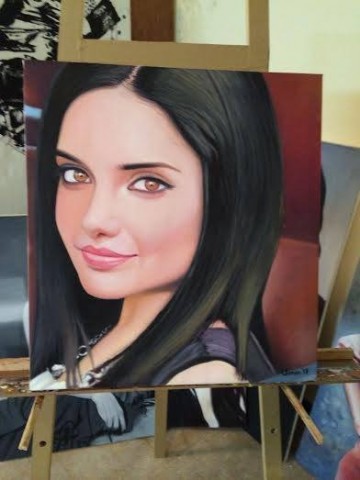 She is painted by Usman Ahmed, and upcoming artist who hails from Islamabad. Usman is working towards completing his debut exhibition, which depicts 30 realistic style portraits of women, all of whom are strong-willed and have also served as an example for everyone. His painting of Armeena Rana Khan forms part of the series, which will be showcased in Islamabad in April 2014.
Armeena might be a newcomer but she has already been named as the 'new sensation of Pakistan' with two feature films so far under her belt. Her short film 'Writhe' was also recognized in Cannes last year.
She was seen on Pakistani television in the shows 'Happily Married' and 'Shab-e-Arzoo Ka Aalam' both of which did not get much rating, but Armeena Rana Khan was definitely noticed. She then made her Bollywood with the movie 'It's too much' and will soon make her Pakistani cinematic debut with a central role in the film 'Bin Roye Ansoo' which is slated to release in June/July 2014.
Her portrait is absolutely stunning. We wish Armeena Rana Khan even more success in the future!
Mariam Shafiq