Who doesn't know TikTok? The social media platform has in fact grown so much so that its popularity has crossed that of Facebook and Instagram. One reason why TikTok is liked my hundreds and millions of people around the world is the fact that it provides them with a platform of showcasing their talent to the world without any charges. However, rather than using the platform constructively, the youth has begun trying all that they can to not only damage themselves, but also those around them.
That stated, people have now started pointing out destructive TikTok has become with our celebrities take the front seat in raising their concerns. First it was actor Fahad Mustafa who pointed out how TikTok was absolutely destroying our youth and now actor Feroze Khan had stated the same.
Taking to his Twitter and posting screenshots of TikTokers arrested for destroying the sanctity of the Tomb of Quaid E Azam and others posting in a graveyard, Feroze Khan wrote," TikTok is cancer. I repeat, cancer!"
Tik tok is cancer. I repeat, cancer ! pic.twitter.com/5hx1EQqgb6

— Feroze Khan (@ferozekhaan) February 26, 2020
People have been seconding Feroze in repeating how TikTok is absolutely destroying the regard the youth might have for this society.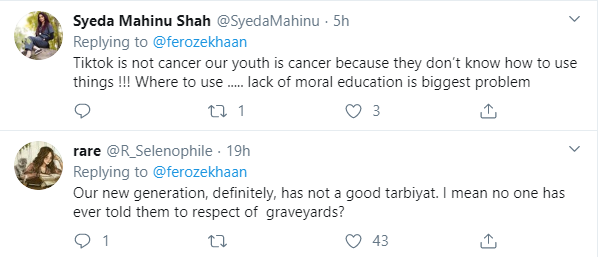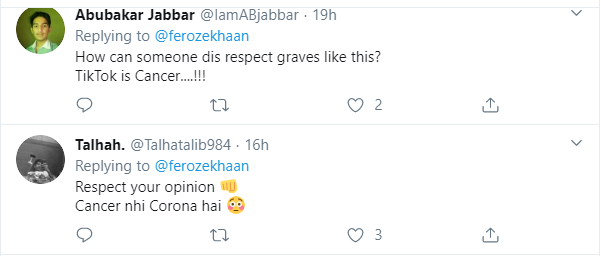 Some also pointed out how our own society was encouraging useless TikTokers who had become popular without actually working hard or achieving anything at all.

Some people are even calling out a ban on TikTok in Pakistan.

What do you think about the growing menace of TikTok in Pakistan? Let us know your thoughts in the comments below.
Top Trending Video