This episode of Titlee once again showed how Naila's mother constant support gave her even more confidence to continue doing what was clearly very wrong. Instead of finding a way out of the situation, Naila's mother made excuses for her multiple times. I must say that even after all these weeks Hania Amir continues to give a brilliant performance and Naila's character is still as interesting as it was in the first episode. Even though there isn't anything positive about her character but she is clearly someone who the viewers would love to hate! I also love the way the writer has shown just how selfish and manipulative Naila is. She fought with her sister and later on regretted it only because she had no one to leave her daughter with. She asked Ahmed to come and give her money even though she cannot stand to be around him! Naila knows all about her rights but it is almost as if she has no clue that she has some responsibilities too. She lives in her own world in which everyone should do everything according to her wishes and thanks to her mother so far she has managed to get away with a lot. Saba Faisal is fast becoming one of my favorite actresses not only because of her perfect performances but also because of the fact that she chooses to play different roles and nails them every single time. She is very convincing as the mother who is constantly covering up for her daughter without thinking what effect it could have on her personality or her married life. Just like Hania Amir, this roles doesn't really go along with Saba Faisal's graceful personality but she manages to pull it off almost effortlessly. Hania Amir makes you hate Naila's character by bringing all her negative traits to life on screen through her convincing performance, even though she has a cute and innocent face.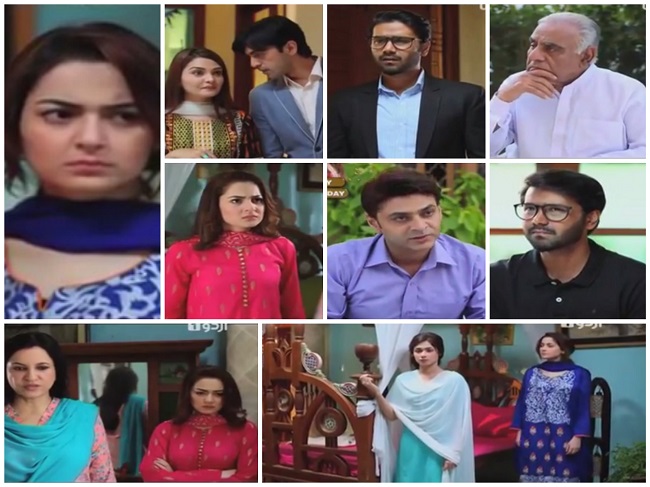 I absolutely loved the change in Zara's personality and the manner in which she interacted with her bajjo in this episode. After asking her mother repeatedly to talk to Naila, she finally decided that she needed to put her foot down. Everything she said to Naila was right on point and Naila's reaction to it was also completely in line with her personality. Shahmeen Khan is a confident actress who knows exactly what is expected from her. I would love to see her in more meaty roles in the future because she has tons of talent. One of the main reasons why I look forward to and enjoy watching this drama is that all the characters make perfect sense. There is a good reason why all of them react in a certain manner. Ahmed is slowly getting tired of putting up with Naila's tantrums and it was actually good to hear him suggesting that he should talk to Naila's father. His parents however are just too sharif. Ali Abbas is also a very talented actor who is constantly experimenting not only with his roles but also his looks. The episode ended with Ahmed finally telling Naila's brother that she was the one who wanted to live in a separate house and the preview of the next episode suggested that Ahmed might be thinking about leaving Naila.
Am I the only one who finds Amir and his wife terribly annoying? How many of you are still enjoying watching this play? Don't forget to share your thoughts about this episode.