This episode was going really well until the twist in the end came as a complete shock and wasn't as convincing as rest of this episode because of obvious reasons! However overall, like all the previous episodes of Titlee, this one too was interesting enough. Although this drama deals with shadi shuda zindagi ke masail but the fact that this is a simple and for the most part a convincing story makes it interesting enough. Also, the writer did not rely on clichés and misunderstandings to take the story forward. Naila's father and Ahmed's parents are also a breath of fresh air although at times Ahmed's parents are too sweet and tolerant but then all those "sharif" people out there who believe in making relationships last look for solutions therefore I find their characters relatable particularly because of the way the writer has made the viewers understand their thought process through their dialogues.
There are some people like Naila who look for trouble and create problems and then there are people like Ahmed's parents who find their way out of these problems in the best manner possible. Ahmed's state of mind was translated on screen realistically; he finally decided to end his relationship with Naila because he was certain that she was never going to change. This was his breaking point and it would have been so much better if Naila suffered a little before she finally went back to live with her in laws. So far Naila hasn't paid any price for taking people she loves for granted and for controlling everyone around her therefore I am wondering if it is possible for someone like her to change at this point. I absolutely loved Ahmed's father's wisdom today and I think this drama is sending out a very important message; parents can play a very important role in guiding their children in the right direction. Although Naila is a troublemaker and she is selfish but she is not a negative person. She does everything to make her own life easy but she has never been seen plotting and planning to make someone else miserable therefore I have always felt like if she mends her ways, she should be forgiven.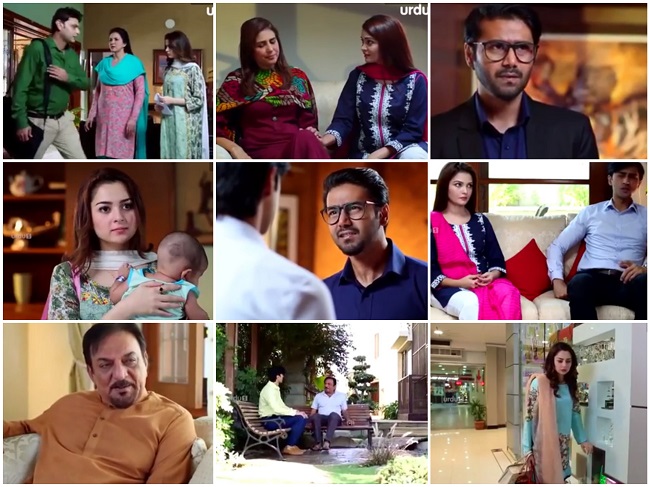 Naila's father's conversation with Kamran about Naila's behaviour when she was little went to show that she was controlling ever since she was a child and no one ever tried to make her understand that things cannot always go according to your wishes. Naila needs to learn all that and more! I am waiting to see how she will eventually learn to live without controlling others. The scene in which Naila threatens to leave the house when her brother and father tried to take her back to her in laws was executed really well. Naila knew that her mother will stop her and she was never really going to leave the house. Someone like her cannot live without all the help and comfort she is so used to.
This was an entertaining episode which could have been perfect if it ended at a different note. The convincing and polished performances by all the actors involved make this drama one of those very few dramas you enjoy watching even though the story isn't grand. Also, the story definitely has a different feel to it and all the characters are brilliantly etched-out. The director also deserves credit for executing all the scenes intelligently.
How many of you watched this latest episode? Don't forget to share your thoughts about it.