Episode 2 and I must say HSY has kept the momentum high by inviting another two celebrities with a huge fan base- the ravishing Ayesha Khan and the newest heartthrob, Hamza Ali Abbassi. This time around, he invited them one after another giving some extra time to chat with Ayesha Khan before Hamza joined them. For a moment, I was taken aback to see the camaraderie shared between these two but then I had an epiphany- they worked together on WAAR. I guess they go back a long way- HSY stated that he`s known Ayesha Khan for years before she started her career. Okay, time for my rant- what is it about our actresses and their insistence on being under 30? Ayesha Khan felt the need to mention that she started working 12 years ago at the age of 17 which makes her 29… I feel irrespective of their age, these actors have come a long way and should be confident enough to put aside clarifying how old they are.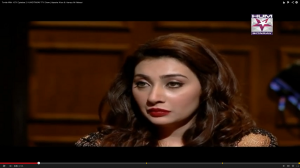 HSY was cheeky enough to bring up the one question that clearly annoys her most. I liked the way she responded by being realistic yet not giving away anything- marriage is on the cards for her- not just yet. Hamza too stated he's not dating anyone seriously- or is that just the way celebrities roll? I think as much as the fans love knowing about their favorites, there is an aspect of their private lives that they want to keep hidden. I was surprized to find out that Ayesha Khan is not on any social media platform- the twitter account which has one of the highest number of followers is not hers! Hamza, however, is very active on facebook and he regularly updates his status.
It was interesting to know that Hamza has trained with the Police force and he gave a huge shout out to the brave men who keep us safe. It was his mother's wish to see her son as a uniformed officer and he went ahead just to prove to himself that he is capable of undergoing the rigorous training but that wasn't the career path he had in mind. Hamza is a very competent actor and he's also a great mimic. My absolute favorite part of the episode was his mimicry of HSY. He owned it completely- from the hand gestures to the tantrums, he was a delight to watch.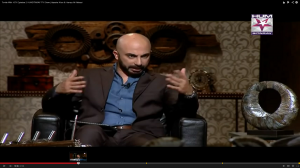 The challenges weren't as exciting as I would have hoped. Hamza was more than willing to let Ayesha Khan win. I feel the segment "Love or Not Love" is actually pretty pointless. The guests are naturally inclined to avoid controversy and end up stating that they love everyone- except Mathira! I'd like to mention here that both Ayesha and Hamza have oodles of respect for Humayoun Saeed and his name came up quite a few times. I also liked the way both of them were in awe of Emaan Ali. Once again, Round two was "Ajnabee Kaun Ho Tum" where they received a call and in 30 seconds they had to guess who the caller was. They really ought to work on improving the sound quality or scraping that segment altogether and replacing it with something else. It is an utter waste of time and frustrating since the viewers can't really hear anything. The final round "Mein Khilaari Tu Anaari" was better than the predecessors. Ayesha and Hamza each had to ask the other 5 questions and the winner takes all. I don't get why Bollywood is always being discussed on our shows even though everyone keeps talking about the revival of Pakistani cinema. Why bring up Chulbul Pandey or the lyrics to some random song – "Mein tera amplifier?"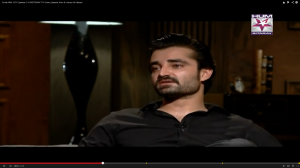 This episode focused more on their work. Hamza Ali Abbassi brought up the topic of why he doesn't believe in item songs since they do not represent our culture. In the same breath, he mentioned that he has tonnes of respect for Saba Qamar. I'm guessing this episode was filmed prior to the whole "Mardon ki Meera" incident. Overall, it was a good watch but I really feel they should work on the challenge segments- that takes up a chunk of the time that could otherwise be used for more discussions. What are your thoughts about the second episode?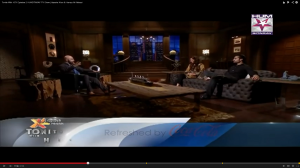 Yours in watching,
Kanwal Murtaza