If ever there was a doppelgänger for Snagglepuss (remember the pink mountain lion from Yogi Bear?), it must be HSY. After all, there must be a darn good reason everyone refers to him as Sheru (wordplay alert). Tonight's intro to the first guest made me extremely curious who he'd invite and I was taken aback that he had the queen of cinema, his friend, his muse- Reema Khan. I've never watched any of her movies and I don't think she has done much work in television. All I have seen are promos of her show "Reema Ka Amreeka" and bits of interviews around the time of her much hyped wedding. Reema seems to consider herself as a trendsetter of sorts- she takes credit for all the celebrity weddings that have taken place after her big day! Meri shaadi ne kitno ki shaadiyan karwaadi…
I must confess, I was pleasantly surprised at her confidence and her no-holds barred attitude. She was exactly the kind of guest that HSY was hoping for all this time. This lady had no qualms about saying ANYTHING. The casualness with which she commented on Meera's films left me speechless- depend karta hai film 35 mm par banaa rahe hein ya mobile phone par! Late night television is a gossip monger's dream come true!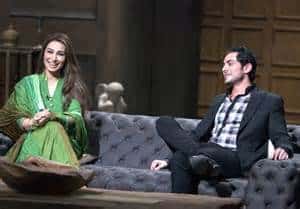 Bilal Lashari aka Billy was the second guest for the evening. Bilal was playing it too safe and he admitted that he's too new and thus remained diplomatic. I like how grounded he seems- despite the 25 crores that WAAR earned him. It was nice to get a clarification from both Reema and Bilal about how the money is split between the cinemas, producers, marketing, etc and only a small cut falls into the director's hands. Bilal declared that he is married to his work and he is not ready to commit at the moment. Bilal briefly spoke about his upcoming project- a remake of a cult classic Punjabi film "Maula Jatt" and Reema added that she will be back on the big screen soon. Bilal attributed his passion for directing to the film series- "Back to the Future". I was relieved that age wasn't brought up in this episode- by the way, doesn't anyone know how old Reema is?
With Reema skipping comments on two pictures (Resham and Meera) in the round, "Love or Don't Love", there was another opportunity for Sheru to pry and he did. Reema's remark about those competitors resorting to chhotay aur onchey hatkandey was the fodder HSY was digging for. Seeing Reema's candidness, Bilal seemed to loosen up and made a very careless remark about how Pakistani actresses ne ajeeb si wahan jaakey harkatein ki hain in response to whether actors should go overseas for work. I'm sure this quote will come back to haunt him since there's no dearth of people who tend to make a mountain out of a molehill.
Reema's rendition of "Mere Nehar Se Aaj Mujhe Aaya" was pretty lame but she was a good sport about it. Add to that the fact that it gave her an opportunity to take one more shot at Tahir Shah. I must say that she looked graceful and I hope that other guests take pointers. Green may not be my favorite color and the outfit itself was nothing out of the ordinary but our ethnic outfits add an element of grace that we can't deny. What did you think of this episode?
P.S. Eid Mubarak to all my fellow writers and our wonderful readers. For those of you who don't know Snagglepuss, here's a little Eid treat:
Yours in watching,
Kanwal Murtaza