Aamina Sheikh and Sanam Saeed have a lot in common; they are both very comfortable in their own skin, they are multitalented, they have been around for a long time and they do not give interviews on television very often but I never knew that these two stars were such good friends too. I have watched all episodes of Tonite With HSY which have gone on air so far and I must say that I feel that some of the shows are not as spontaneous as one would hope for them to be. Whenever HSY invites celebrities who are his close friends he asks calculated questions which are designed to give a certain type of information which these celebrity guests (probably) want the viewers to hear. Also, I feel that a candid interview is one in which the celebrities do not only share details about their professional life but also talk a little bit about their family life. Even the information which both these guests shared about their professional life just did not seem enough.
I will discuss those points which for me were the highlight of the evening. I absolutely loved Sanam Saeed's take on whether or not celebrities should get plastic surgery done. She thought that if a minor change in someone's facial features could affect their career in a good way then they should definitely get it done but if someone is already getting a lot of work then they don't need to make these changes. She also said that she will never endorse fairness creams or get treatments done to change her complexion no matter what.

Both the actresses talked about breaking stereotypes and I was left wondering what they meant because both of them have been cast in stereotypical roles as well and both of them have played the victim many times. I would have liked to hear more from them about their recent projects and how the experience was, the most recent being Dil Banjara and Pakeeza. Aamina Sheikh's comment about Urwa and Mawra that they were both the same was funny! There were multiple questions with Humayun Saeed as an option and Urwa and Mawra's name came up more than once. One thing which the viewers learned was that Sanam Saeed looks up to Saba Qamar and Mahira Khan. Sanam Saeed did a great job guessing the names of the celebrities.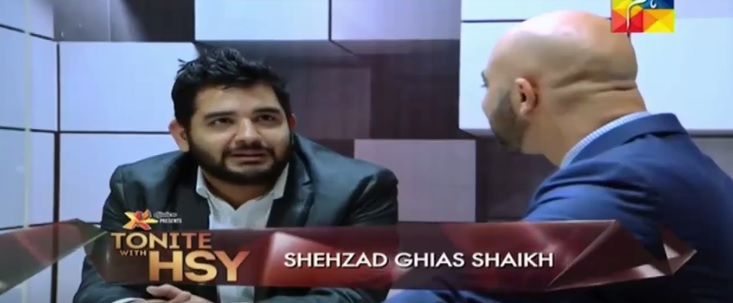 Sanam Saeed and Aamina Sheikh's answers to all the questions were somewhat similar and personally I feel that if there was a little more diversity in the questions – both of them didn't have to answer the same questions – the show would have been more interesting. Overall, I would give this particular episode of HSY 5 out of 10 because it missed the chance to explore different dimensions of Sanam Saeed and Aamina's Sheikh's professional and family life. Also, the show started with HSY interviewing Shehzad Ghias Sheikh and before going on a commercial break HSY said "I want to know just as much as you do, stay tuned." which implied that he was going to continue interviewing Shehzad but then he moved to the next segment of the show after the commercial break. I also missed the segment in which he asks his guests to say something about a particular celebrity or asks questions like who was the most overrated actress in the year 2016 or which role they could have played better. Basically, there was a conscious attempt from his side to avoid controversies which showed that every episode of Tonite With HSY is going to be tailor-made to suit his guests' needs.
How many of you watched this latest episode of Tonite With HSY? Do share your thoughts about it.