From the olden times man had worn something to protect himself from heat and cold of nature. In olden days they may be leaves of trees and after that man invented clothes, because man is the only creature on this land who wears clothes. It is a necessity of man. You can judge one's character, taste and habits by the dress he wears. They are the stages of the wearer.
The fashion in dress has changed many times. In the olden days men used to wear dhoti, kurta or shirt and women used to wear shalwar kameez commonly. Then came pant-shirt for man and trouser shirts for women.
The colors and cuts have also changed pattern. Sometime it is light color and sometime it is dark. Sometimes it is loose fitting and sometimes it is skin fit. Sometimes it is three piece suit and the other time it is two piece suit.
And when it comes to celebrities' good dressing with up to date styling become the top notch priority. Public looks for the styling and dressing of celebrity and those celebrities who dress up modestly are always praised. Here we have gathered the top 10 dresses worn by one of the most modest celebrity of Pakistan, Aiman Khan.
Royal Blue Number By Faiza Saqlain
Aiman Khan looks like a vision to behold in this royal blue long dress adorned with golden embellishment with a small slit at one side.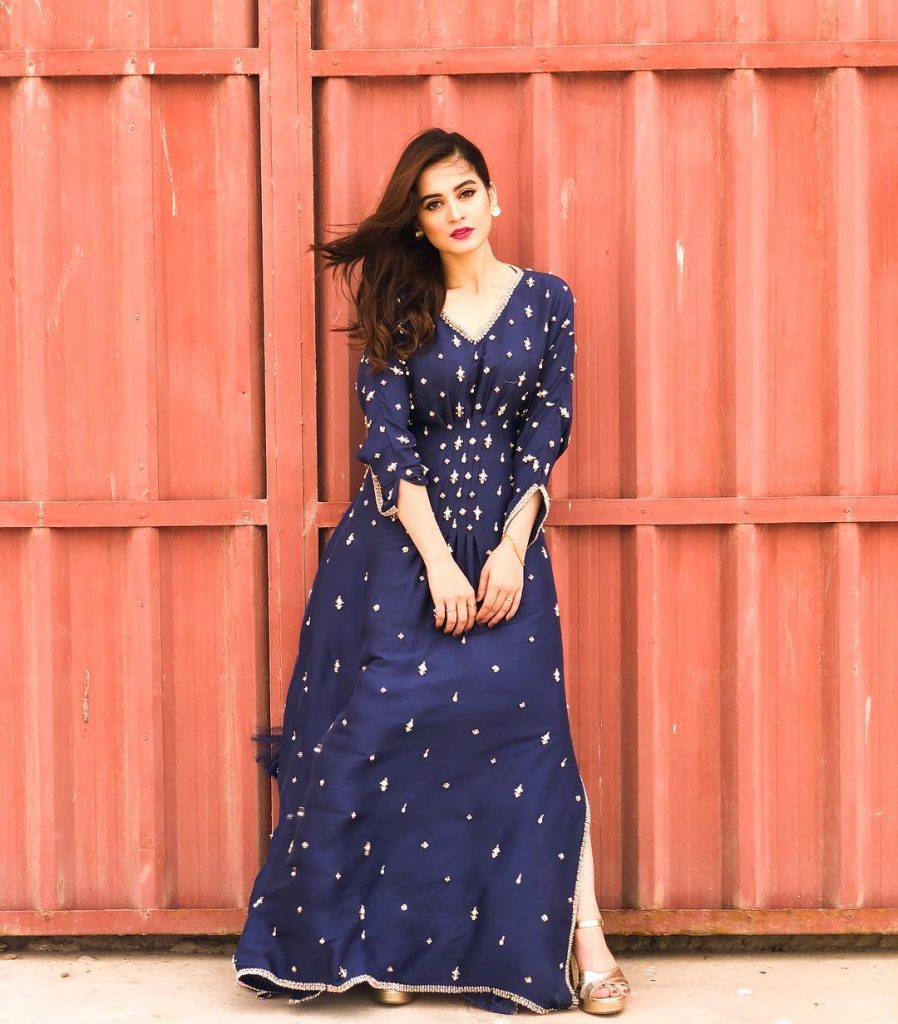 Red And Black Sarhee By Ali Xeeshan Theater Studio
Aiman Khan wore this beautiful Sarhee on one of her wedding functions and looked dapper in this beautiful combination of red and black by ALi Xeeshan Theater Studio.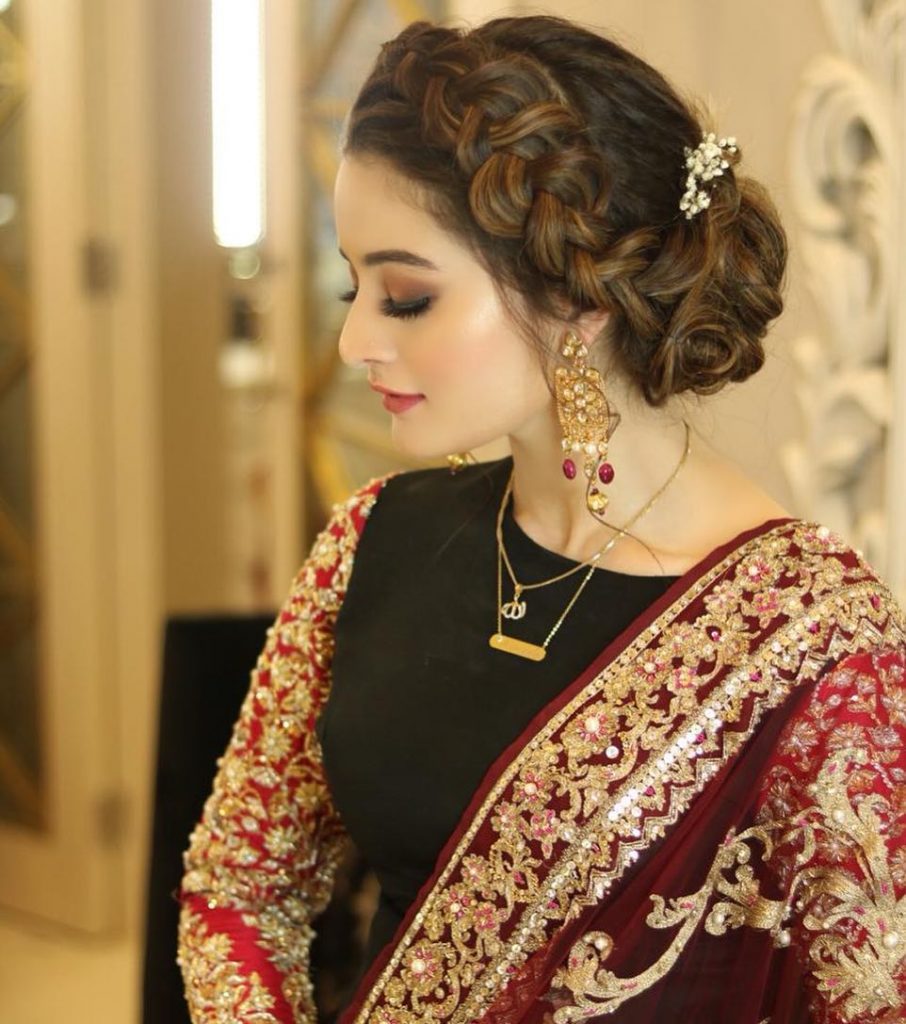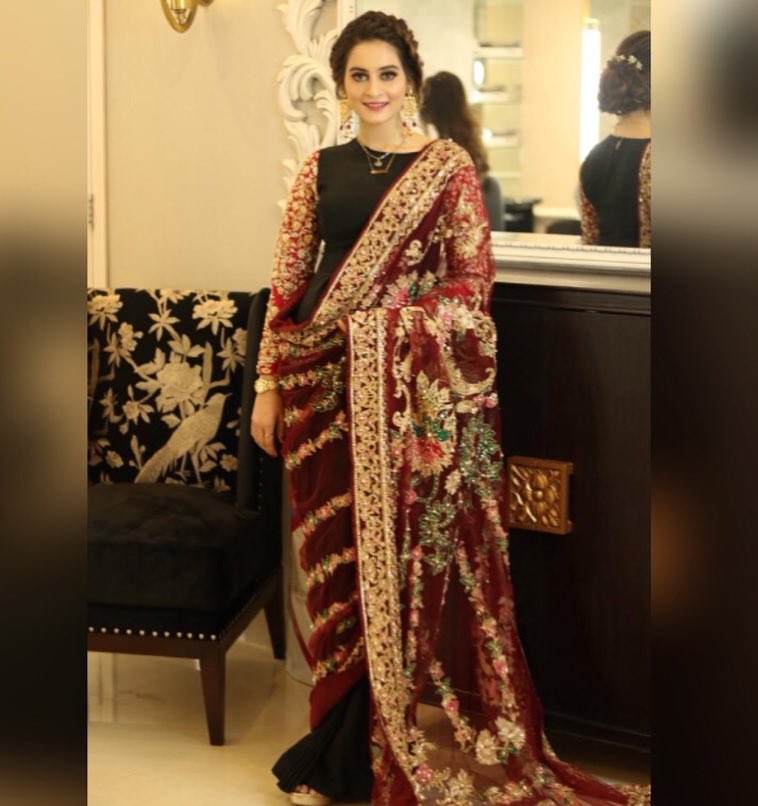 Beautiful Pashwas By Maria B. 
Aiman Khan is looking epitome of elegancy in this rock garden colored fully embroidered pashwas with golden dupatta.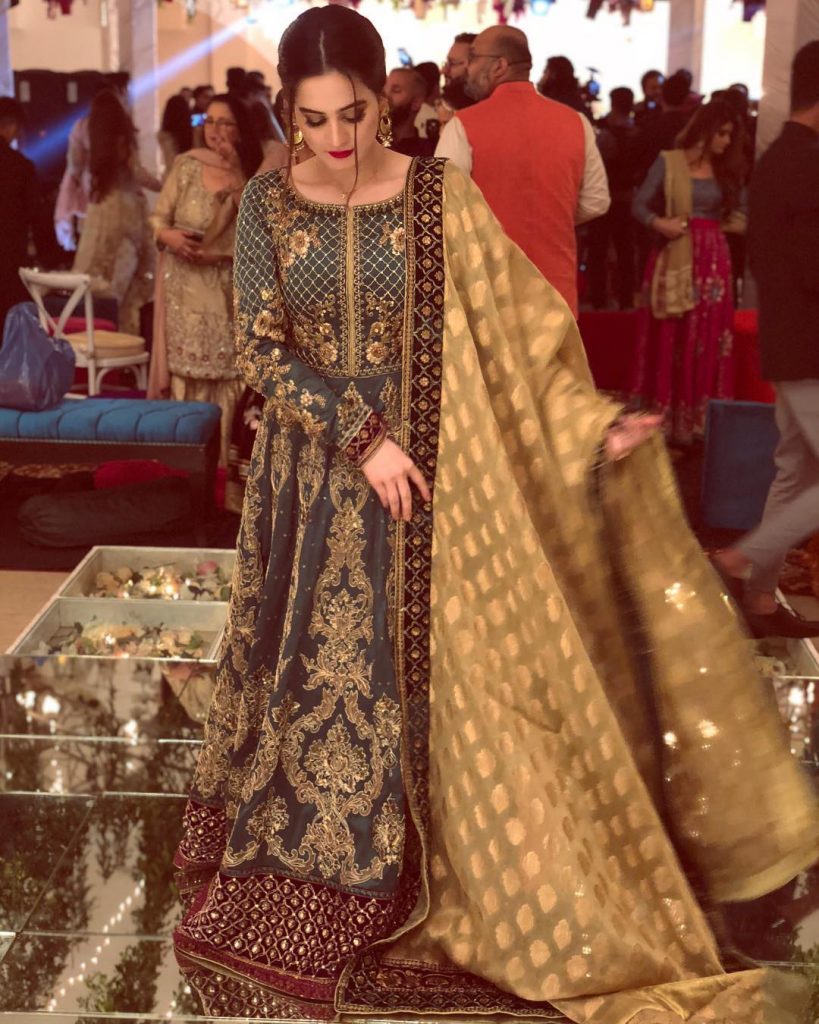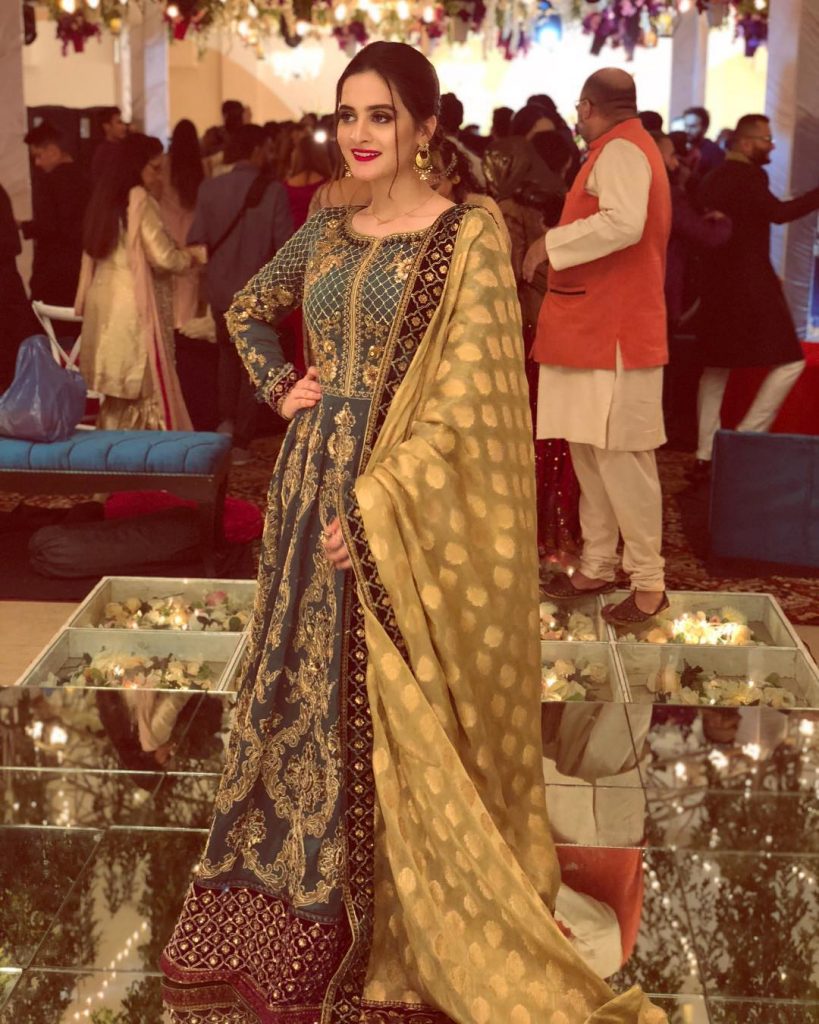 Emerald Green Long Dress
When Aiman Khan wore this beautiful emerald green long dress in one of her first appearances she made after giving birth to her daughter. Her amazing transformation stunned everyone. This Emerald green dress with minute golden embroidery garnered attention of public as well. Making to the list of best dresses ever worn by Aiman Khan.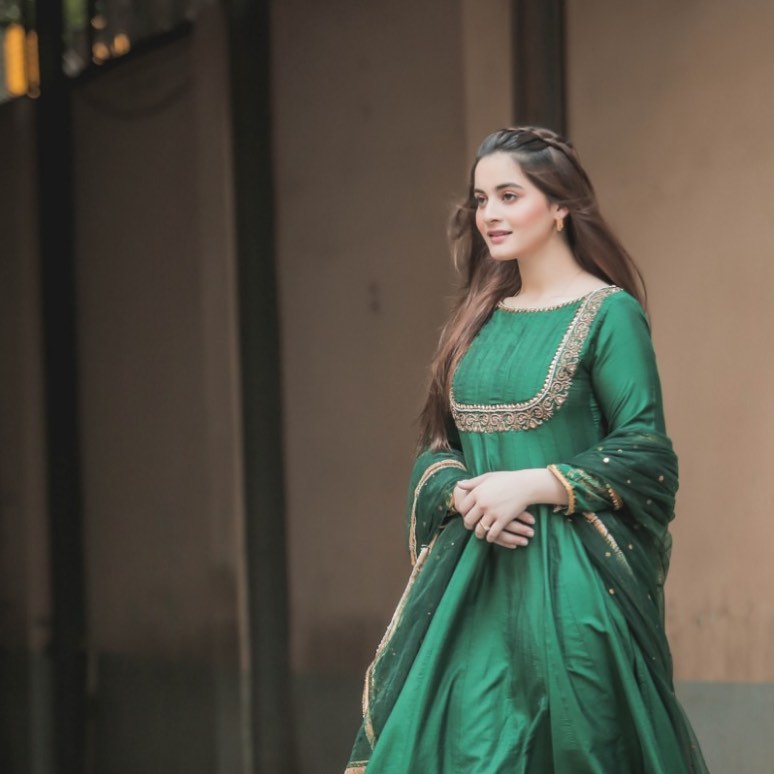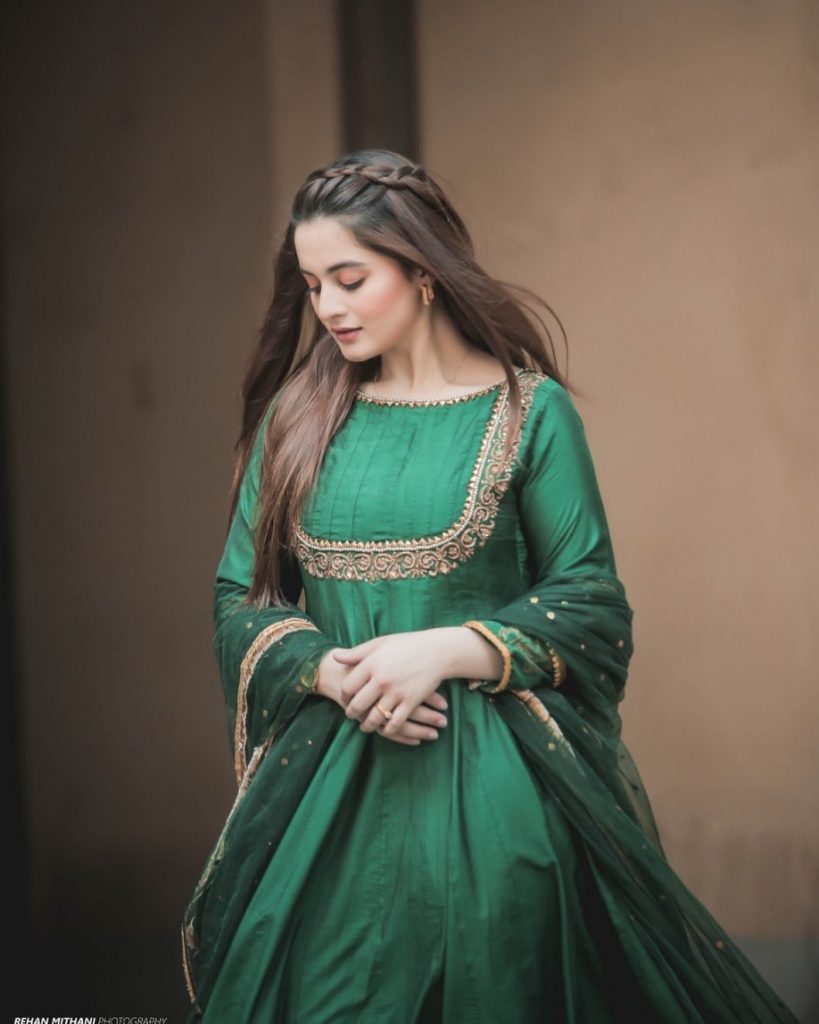 Tea Pink Number By Zaaviay
Aiman Khan looked absolutely stunning in this formal dress by Zaaviay. This hand crafted three piece suit looked perfect on Aiman Khan.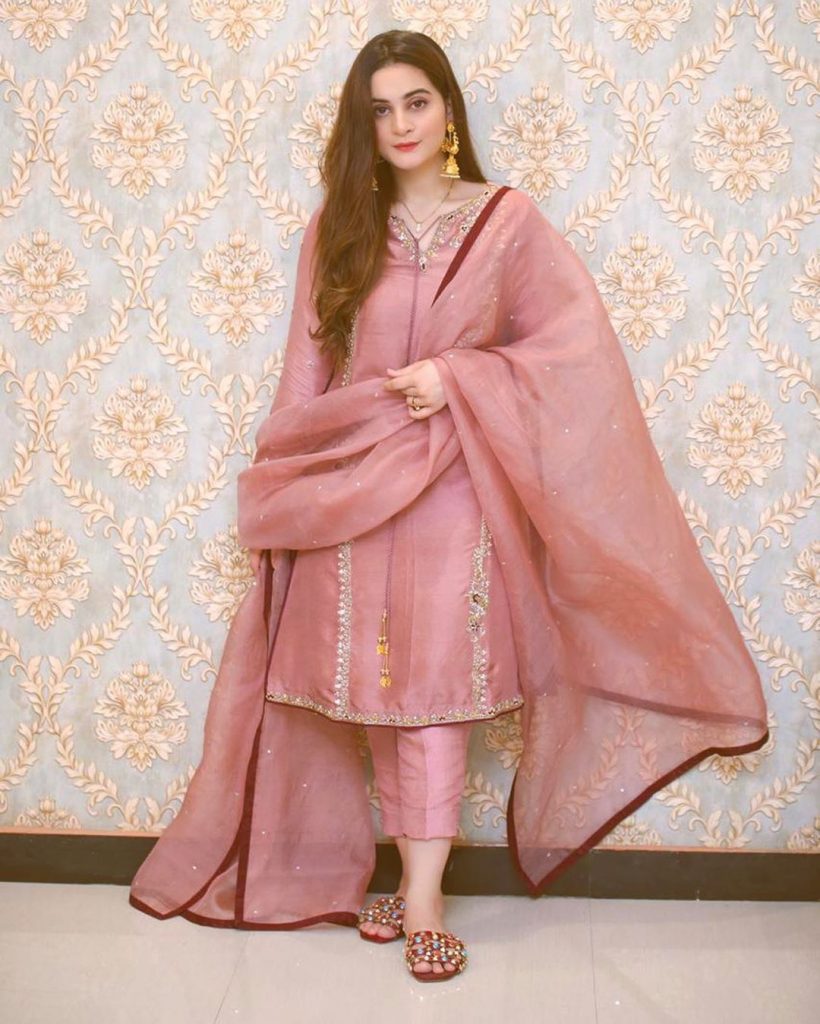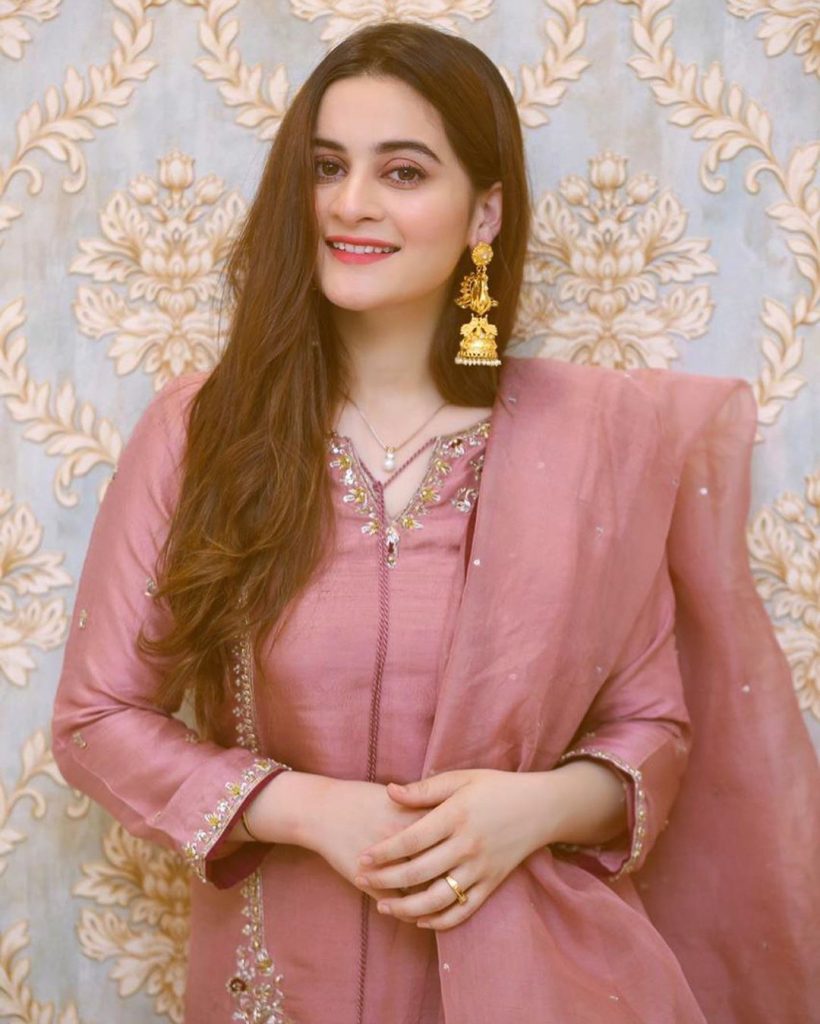 Orange Dress By Khaadi
Bright colors are Aiman Khan's thing for sure. Aiman Khan wore this stunning bright orange dress from Khaadi and indeed she is looking like a dream in this dress.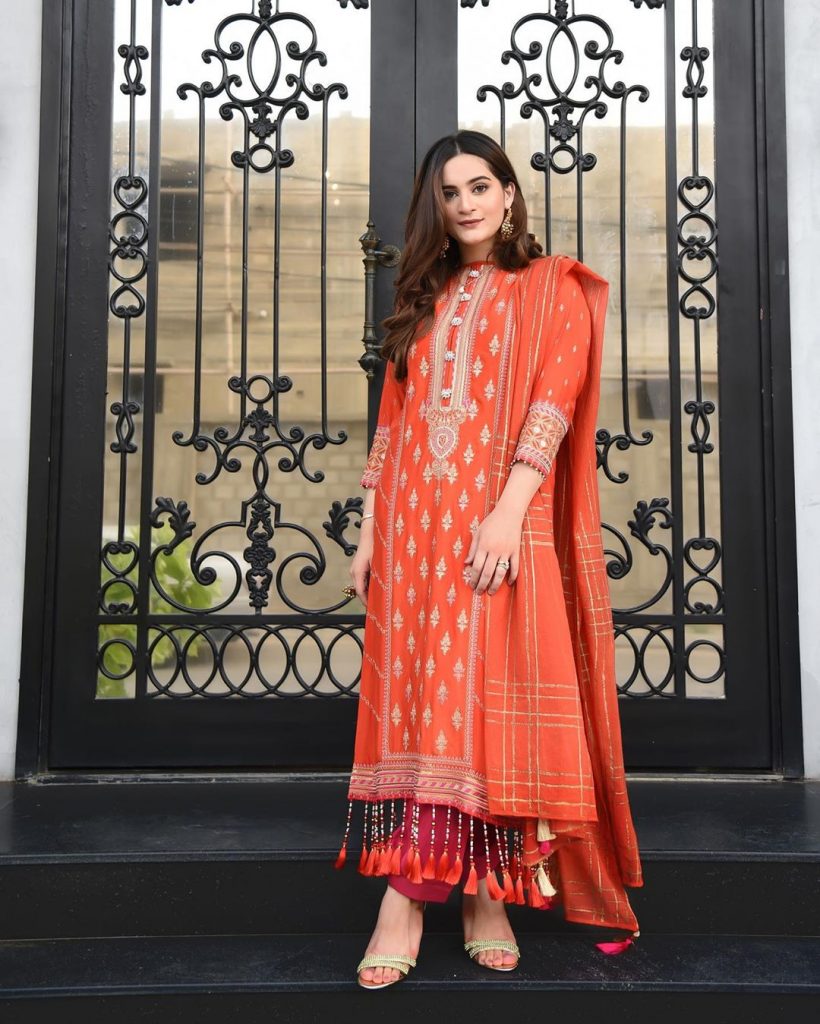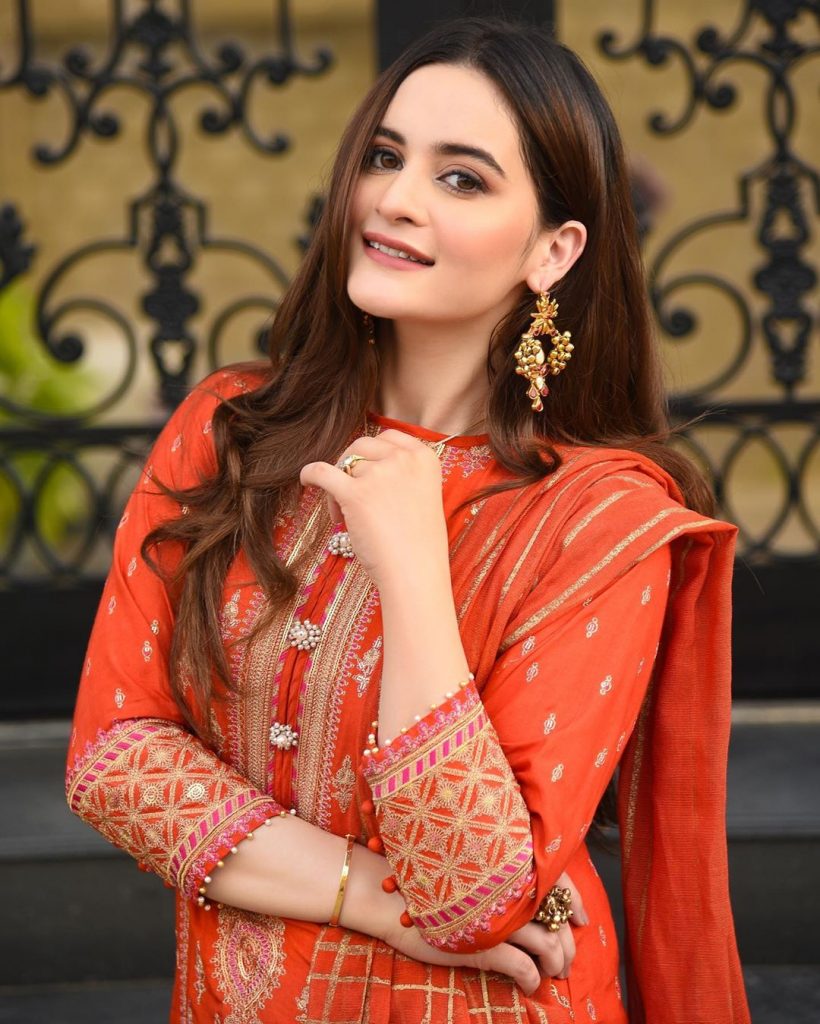 Iris Purple Gharara By Republic Womens Wear
Aiman Khan in this irish purple Gharara and long embroided shirt is looking like a vision to behold.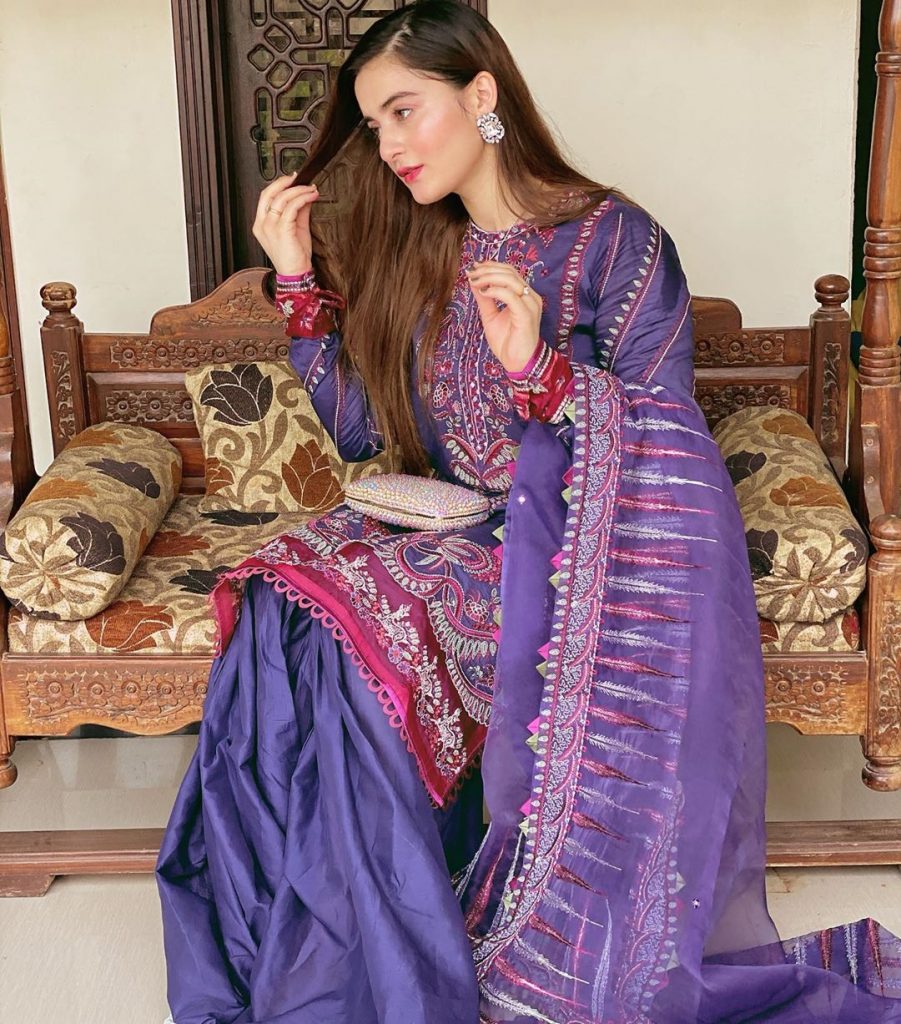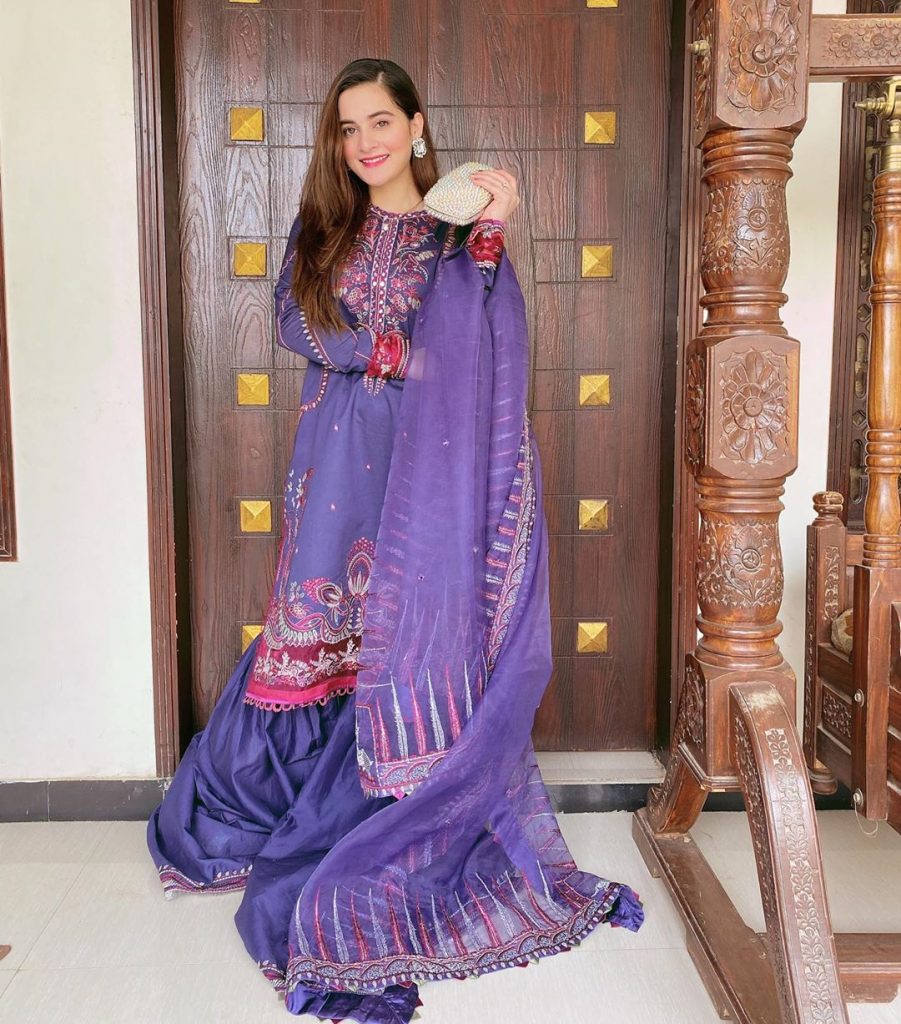 Pastal Pink Pashwas By Erum Khan Couture
Aiman Khan wore this pastal pink colored Pashwas by Erum Khan couture on Eid and we must say that Aiman khan knows for sure that how to rock these pastel shades.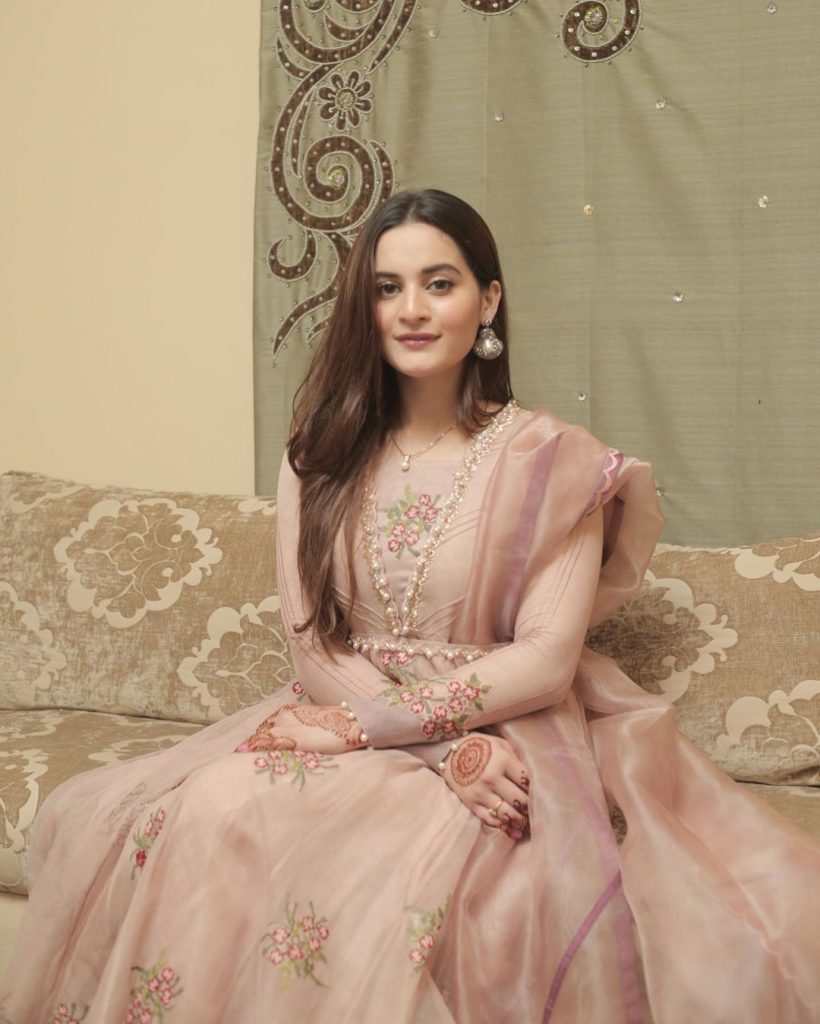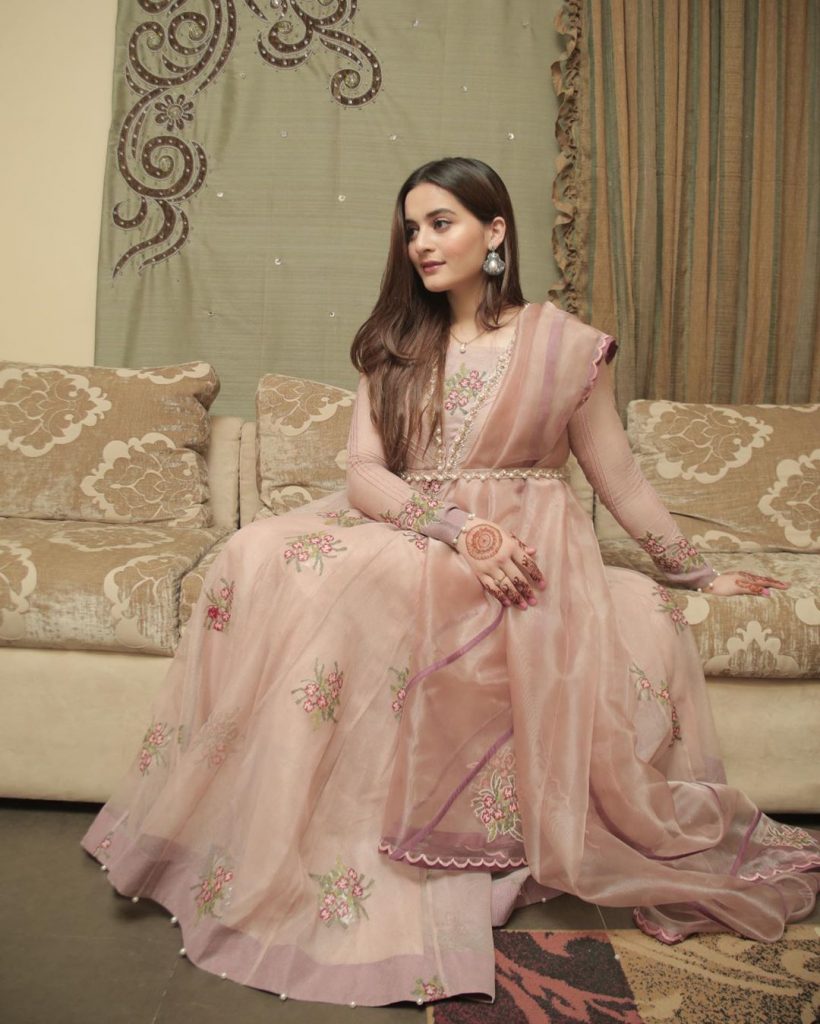 Ivory colored Pashwas With Pink Embroidery By Hussain Rehar
Aiman Khan is looking stunning in this ivory colored dress by the famous Hussain Rehar and she knows how to look stunning in every color.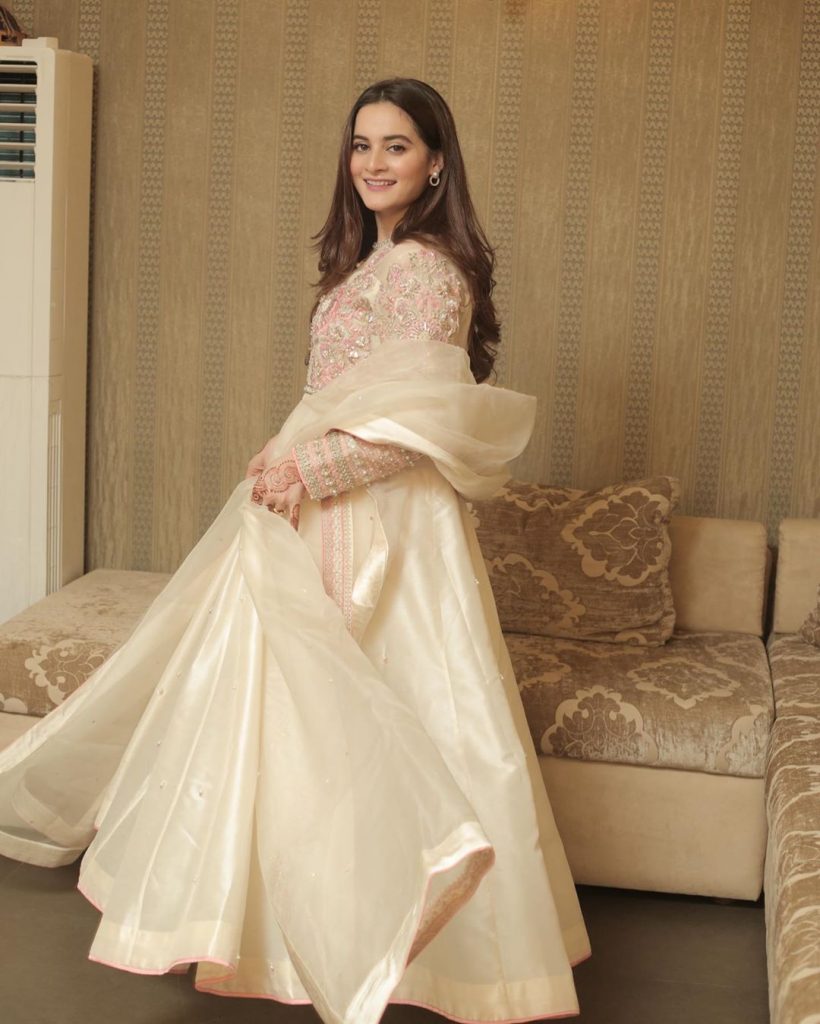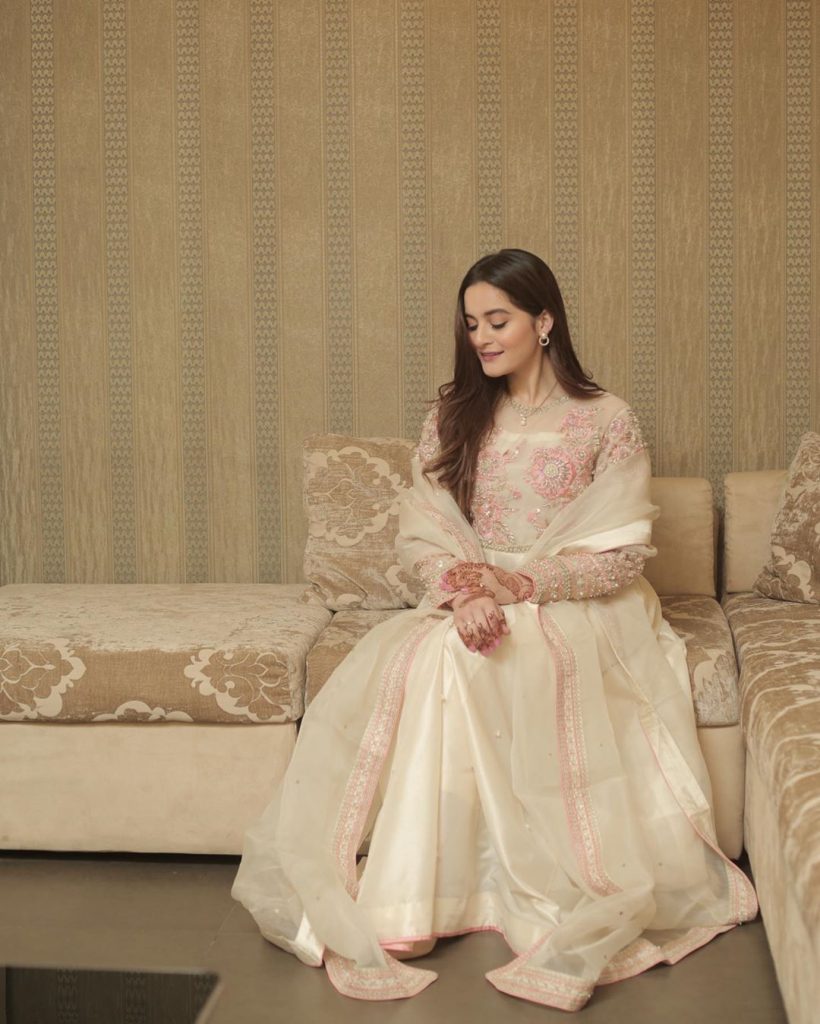 Red Long Dress By Sidra Murtaza
Eastern wear is an Aiman Khan thing, she looked stunning in this red long dress by Sidra Murtaza gold embroidery and off white net dupatta increased the beauty of this dress.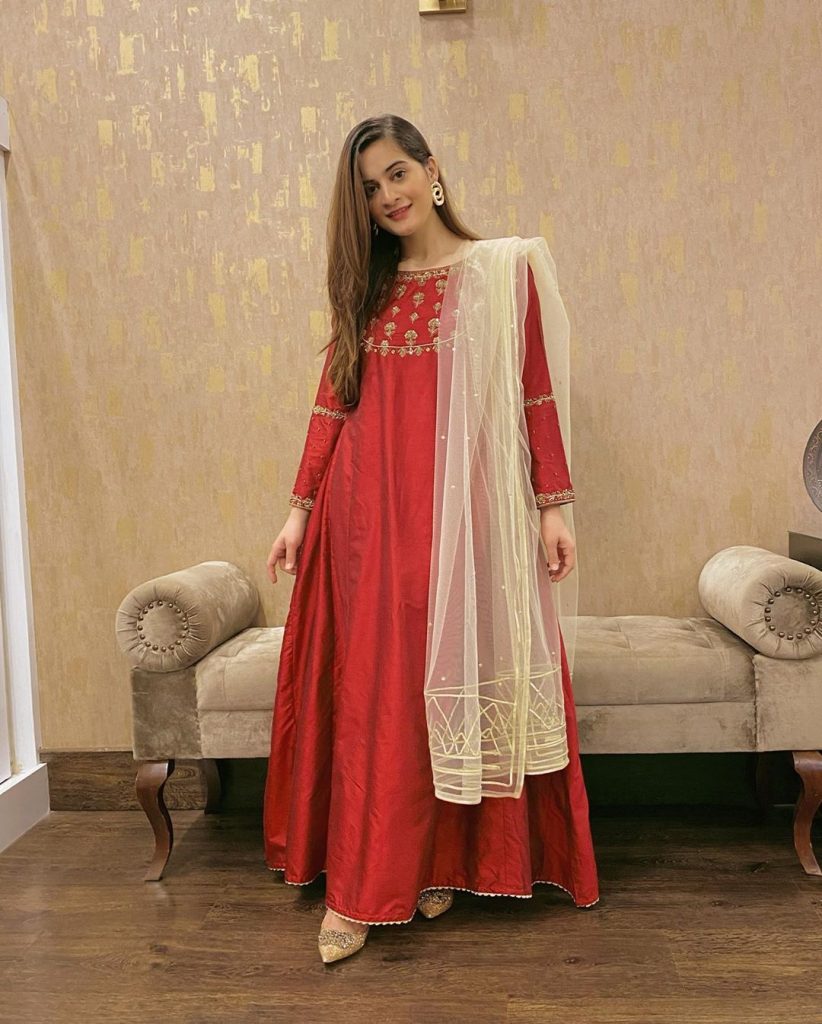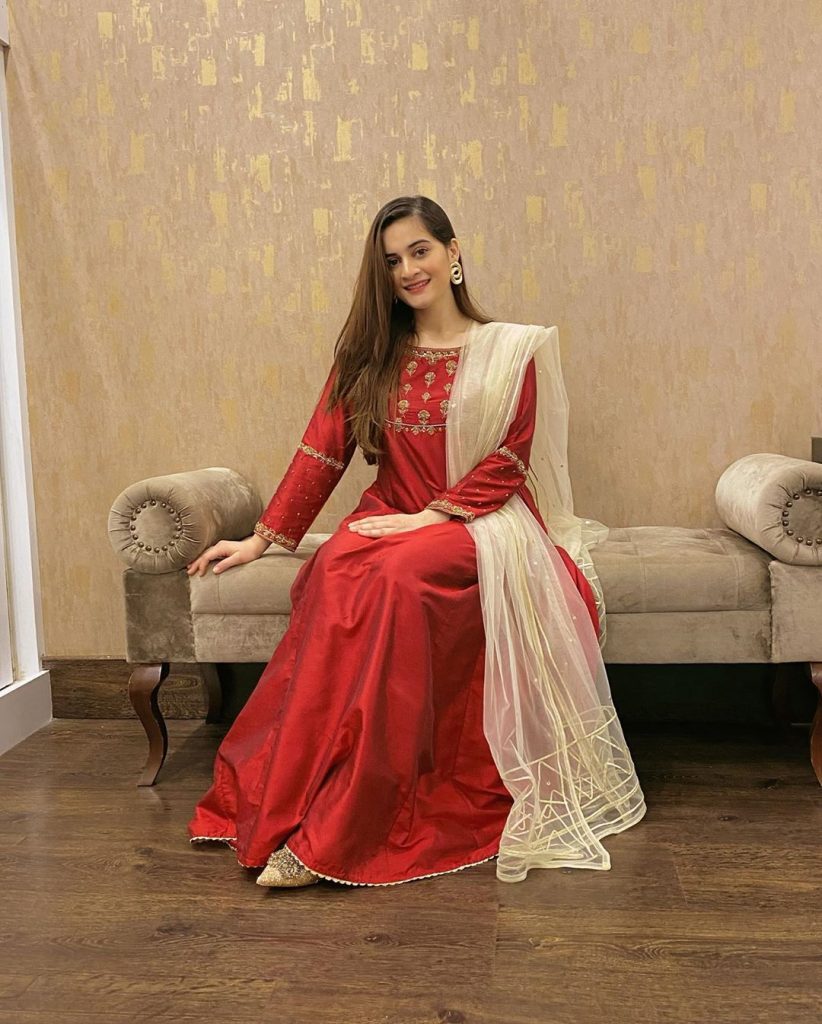 Have you guys seen our list of top 10 dresses worn by Aiman Khan? Share your views with us through comments section!