Ahad Raza Mir and Sajal Ali are a young and sensational power couple of Pakistani showbiz industry. They both had everyone rooting for their real life couple the moment they shared the screen together as Dr. Asfand Yar and Dr. Zubia. Since Yakeen Ka Safar days, everyone wanted them to be together because their on-screen chemistry was perfect and they made such a cute couple. It was around that time when Ahad and Sajal got together and started giving hints to their fans that they were in a relationship.
Ahad Raza Mir and Sajal Ali have a massive fan following based on the immense talent that they have. Sajal Ali has been a part of the industry for a longer time as compared to Ahad and she has paved her way due to consistent hard and quality work. It won't be wrong to say that Sajal Ali is one of the finest actors of Pakistani industry where her acting skills are unparalleled. Ahad Raza Mir is comparatively new but he has carefully picked up such quality products that helped him in standing out and proving himself as an actor. Together, both Ahad and Sajal are a powerhouse of talent. The fans were overjoyed when Ahad and Sajal announced the news of their official engagement. After the announcement, people have gotten used to seeing them together and all of their interactions on social media are closely followed because people can not get enough of how amazing both of them are.
Ahad and Sajal do not believe in putting everything related to their relationship out there on the social media, however they both are always seen supporting and rooting for each other. We often get to see Ahad Raza Mir appreciating and praising Sajal Ali for whatever she does and can't get enough of how cute they both are. Let's take a look at the top 10 cute moments of Ahad and Sajal.
Zubia Rooting for Asfand Yar
It doesn't matter if it is on-screen or off-screen, both Ahad and Sajal are always appreciative of each other's talent and acting skills. Sajal Ali took it to the social media to request her fans to vote for Ahad Raza Mir as the best TV actor for Yakeen Ka Safar. It was during the initial days of their budding relationship and people could not stop wondering if this support meant something else and fortunately, as time progressed, their wish came true. Now when we look back, it was actually quite cute of both of them to ask their fans to support their co-star.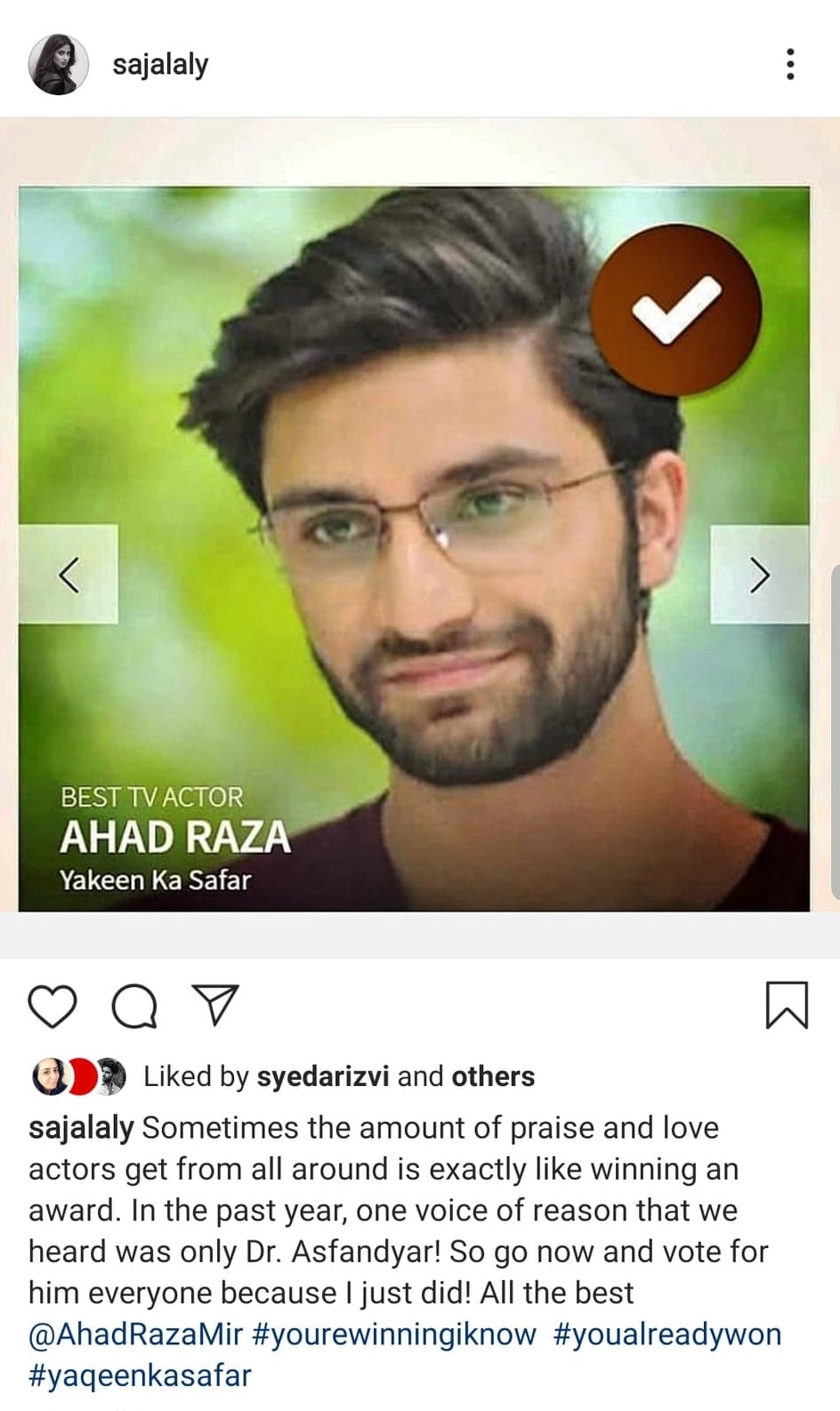 Things Get Cuter With Mama Mir In The Picture
It was absolutely sweet of Sajal Ali to not only be happy for Ahad Raza Mir, but also acknowledge the feelings of his mother for him. Sajal Ali could totally relate to how Mama Mir must be feeling because she herself witnessed her own mother doing exactly the same for her. Sajal was immensely happy for Ahad but what made her happier and emotional was how she saw Mama Mir cheering for her son. It was absolutely cute seeing Sajal taking it to social media and sharing a very beautiful mother-son moment that she witnessed.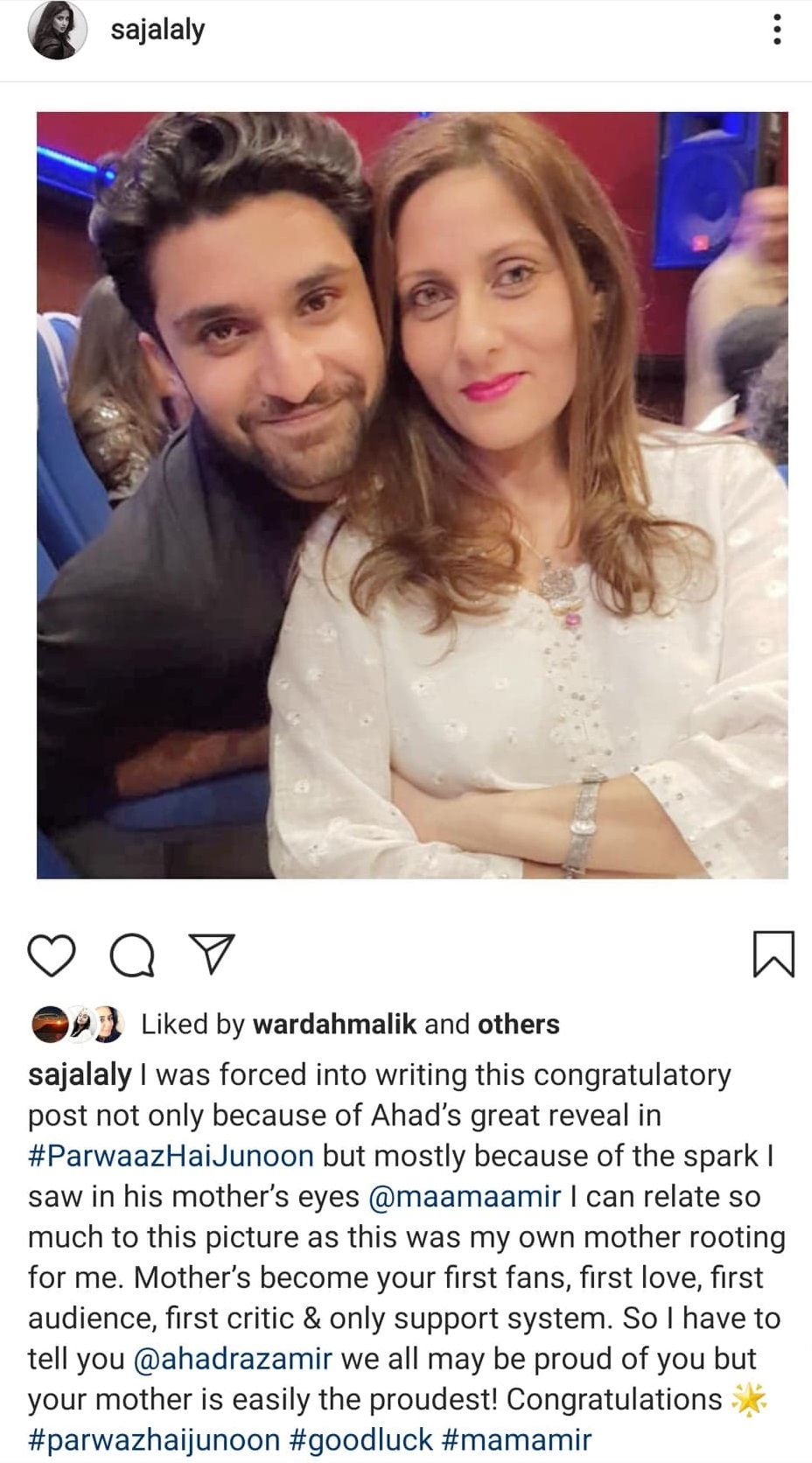 The Couple Photoshoot
This was way before Ahad and Sajal announced their relationship officially but the news of them being together was already out. People wanted to know so much more but Ahad Raza Mir expressed his love for Sajal in a unique way. This photoshoot of Ahad and Sajal could easily pass as a couple shoot, both dressed in formal bridal ensembles, looking like a gorgeous couple, admiring each other. This is exactly what Ahad did, he explained how he was admiring Sajal in this photo. This beautiful picture means so much more now and Ahad's caption is an open declaration of his love for Sajal's uniqueness and beauty. This picture has us wondering what a beautiful bride and groom they will actually make on their wedding day.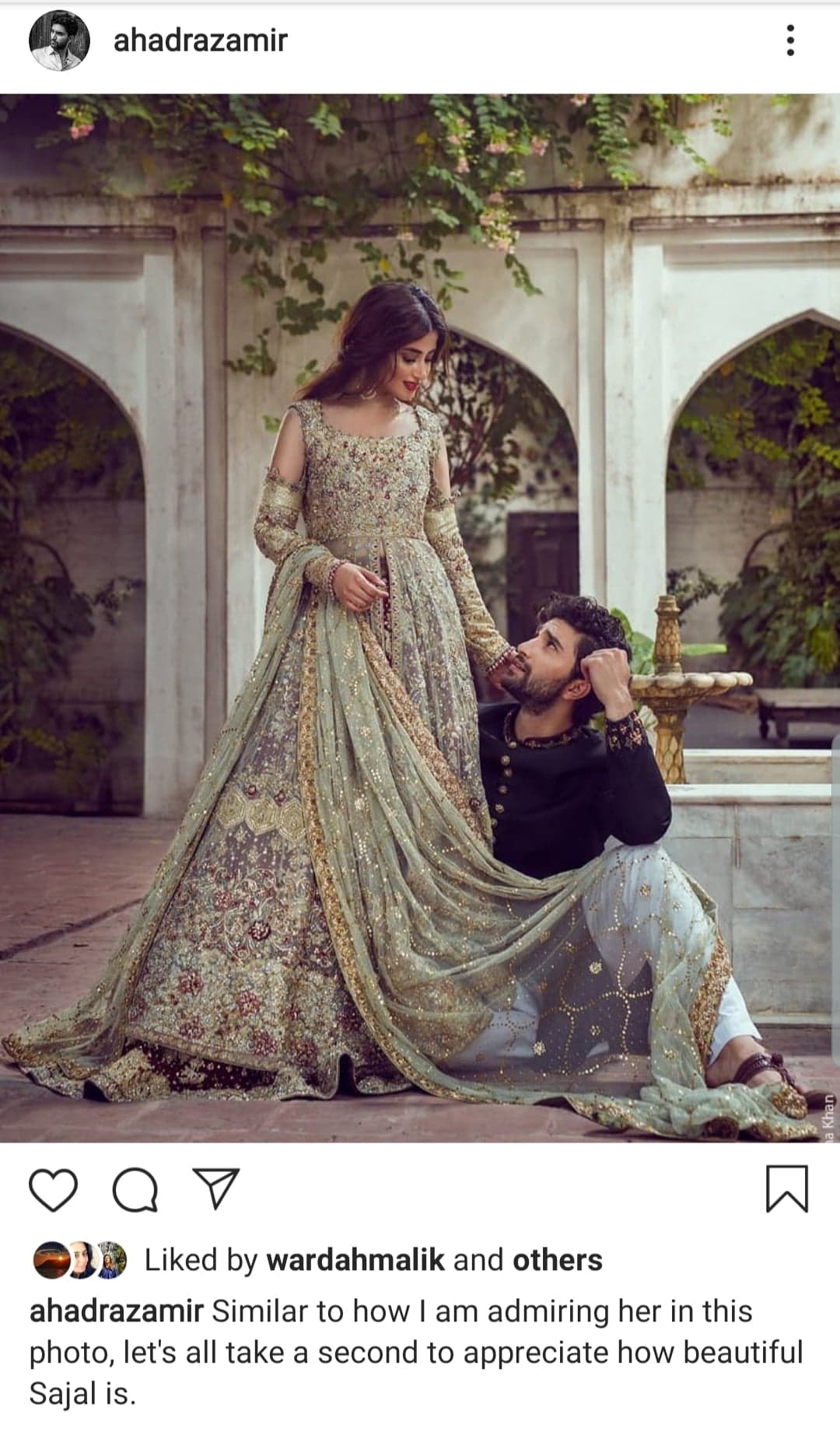 Behind-The-Scene Fun
This picture was taken on the sets of drama serial Aangan when Ahad and Sajal, as a real-life and reel-life couple were having a fun moment during the shooting. Their expressions are super cute and it is obvious that Ahad is making Sajal laugh. Their expressions are super sweet and it can be clearly seen how Sajal is looking at Ahad with so much love.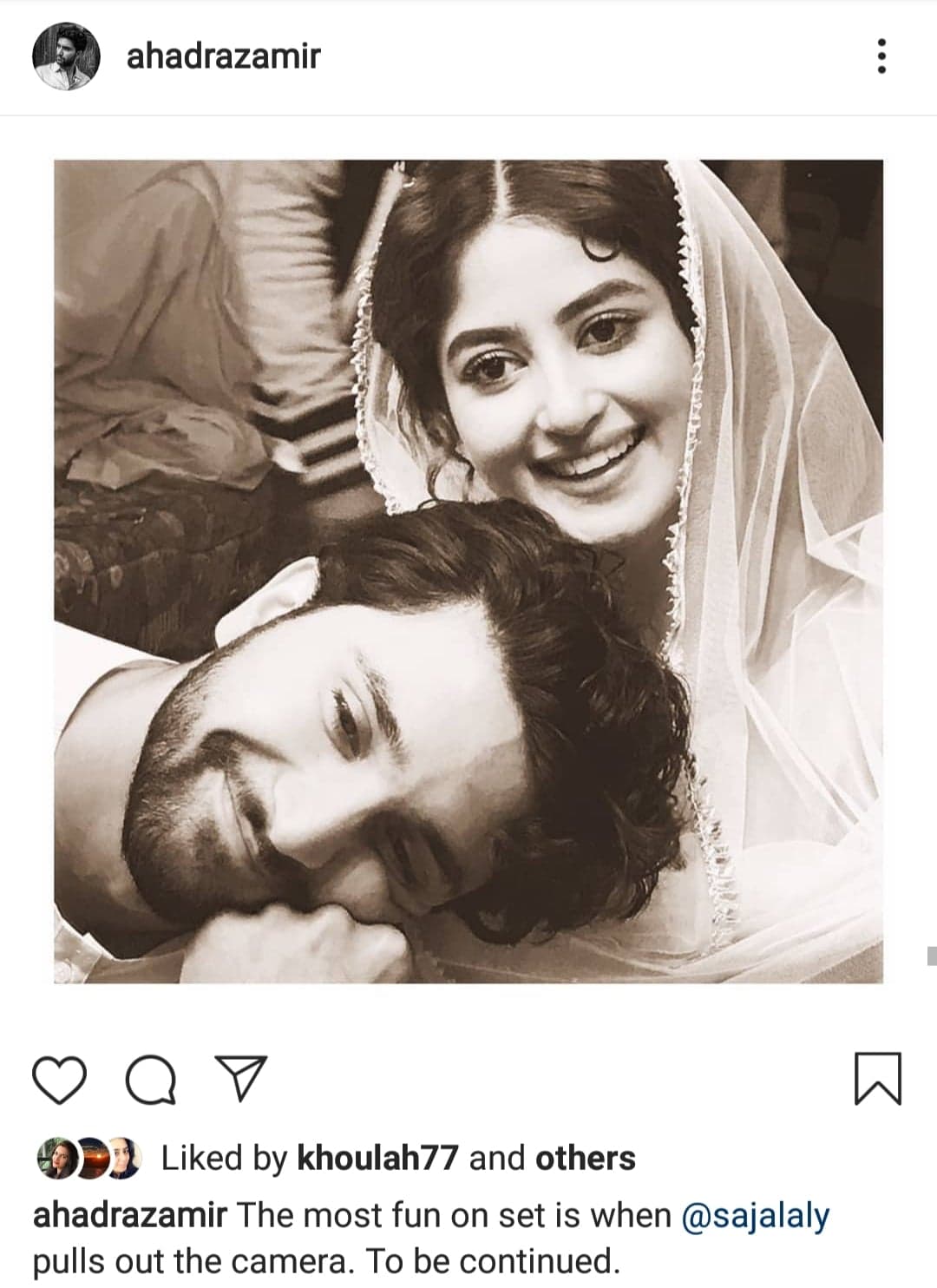 Praising Sajal's Beautiful Eyes
If you are not following Ahad Raza Mir, you need to do it for the way he captions his pictures. Ahad and Sajal are looking absolutely beautiful together, posing for a picture but Ahad's caption gave a meaning to it. He took a moment to praise Sajal Ali's beautiful expressive big eyes and we couldn't agree more. Sajal is absolutely beautiful and it is always special to see how Ahad appreciates her.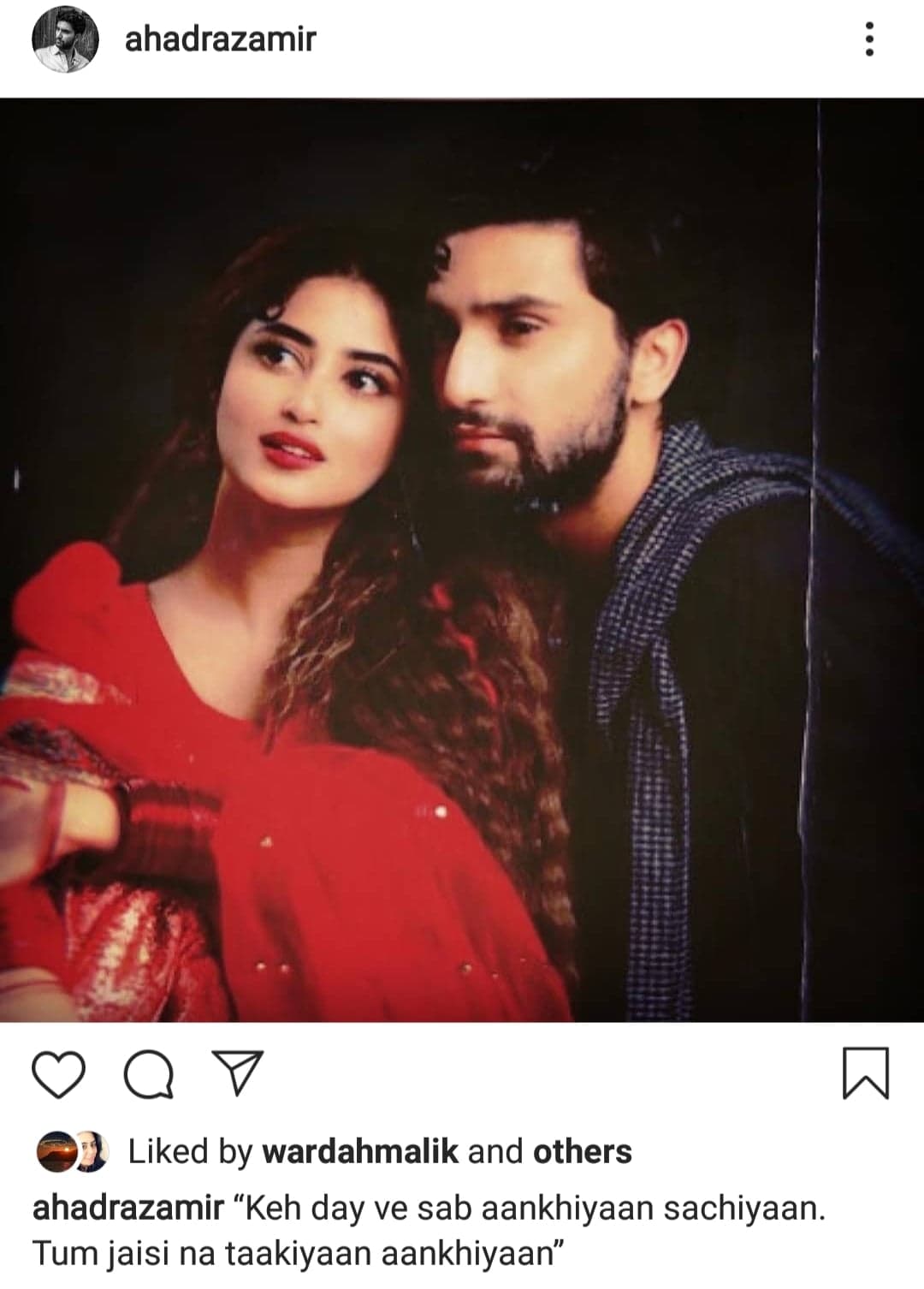 Picture Perfect
Just seeing Ahad and Sajal together in one frame is enough to make you smile but Ahad Raza Mir's captions act as an icing on the cake. He always puts things into perspective by sharing what was actually happening when they were photographed. This is a shot taken during their recently released TV commercial and Ahad is talking about Sajal being his partner in crime. The hashtag is funny and cute and leave us wondering if they did steal the biscuits or not?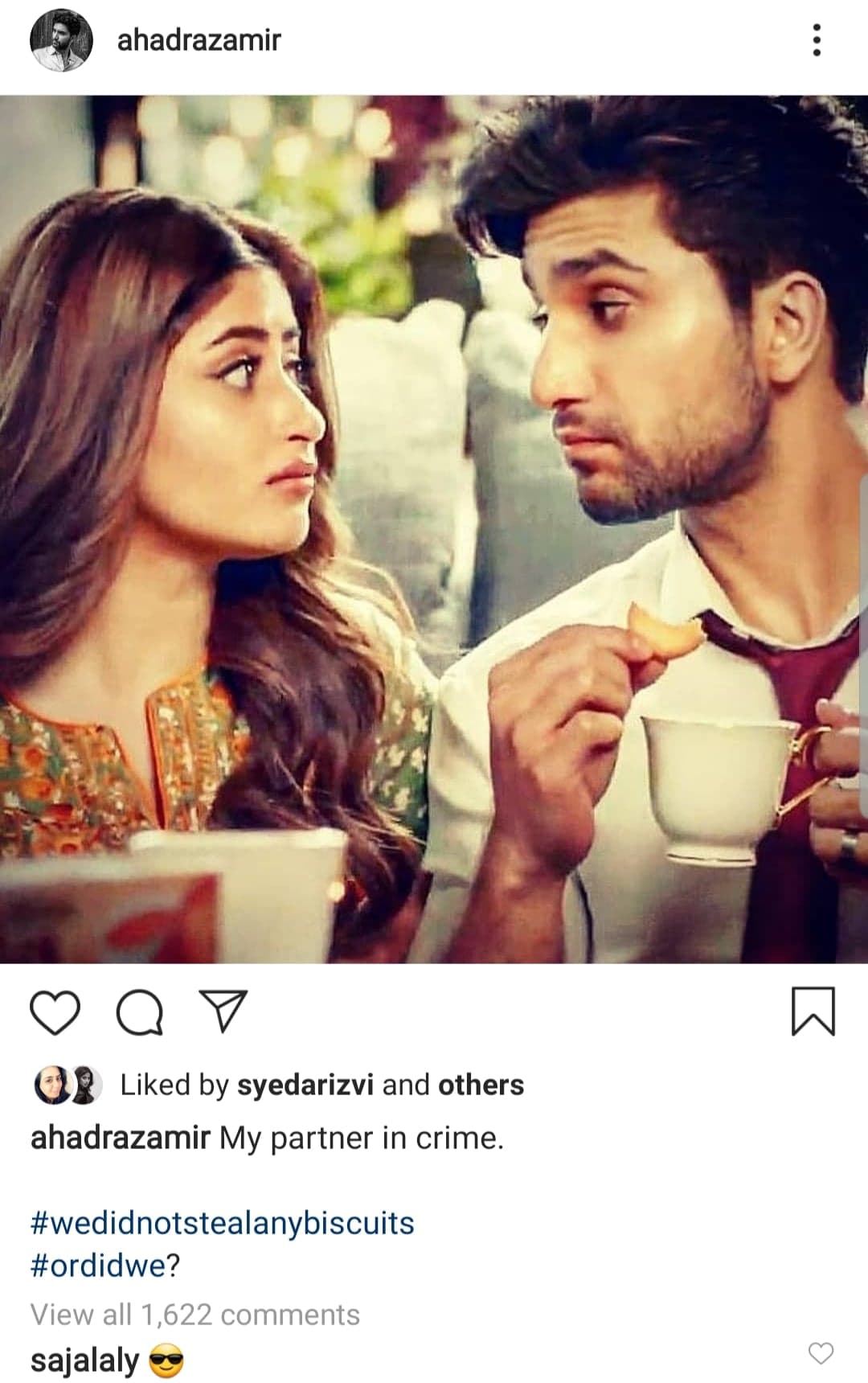 Family Vacation
This was when right before their engagement Sajal was on a family vacation with the Mir's in Canada. People could not stop appreciating how cute Sajal looked while having an ice cream but the reason why they could not stop talking about it was when they spotted Ahad Raza Mir in the background and yes, he was having an ice cream too. This was when people really got interested to know what was happening in their lives. Sajal looks super cute, doesn't she?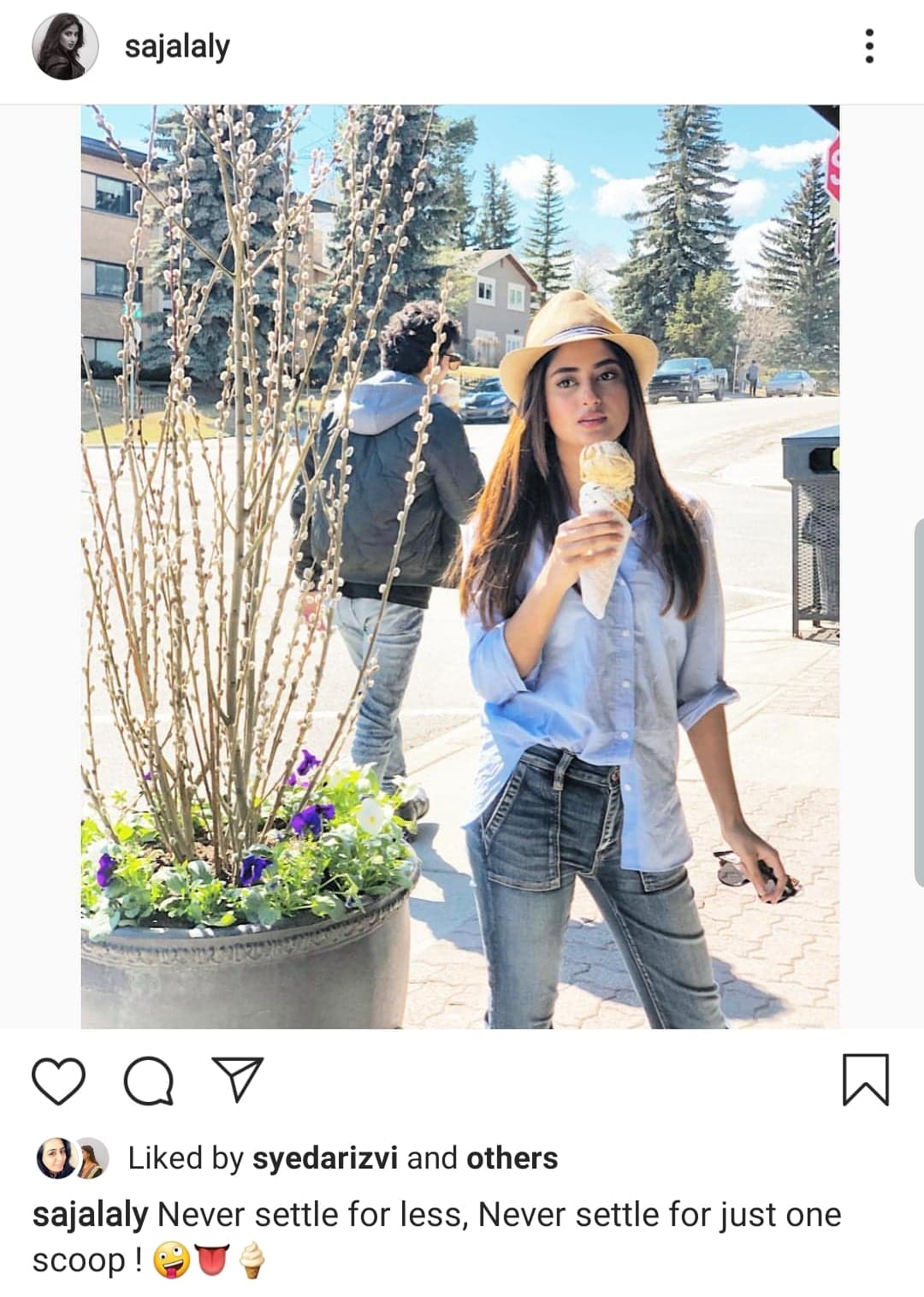 The Announcement
On June 7, 2019 Ahad and Sajal took it to their social media handles and gave their fans the biggest surprise that they were waiting for. They announced that with the blessings of their families, they were officially engaged. This picture is not only beautiful but the fact that they both were now a couple was super special as well. Ahad and Sajal are definitely one of the most loved and cherished young couples of Pakistani showbiz and this is the reason why their togetherness is appreciated so much by all of their well-wishers and supporters. Almost all the celebrities active on social media also congratulated the couple and gave blessings to them on this beautiful picture.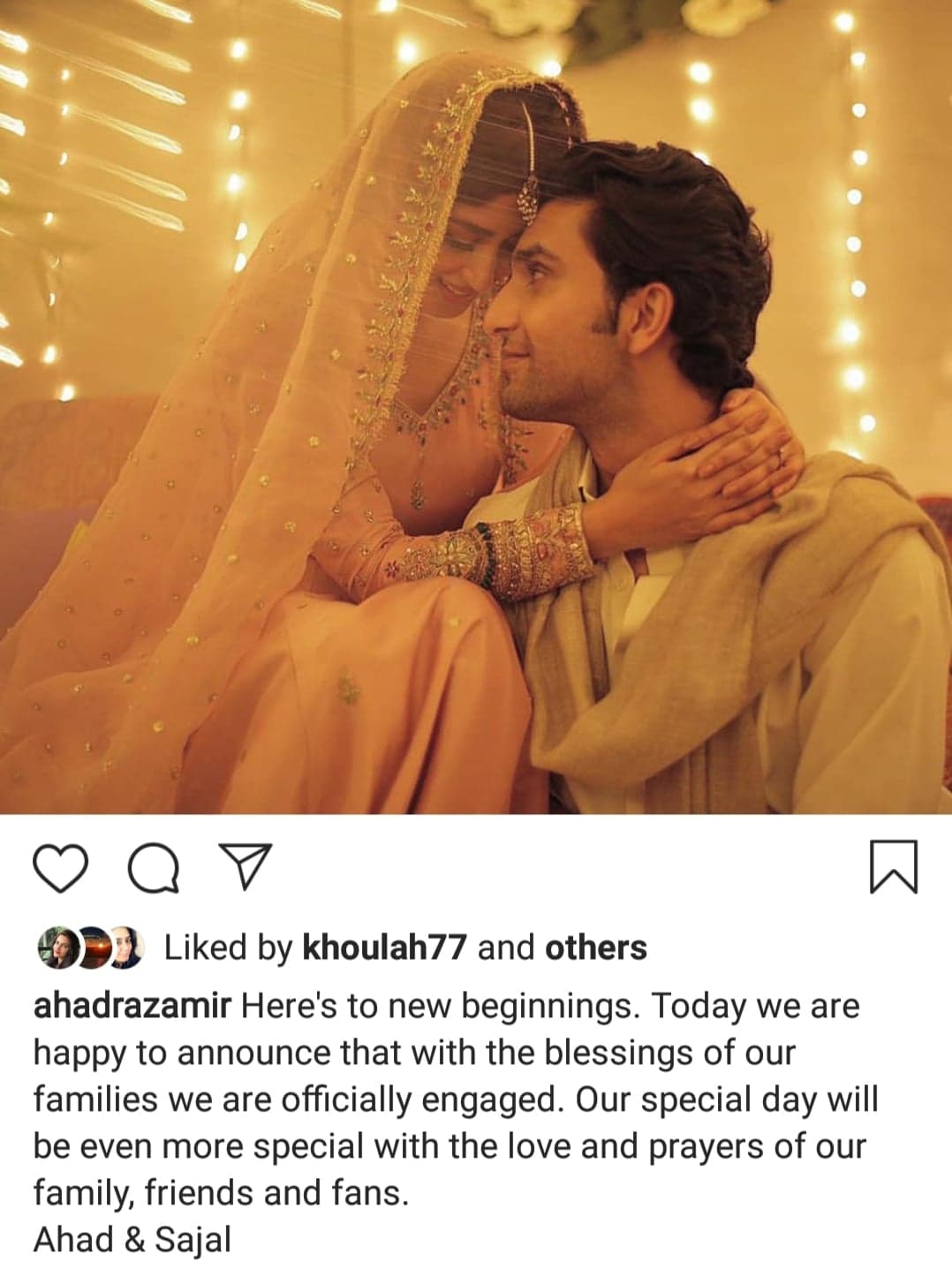 Cutest Caption Award Goes To Ahad
This was again a shot from the TV commercial that Ahad and Sajal did together after their engagement. Although the setting of the commercial was all about a couple enjoying an evening tea and snack together, Ahad's caption gave it an even better meaning and people could not stop going gaga over the cuteness of the two. We love these captions and want Ahad to continue with these for sure.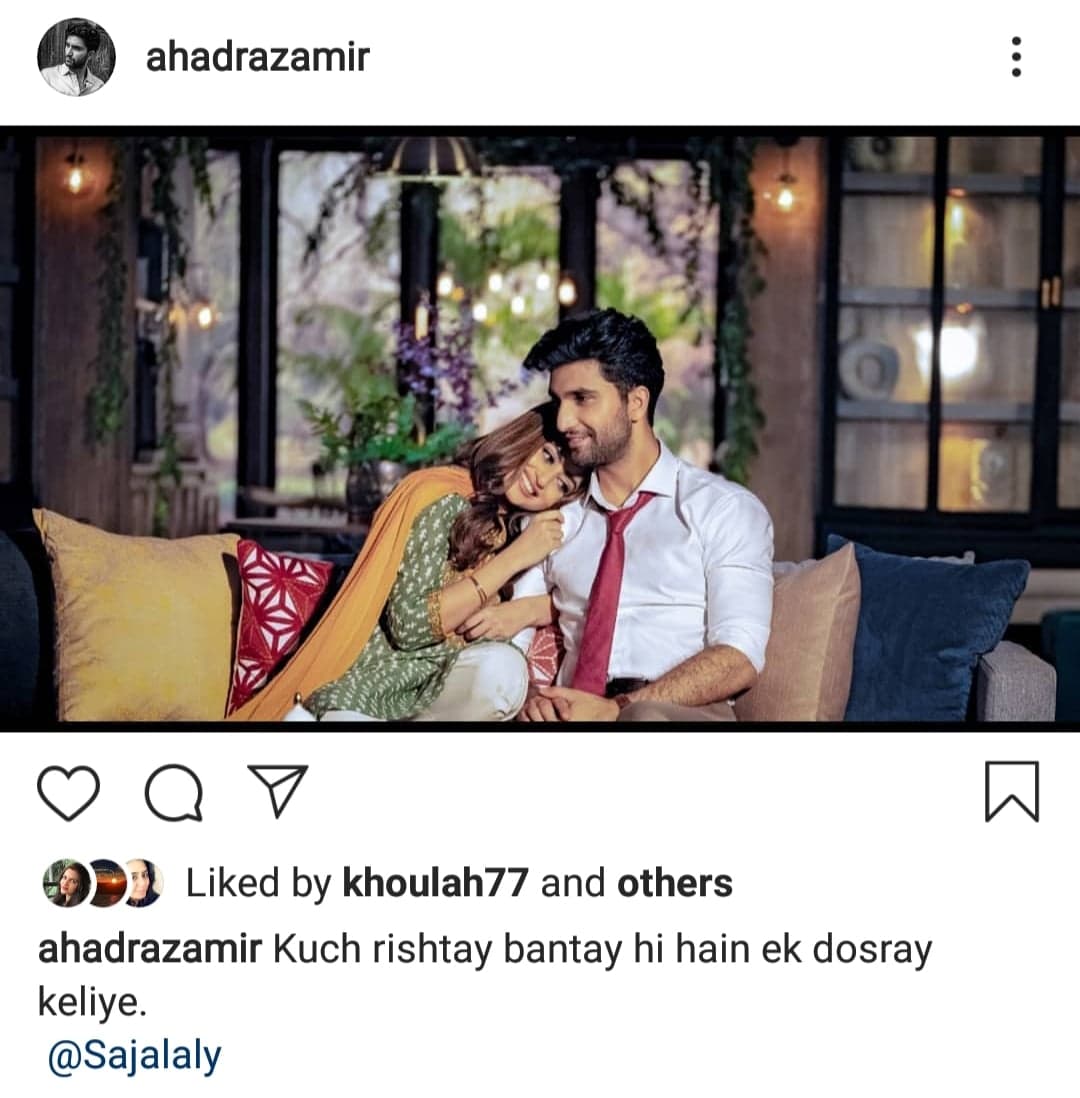 Merging Swag and Cuteness Together
Ahad Sajal and Ahad's younger brother Adnan wished everyone Eid Mubarak. They posed together wearing sunglasses as an accessory. This picture was cute because they posed as a family and had enough swag because they made sure to throw that in as well. We can't help notice the amount of cuteness and gorgeousness in this photo.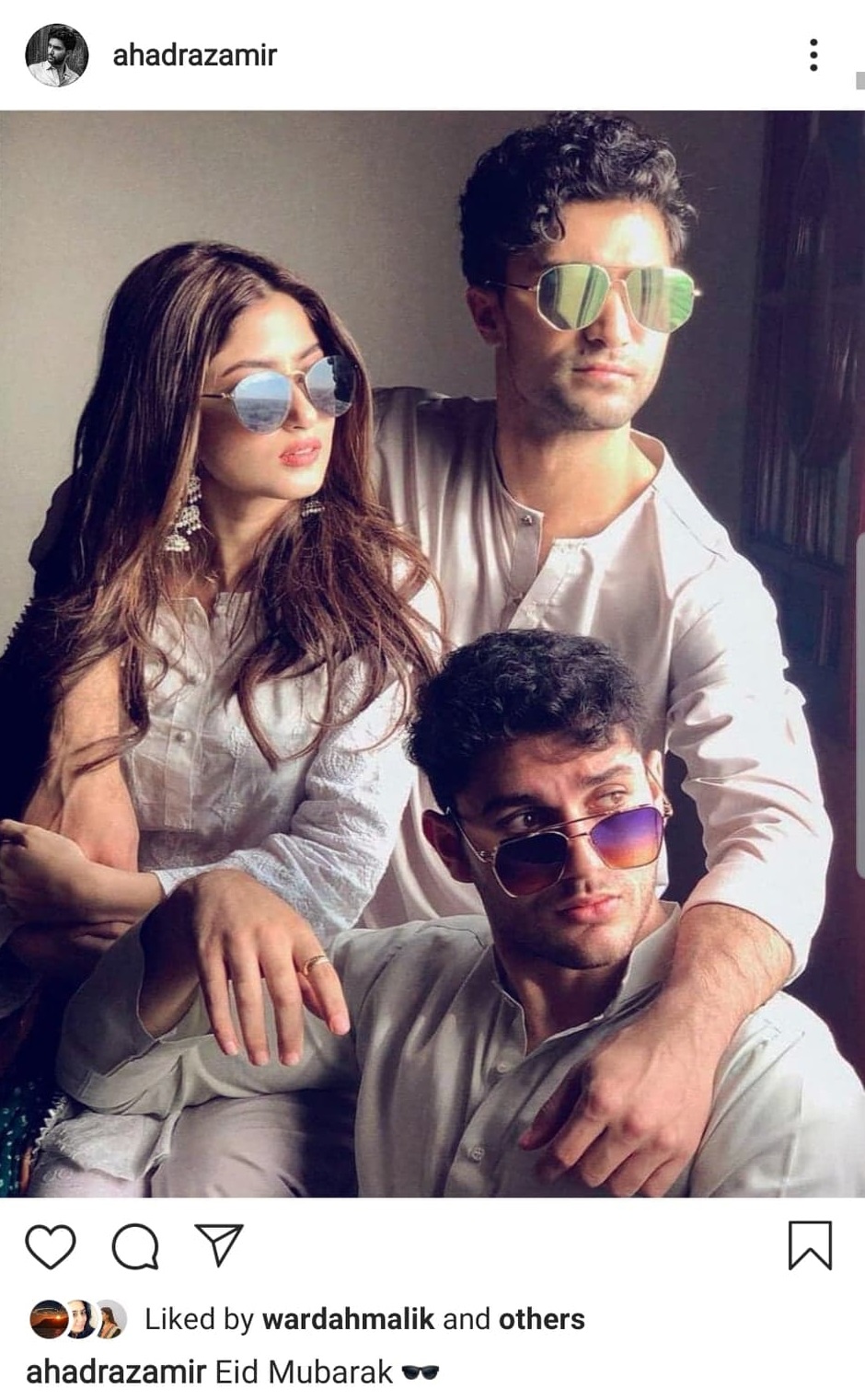 This concludes the Top 10 Cutest Moments of Ahad Raza Mir and Sajal Ali that we have witnessed so far. We definitely hope we get to see a lot more moments like these. We wish love, light and happiness to Ahad and Sajal.