Aiman Khan and Muneeb Butt are two young stars of Pakistani showbiz industry. They both have earned a name and fame for themselves due to their persistent hard-work and dedication to the Pakistani drama industry. Aiman and Muneeb had a huge fan following of their own but then they got together, it won't be wrong to say that they became one of the most loved and celebrated couples of the industry. Aiman and Muneeb have always stayed in touch with their fans and they have never shied away from sharing their most intimate and happy moments with their supporters. They are a sensational young duo who cherish the love and support they get from the people who love them.
Aiman Khan and Muneeb Butt have always been active on social media. The sincerity and dedication that they reciprocate towards their fans in their posts shows that by being open and transparent is basically their way of giving back the love they receive from their supporters and well wishers. From the day Aiman and Muneeb got together and announced their courtship, they have shared all the good moments with their fans, starting from their engagement to their get togethers, birthday bashes, to their wedding, their honeymoon, their first Umrah, Eids and now, the arrival of their baby girl Amal Muneeb. During all this while, Aiman and Muneeb unapologetically and honestly showed how much they both love each other. They both showed that even though they are stars and celebrities, deep down they are two innocent young individuals who are in love and enjoy the feeling of being in love. It is always nice to see celebrities giving their fans and followers a glimpse of their personal lives and sharing their happiness with them without any filters and showing them their real-self.
Aiman and Muneeb have shared a lot of beautiful moments with their fans on their social media accounts. Let's take a look at the top 10 cute moments of Aiman Khan and Muneeb Butt.
The Candid Cuteness
Instagram vs Reality pictures are a real deal in the celebrities. They always take a moment to show how they pose for Instagram while also sharing a behind-the-scenes of what they had to go through to get that one perfect picture. This photo of Aiman Muneeb is exactly like that but it is actually very cute because it is a candid shot. It is evident from this picture that they both were trying to strike a pose to get a perfect couple picture but they cracked up on a joke and couldn't stop laughing.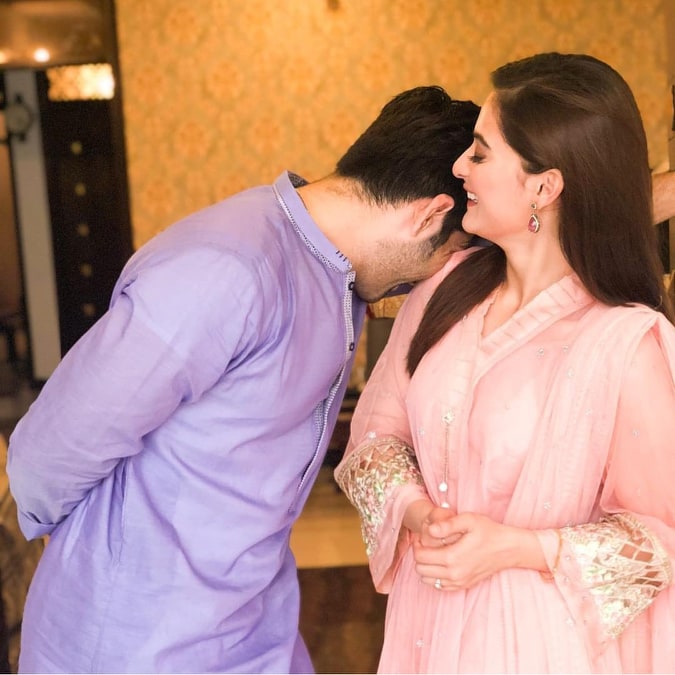 The Birthday Picture
This seems like a mandatory couple picture but their smiles are cheeky and again it is evident that they were posing hard to get a perfect picture. Their expressions are cute and what makes it better is that they both look extremely happy while posing for a picture.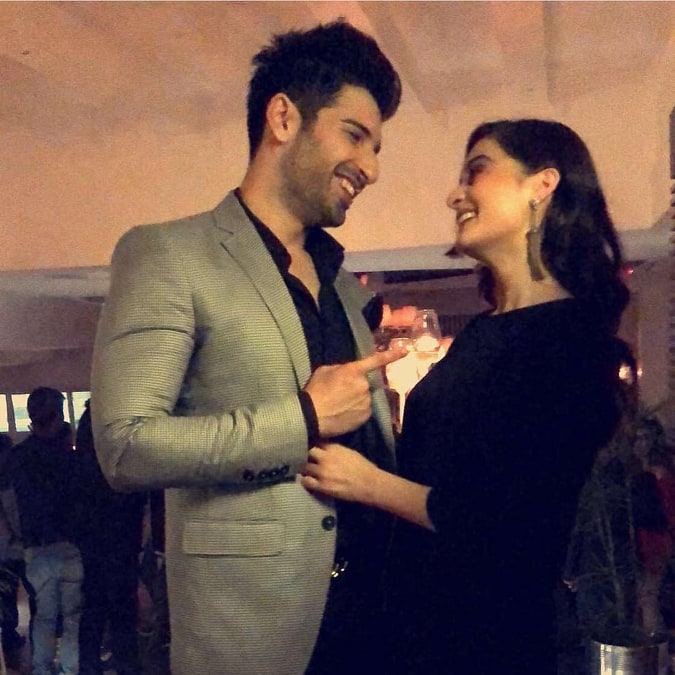 The Cheek(y) Moment
Muneeb can not stop playing with Aiman's face and it is quite obvious that he is having a good time looking at how cute Aiman is looking while trying to stop him from ruining her picture. Aiman seems to have been in a mood to get a proper photograph but Muneeb decided to have a funny take on it.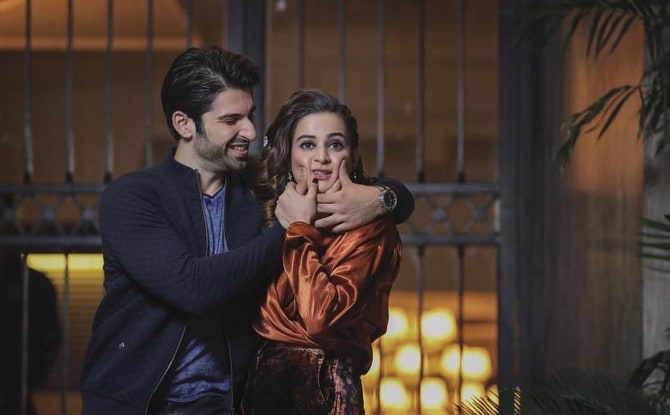 Love Hidden in Plain Sight
This might just seem like a touristy picture of Muneeb Butt posing in front of the London Eye, but Aiman's caption showed that it had a very different meaning to it. When looked closely, Muneeb Butt is actually showing off Aiman's name on his wrist which he got written in Chinese symbols. This was a cute way of Muneeb to let Aiman know that he was missing her when he was not with her in Pakistan.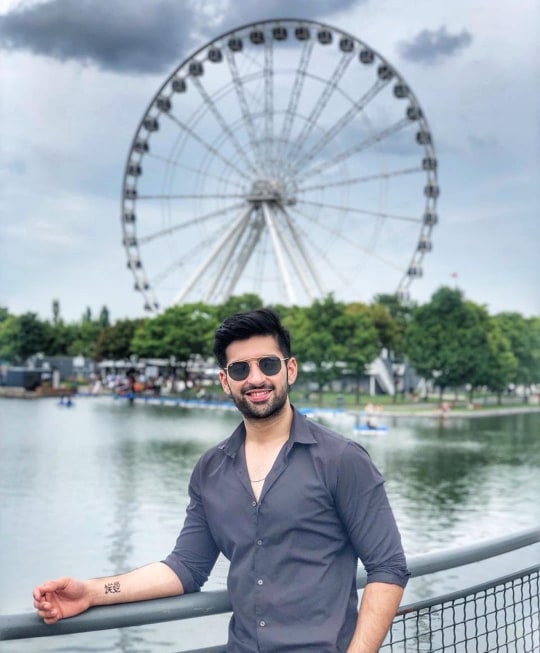 All Smiles
This is another picture of Aiman and Muneeb which went from being posed to completely candid and it sure is going to bring a smile to your face. They are perfectly in the frame but they are having a hearty laugh which is contagious and makes this picture absolutely cute.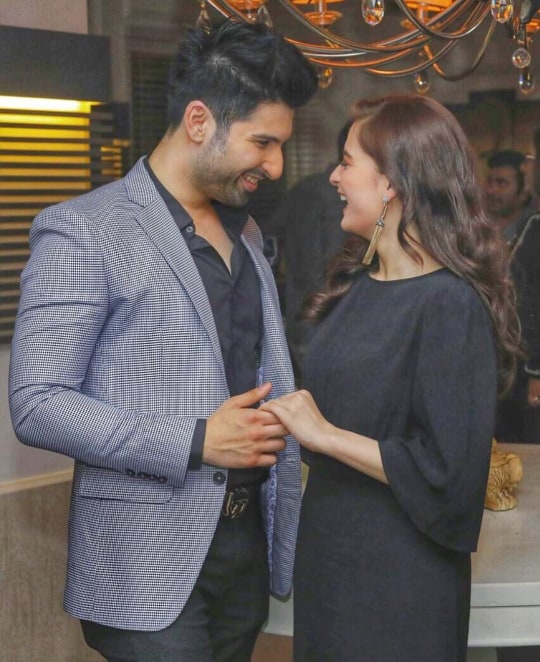 The Couple Name
Aiman went to Northern areas of Pakistan before her marriage to Muneeb. This was her bachelorette trip with her family before she got married. While Aiman continued to share the pictures with her sister Minal, having the time of her life, she then shared this picture which showed that she not only missed Muneeb, but he was in her thoughts all the time. Aiman picked up a beautiful stone and wrote her and Muneeb's name on it, followed by the date the picture was captured. The little heart is a cute detail as well.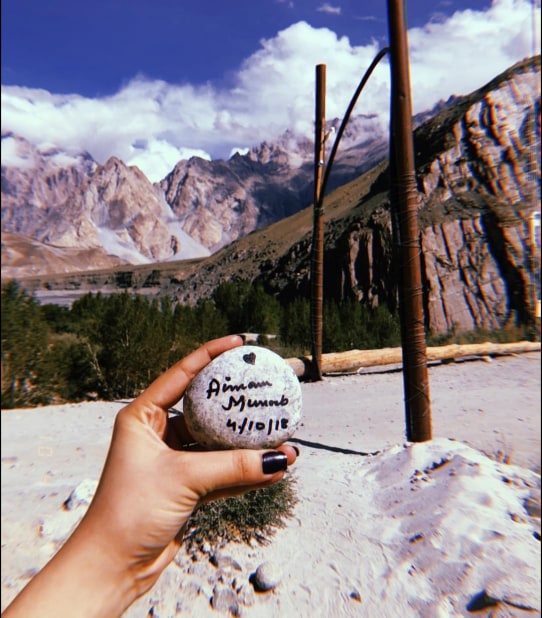 Newlywed Tourists
Aiman and Muneeb went on a trip across Europe on their honeymoon. They continued to share the pictures of their adventures with their fans. While Aiman and Muneeb enjoyed being tourists in Europe, they didn't hold back in sharing that they were totally in love.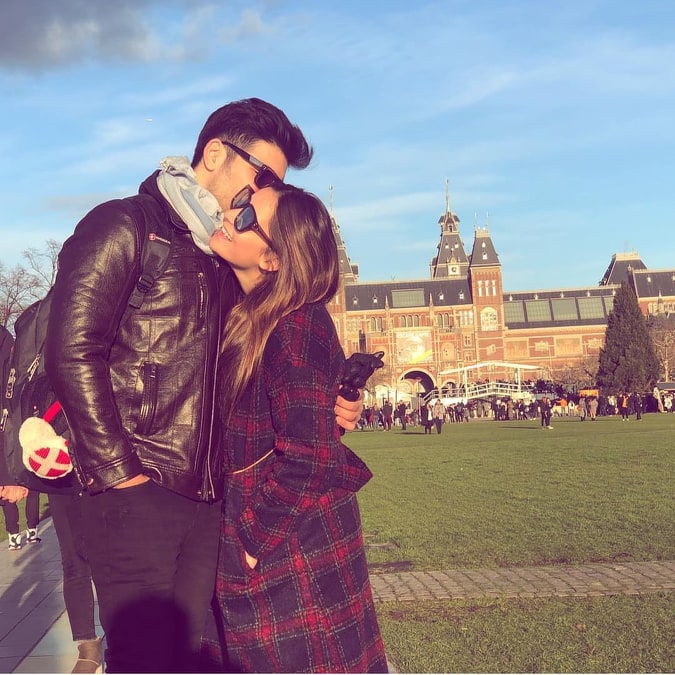 Dancing in Vienna
Muneeb and Aiman posted a lot of couple pictures from their honeymoon but this one happens to be one of the best pictures. It shows them as two young and free souls, in love, married, dancing, soaking up the beauty of Europe and enjoying the romance in the air.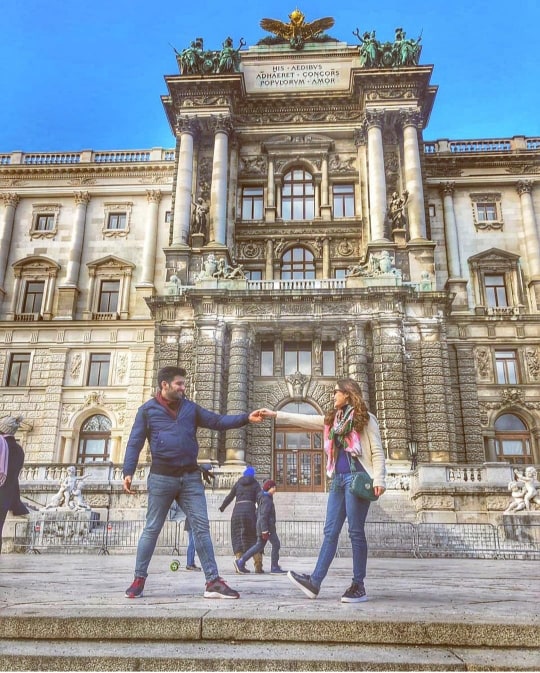 First Eid as a Couple
Muneeb Butt is always very expressive and he loves to share what is running on his mind. Muneeb has always celebrated Aiman's presence in his life, that is why on the festive occasion of Eid, he made sure to let everyone know that this Eid was super special for him because he was celebrating it with Aiman as his wife. Their smiles and happiness is radiating through the picture.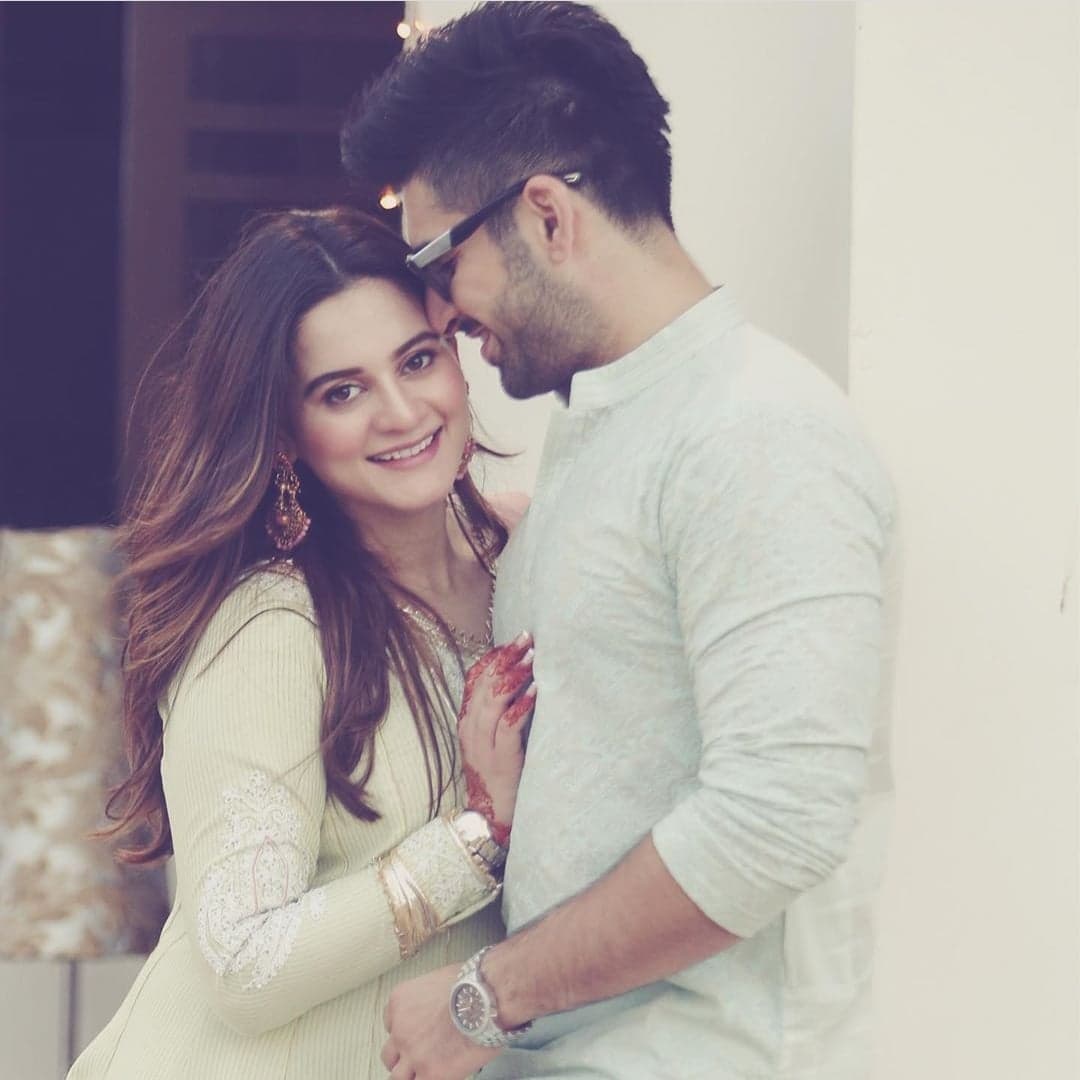 Picture Perfect
It did take a while for Aiman and Muneeb to show their daughter Amal Muneeb's picture to their fans. They also kept the pregnancy a secret until Aiman's baby shower confirmed the news. However, that is all in the past and what matters the most is that Aiman Khan and Muneeb Butt have welcomed their precious little first born Amal Muneeb in their lives on August 30, 2019. This picture speaks for itself, it is filled with love, joy and sheer happiness of new parents with their newborn.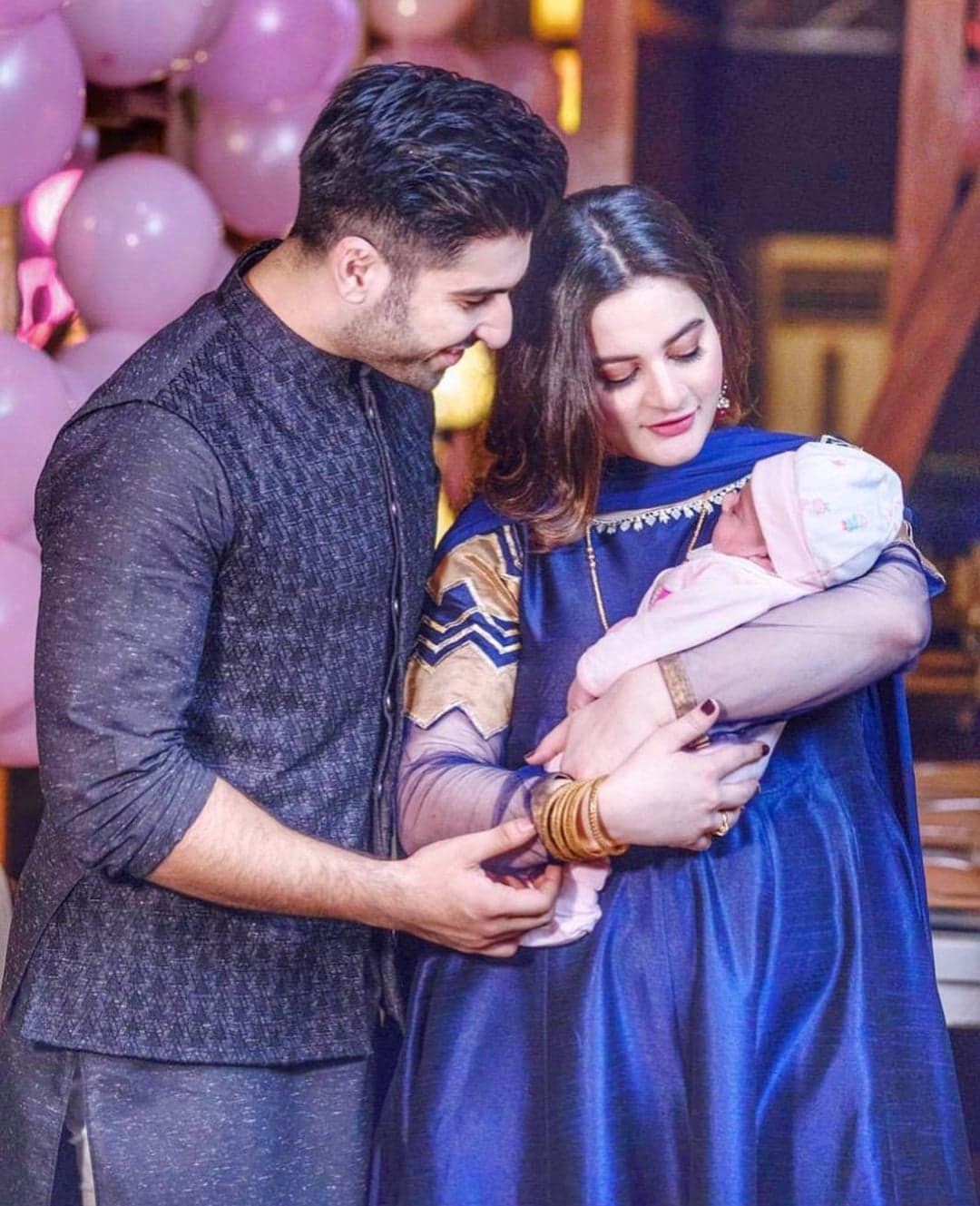 This concludes the list of top 10 cute moments of Aiman and Muneeb, or Aineeb as netizens call them. We wish love, light and happiness to Aiman Khan and Muneeb Butt.